Hy guys I know why you land in this post because you love your friend and you find Best Dosti Shayari In Hindi, sop if you find Friendship Shayari then this post is for you, I have a large collection of Hindi Dosti Shayari, you can copy any Shayari and also I will share Dosti Shayari With Images, so if you want images the click on the download button.
If you have Girlfriend then read Romantic Shayari In Hindi
Dosti Shayari In Hindi
Nowadays everyone uses Whatsapp, Facebook, Instagram, and any other social media, and also everyone love to Put Status or Story in all social media for our Friends.
Then you need to best Collection Of Dosti Shayari, so I have a solution, here you find all types of Dosti Shayari like:- Badmashi, Attitude, Harami Dosti Shayari.
Below I share a lot Of Friendship Shayari With images download now, and you love any SMS or Images then please share with your Kamine Dost & All Social Media.
Dosti Shayari In Hindi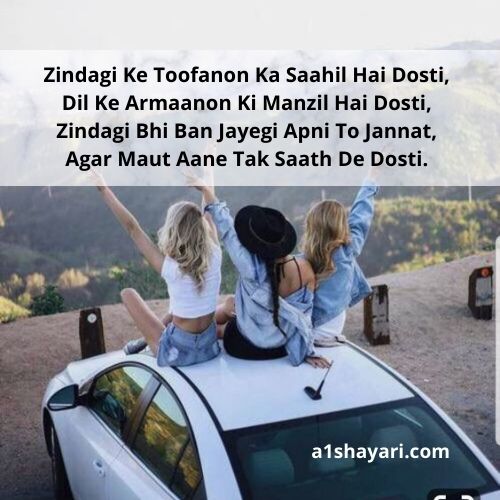 Zindagi Ke Toofanon Ka Saahil Hai Dosti,
Dil Ke Armaanon Ki Manzil Hai Dosti,
Zindagi Bhi Ban Jayegi Apni To Jannat,
Agar Maut Aane Tak Saath De Dosti.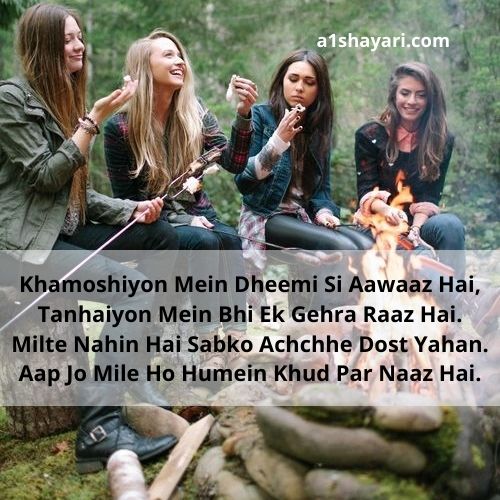 Khamoshiyon Mein Dheemi Si Aawaaz Hai,
Tanhaiyon Mein Bhi Ek Gehra Raaz Hai.
Milte Nahin Hai Sabko Achchhe Dost Yahan.
Aap Jo Mile Ho Humein Khud Par Naaz Hai.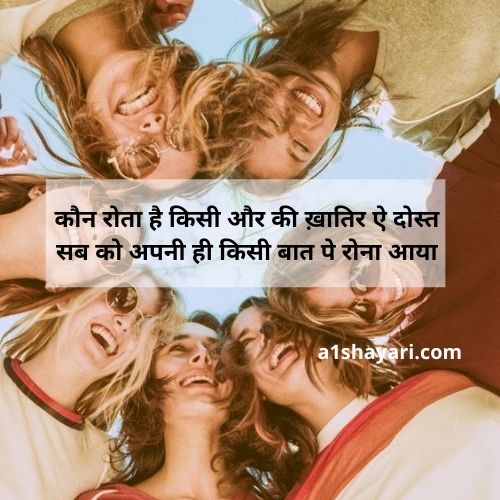 कौन रोता है किसी और की ख़ातिर ऐ दोस्त
सब को अपनी ही किसी बात पे रोना आया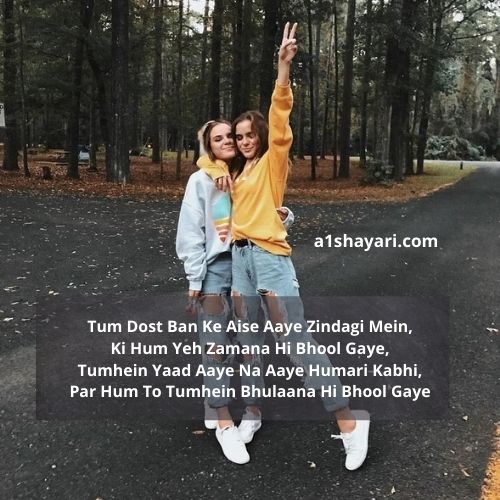 Tum Dost Ban Ke Aise Aaye Zindagi Mein,
Ki Hum Yeh Zamana Hi Bhool Gaye,
Tumhein Yaad Aaye Na Aaye Humari Kabhi,
Par Hum To Tumhein Bhulaana Hi Bhool Gaye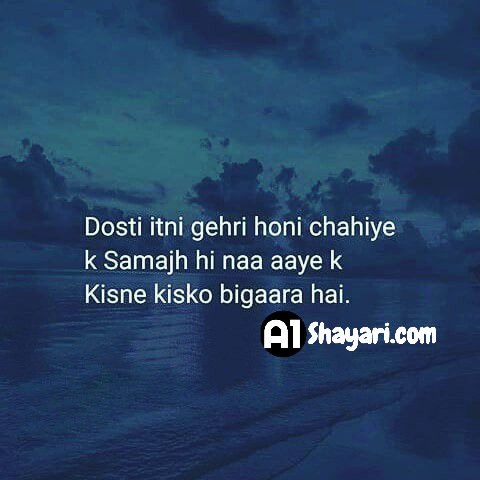 Dosti itni gehri honi chahiye k
Samajh hi naa aaye k Kisne kisko bigaara hai .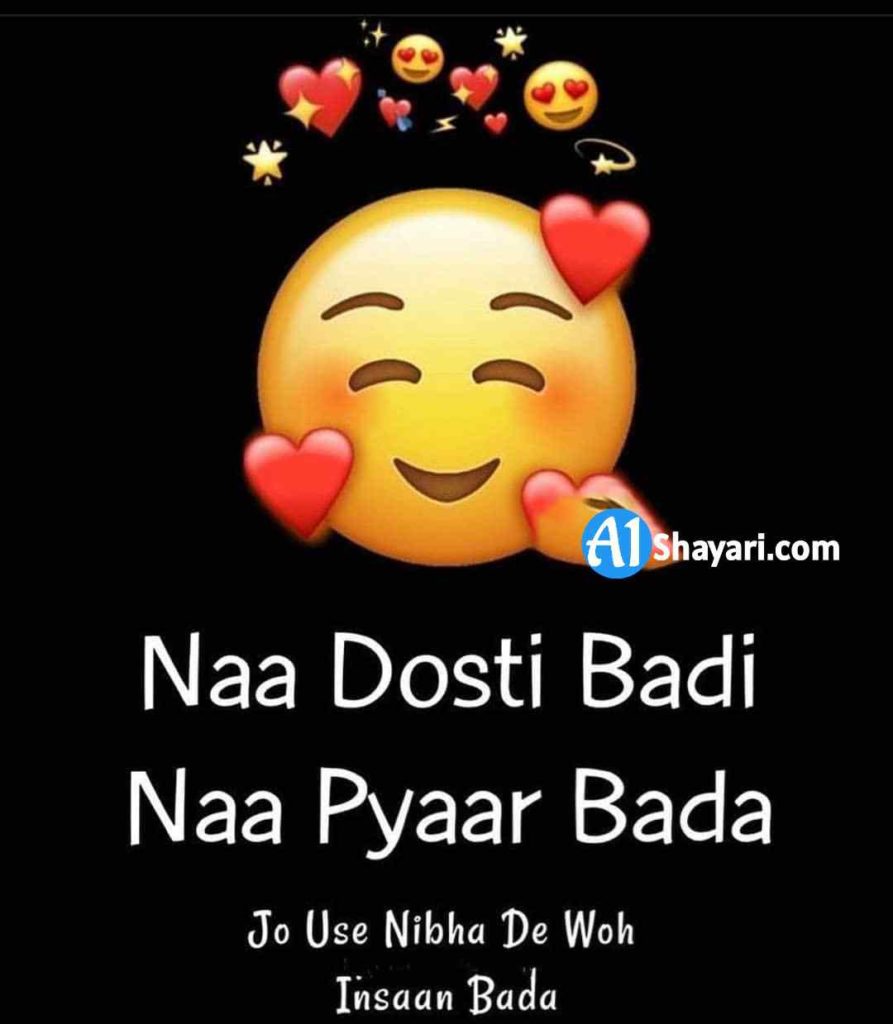 Naa Dosti Badi Naa Pyaar Bada
Jo Use Nibha De Woh Insaan Bada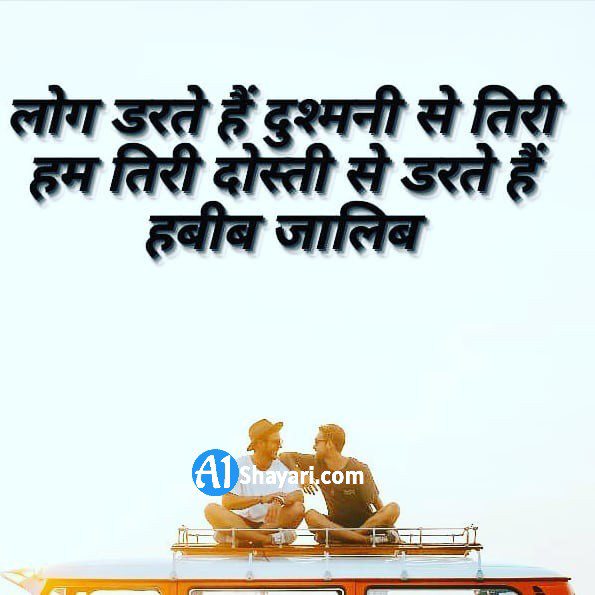 लोग डरते हैं दुश्मनी से तिरी हम
तिरी दोस्ती से उरते हैं हबीब जालिब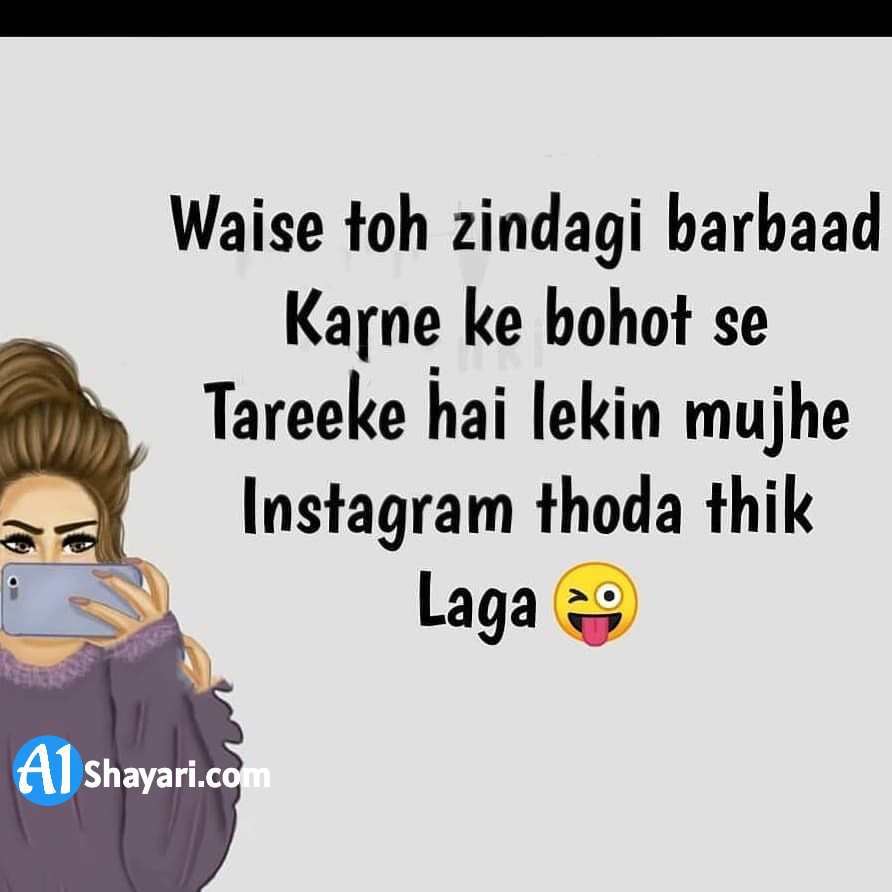 Waise toh zindagi barbaad Karne ke bohot
se Tareeke hai lekin mujhe Instagram thoda thik Laga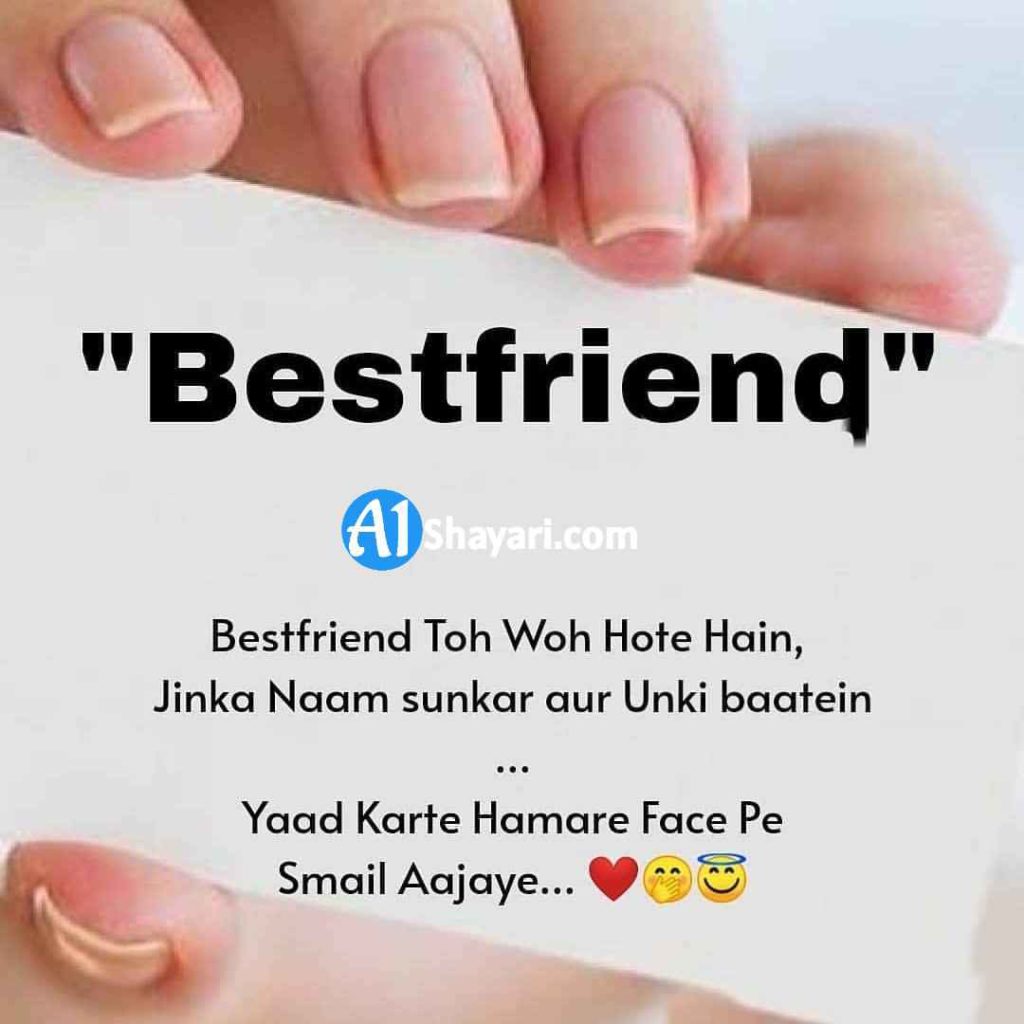 Bestfriend Toh Woh Hote Hain ,
Jinka Naam sunkar aur Unki baatein …
Yaad Karte Hamare Face Pe Smail Aajaye …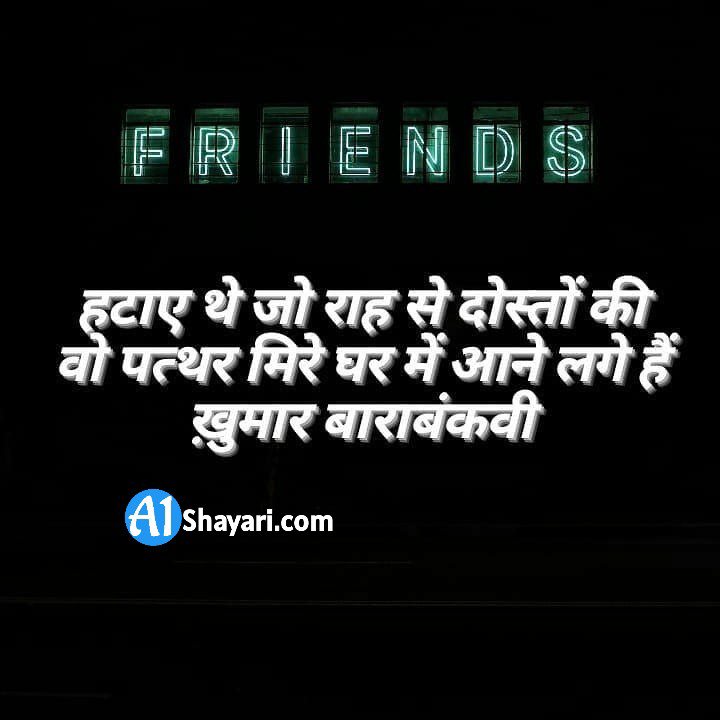 FRIENDS हटाए थे जो राह से दोस्तों की वो
पत्थर मिरे घर में आने लगे हैं खुमार बाराबंकवी..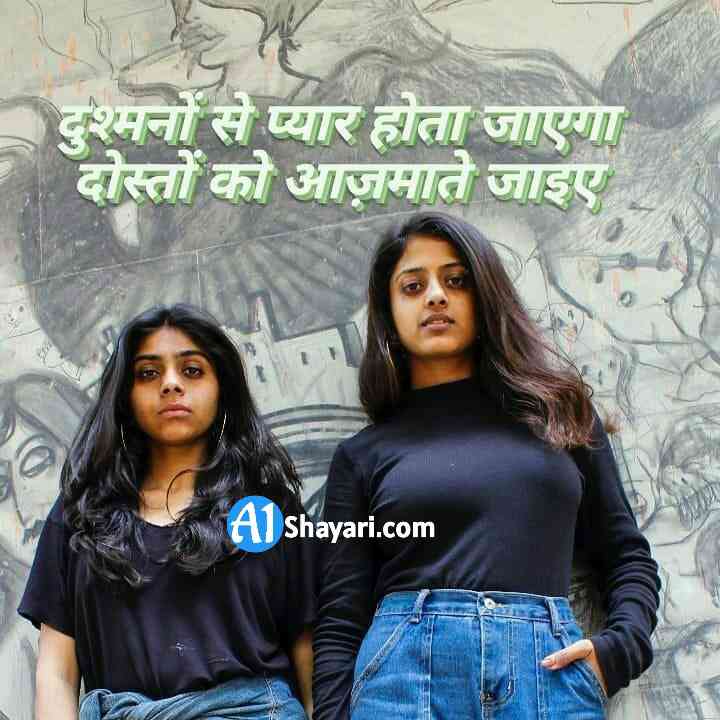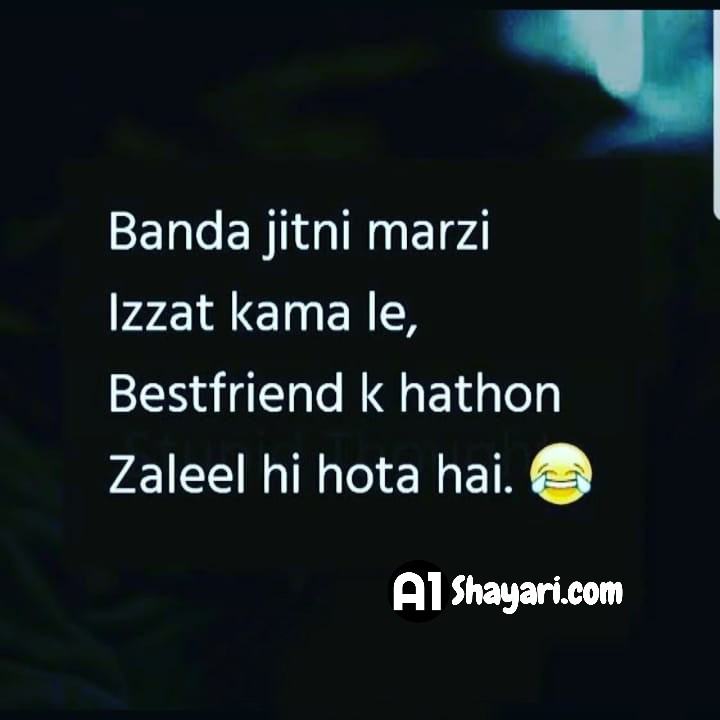 Banda jitni marzi Izzat kama le,
Bestfriend k hathon Zaleel hi hota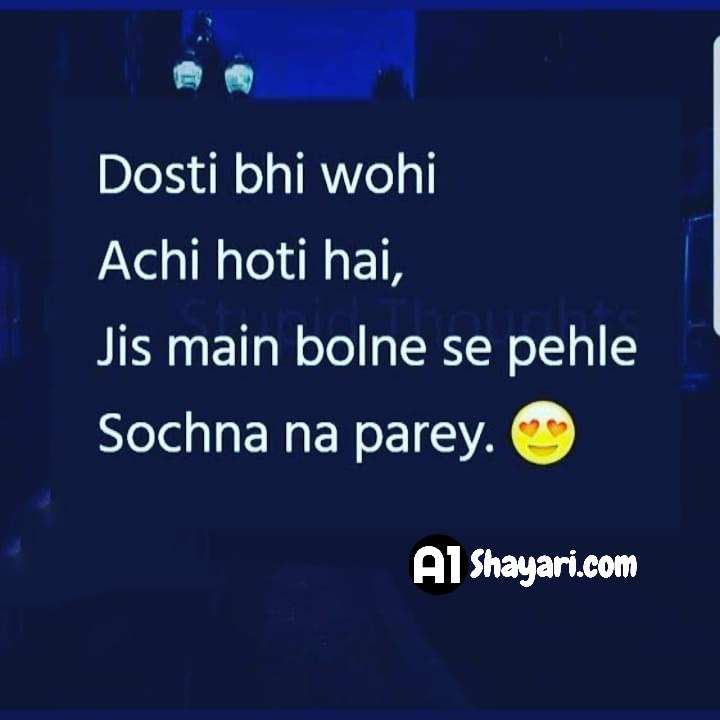 Dosti bhi wohi Achi hoti hai,
Jis main bolne se pehle Sochna na parey .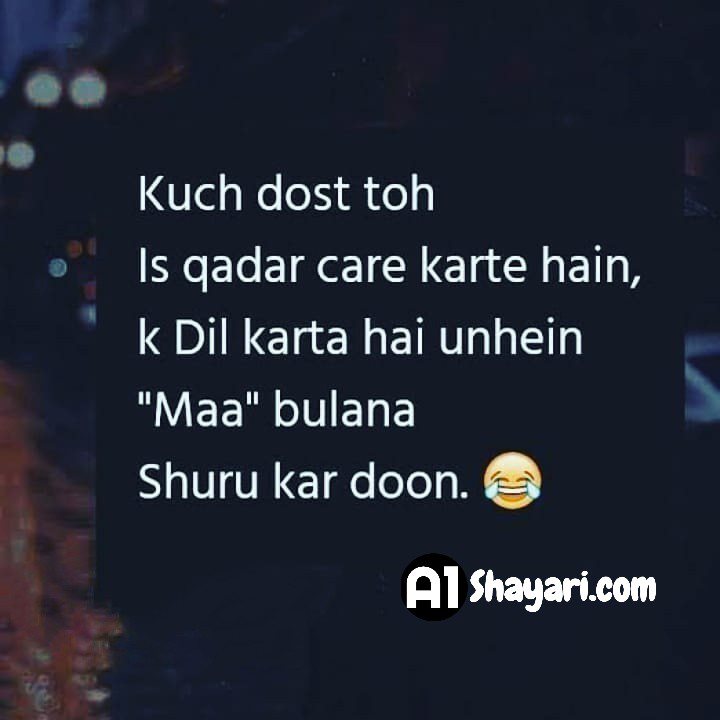 Kuch dost toh Is qadar care karte
hain , k Dil karta hai unhein " Maa " bulana Shuru kar doon .
Shayari On Dosti In Hindi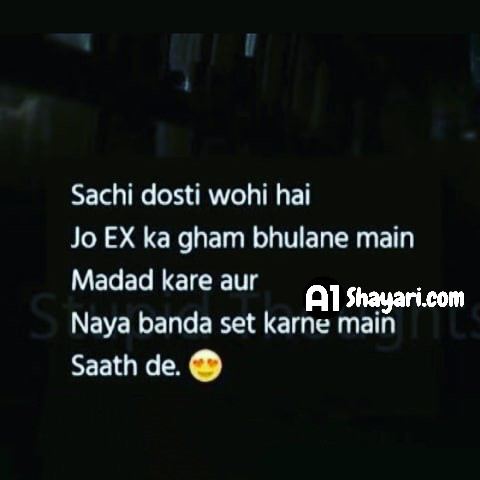 Sachi dosti wohi hai Jo EX ka
gham bhulane main Madad kare
aur Naya banda set karne main Saath de .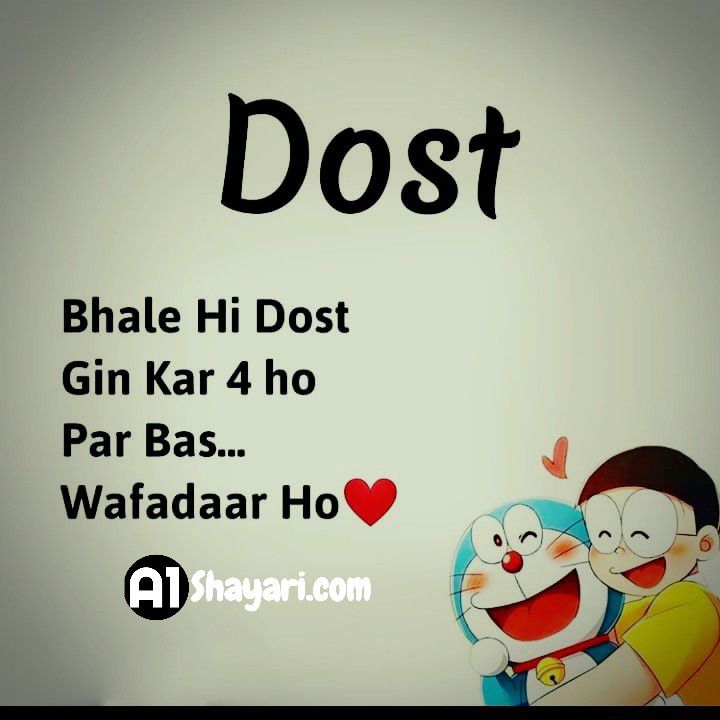 Dost bhale hi dosrt gin kar
4 ho par bas wafadaar ho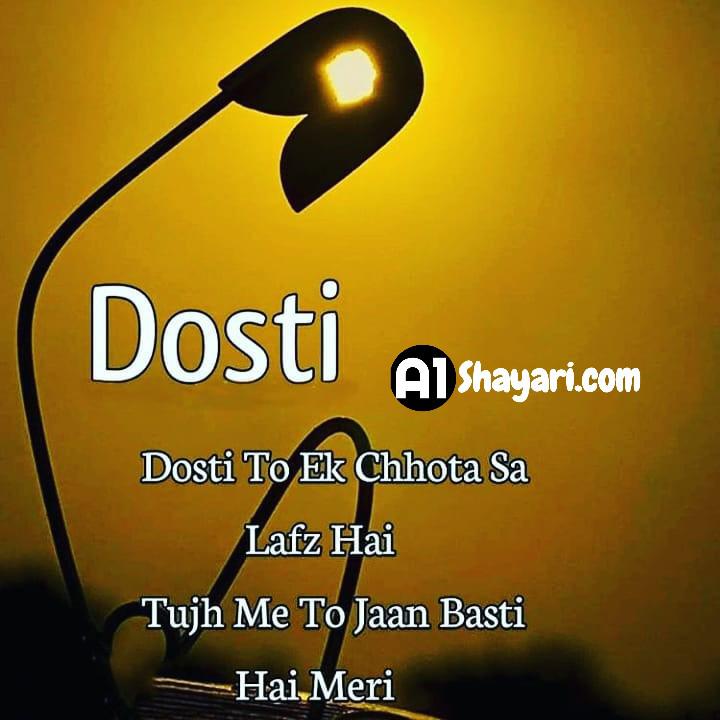 Dosti …Dosti To Ek Chhota Sa Lafz
Hai Tujh Me To Jaan Basti Hai Meri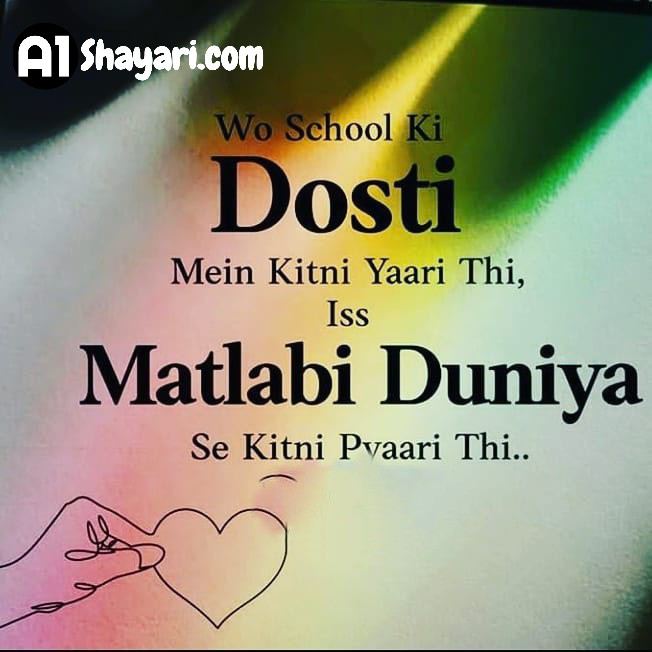 Wo School Ki Dosti Mein Kitni Yaari Thi,
Iss Matlabi Duniya Se Kitni Pyaari Thi
Shayari In Hindi Dosti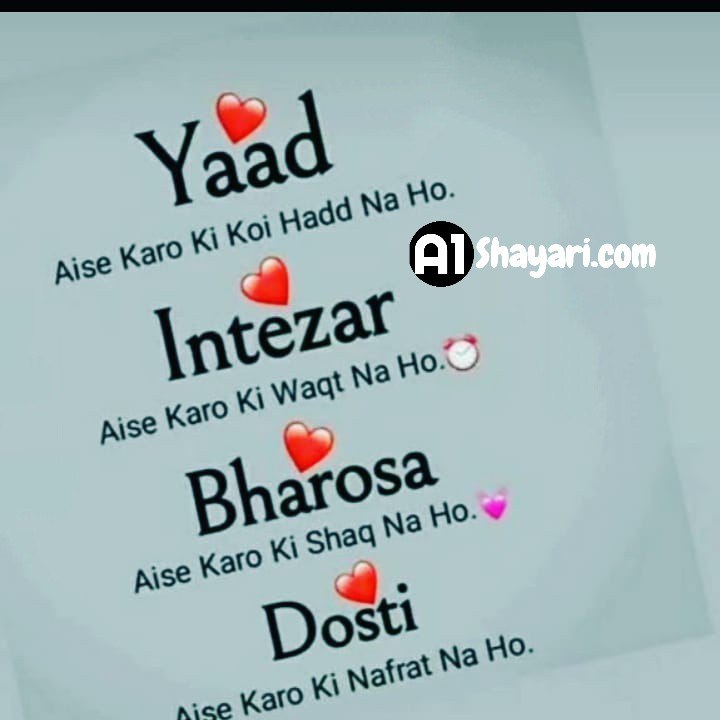 Yaad Aise Karo Ki Koi Hadd Na Ho.
Intezar Aise Karo Ki Waqt Na Ho,
Bharosa Aise Karo Ki Shaq Na Ho ,
Dosti nise Karo Ki Nafrat Na Ho .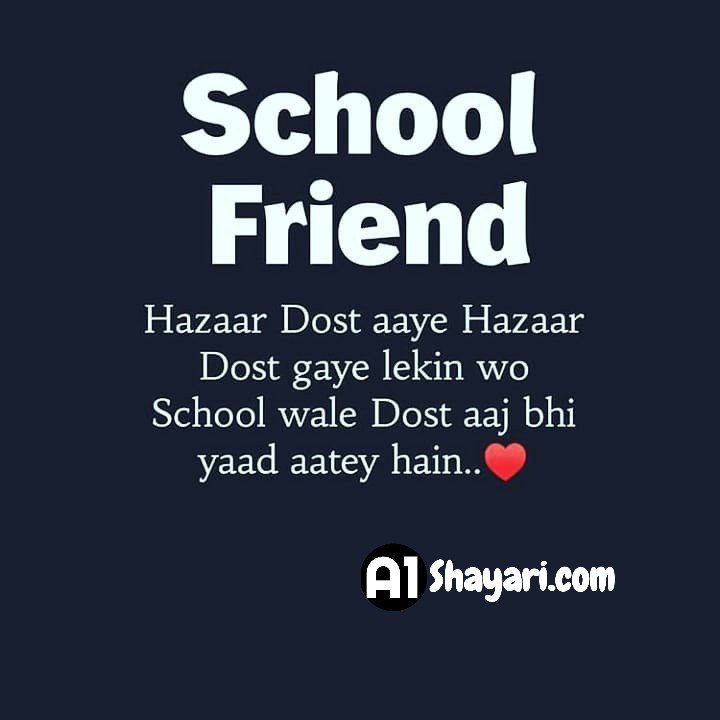 School Friend Hazaar Dost aaye
Hazaar Dost gaye lekin wo School
wale Dost aaj bhi yaad aatey hain ..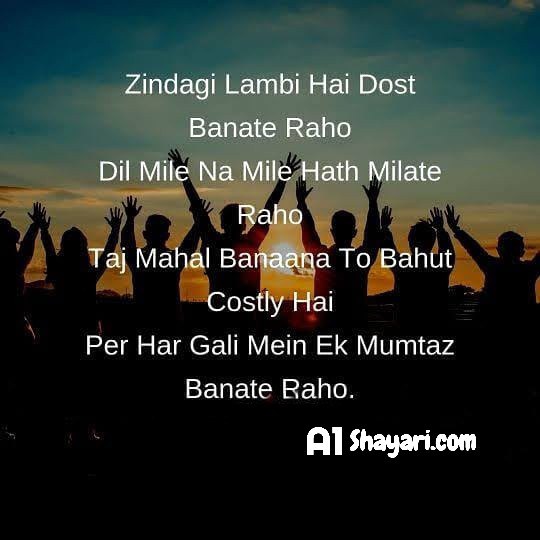 Zindagi Lambi Hai Dost Banate Raho
Dil Mile Na Mile Hath Milate Raho Taj
Mahal Banaana To Bahut Costly Hai Per Har
Gali Mein Ek Mumtaz Banate Raho .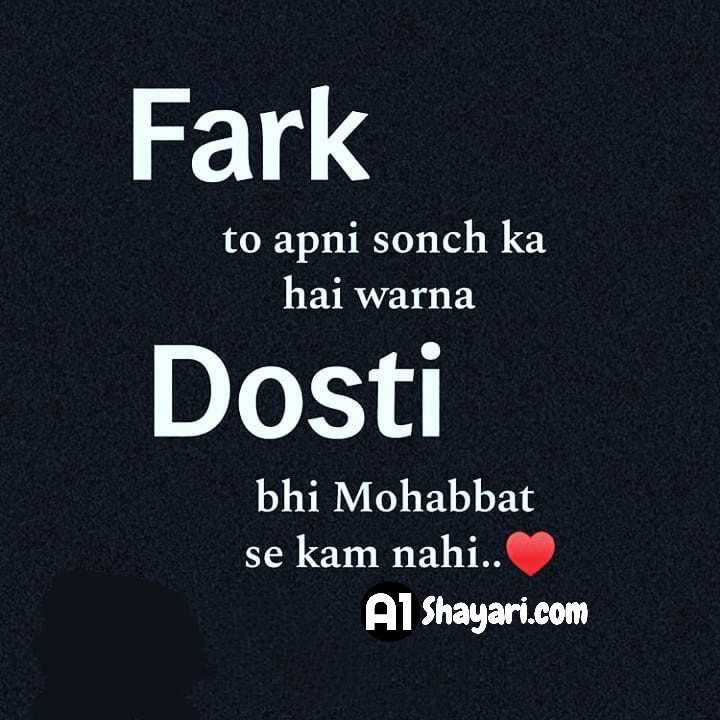 Fark to apni sonch ka hai warna …
Dosti bhi Mohabbat se kam nahi ..
Dosti Shayari In Hindi With Images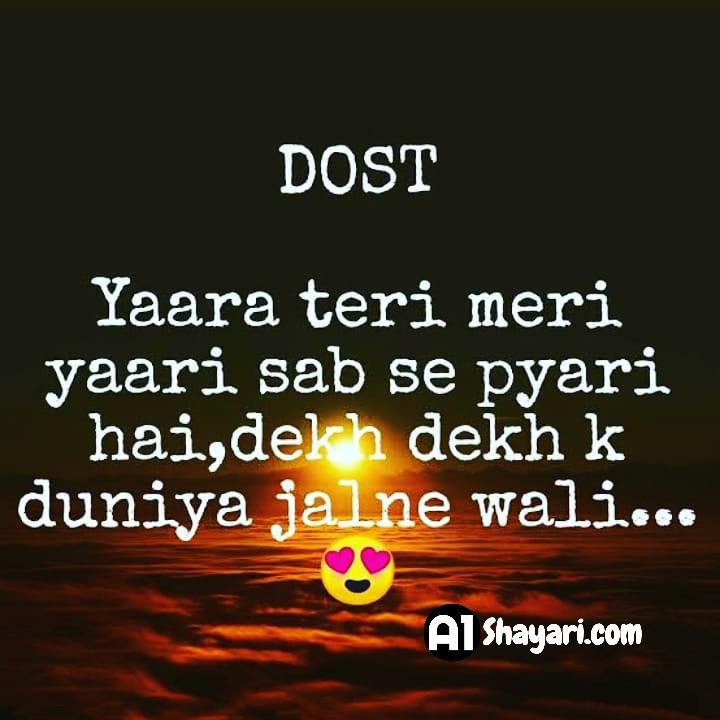 DOST Yaara teri meri yaari sab se pyari hai ,
dekh dekh k duniya jalne wali …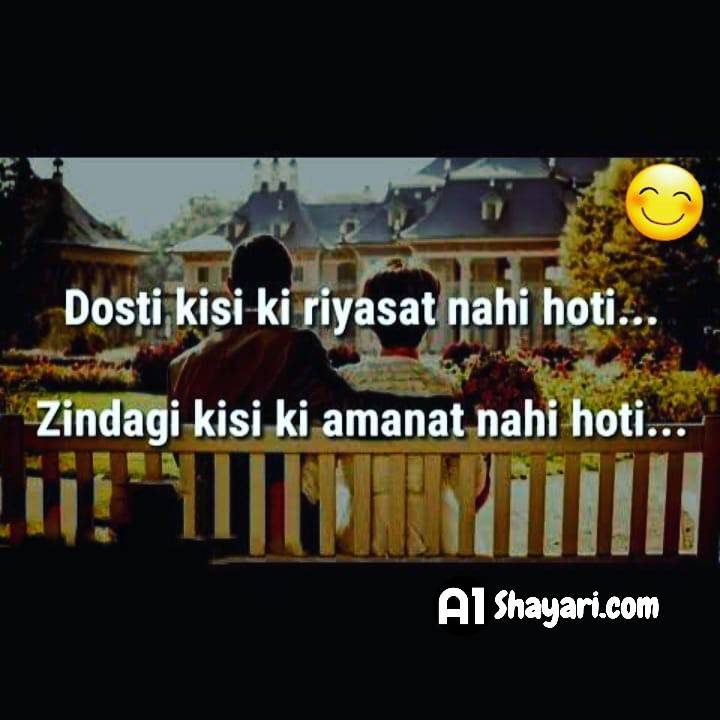 Dosti kisi ki riyasat nahi hoti …
Zindagi kisi ki amanat nahi hoti … ij !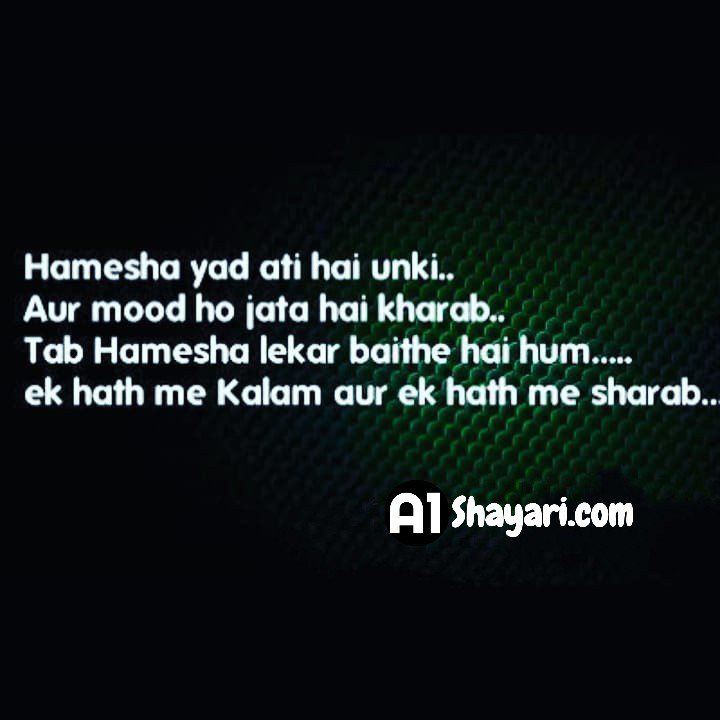 Hamesha yad ati hai unki ..
Aur mood ho jata hai kharab ..
Tab Hamesha lekar baithe hai hum …
ek hath me Kalam aur ek hath me sharab ..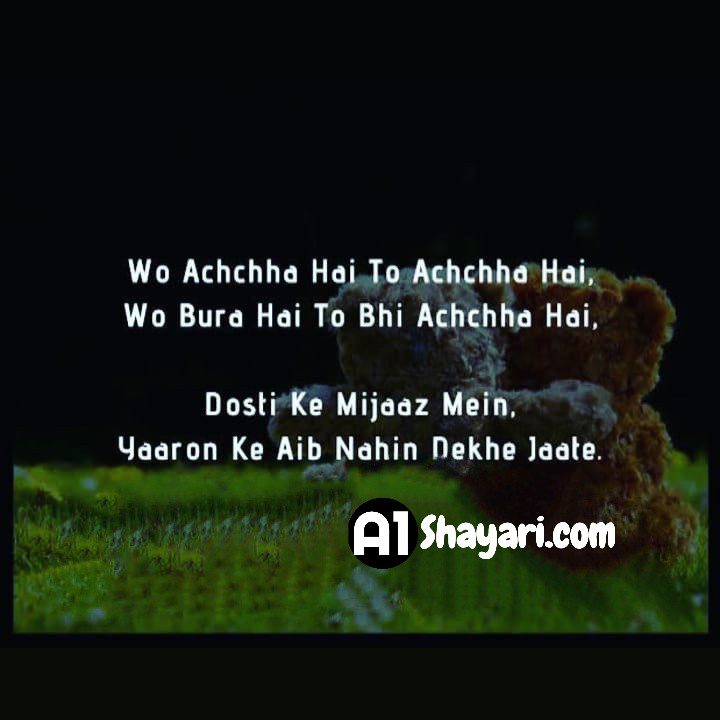 Wo Achchha Hai To Achchha Hai,
Wo Bura Hai To Bhi Achchha Hai,
Dosti Ke Mijaaz Mein . Yaaron Ke
Aib Nahin Dekhe Jaate .
Shayari on Dosti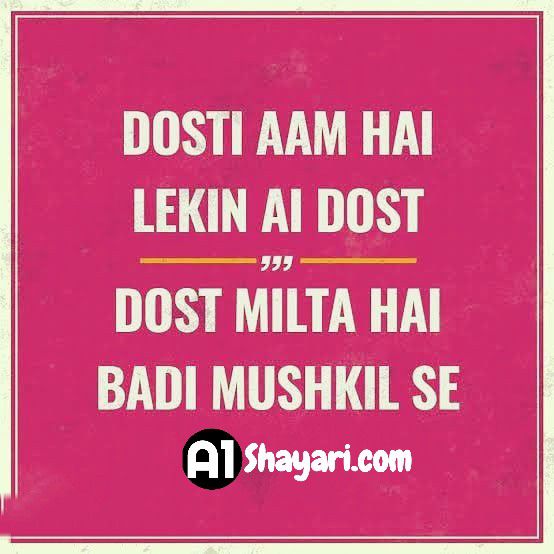 DOSTI AAM HAI LEKIN AI DOST …
DOST MILTA HAI BADI MUSHKIL SE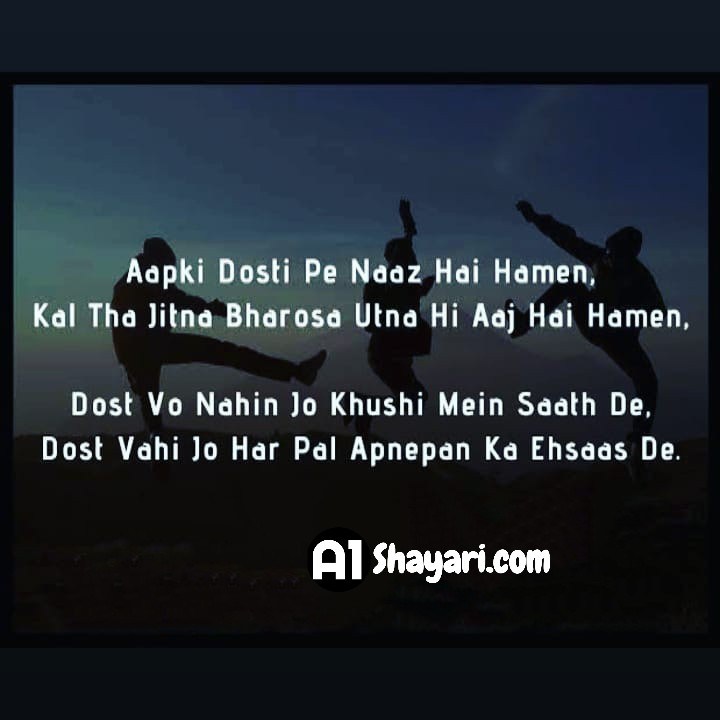 Aapki Dosti Pe Naaz Hai Hamen,
Kal Tha Jitna Bharosa Utna Hi Aaj Hai Hamen,
Dost Vo Nahin Jo Khushi Mein Saath De,
Dost Vahi Jo Har Pal Apnepan Ka Ehsaas De .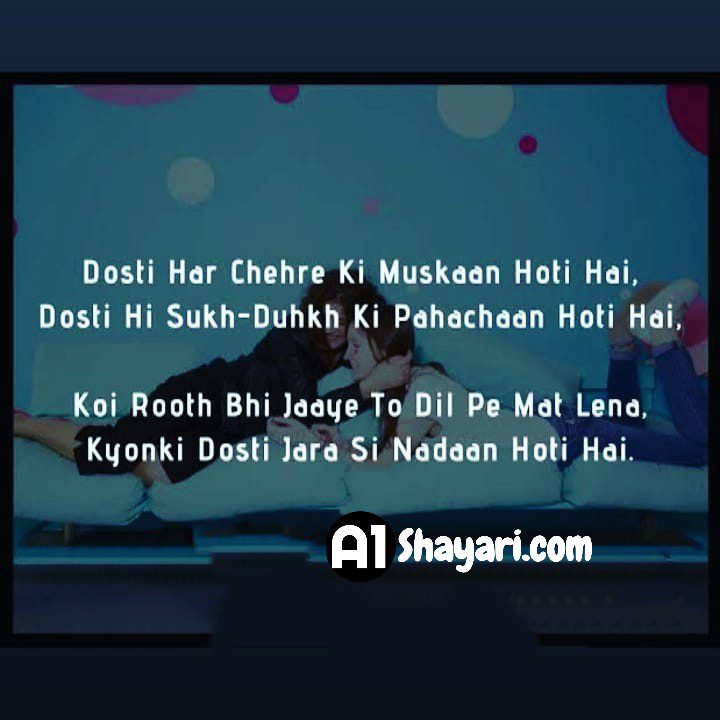 Dosti Har Chehre Ki Muskaan Hoti Hai,
Dosti Hi Sukh – Duhkh Ki Pahachaan Hoti Hai,
Koi Rooth Bhi Jaaye To Dil Pe Mat Lena,
kyonki Dosti Jara Si Nadaan Hoti Hai .
Hindi Shayari Dosti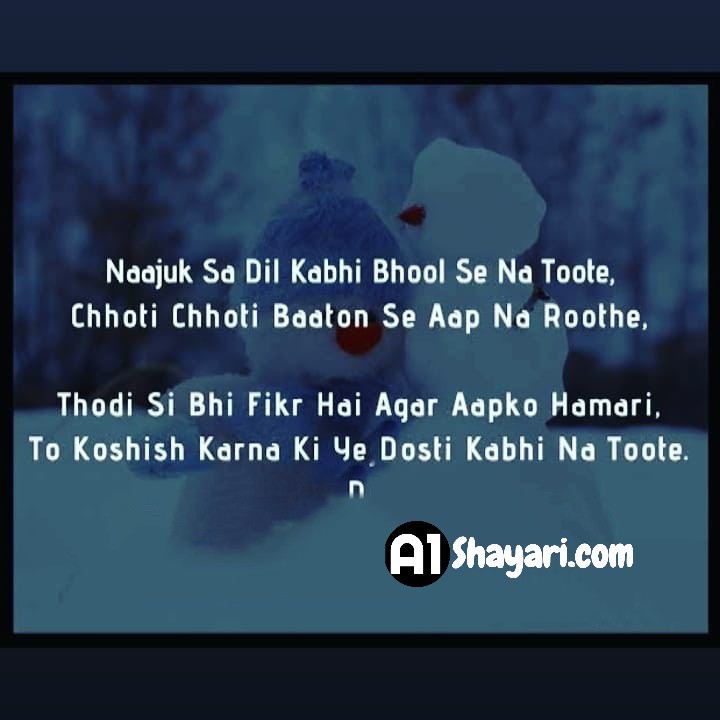 Naajuk Sa Dil Kabhi Bhool Se Na Toote,
Chhoti Chhoti Baaton Se Aap Na Roothe ,
Thodi Si Bhi Fikr Hai Agar Aapko Hamari ,
To Koshish Karna Ki Ye Dosti Kabhi Na Toote .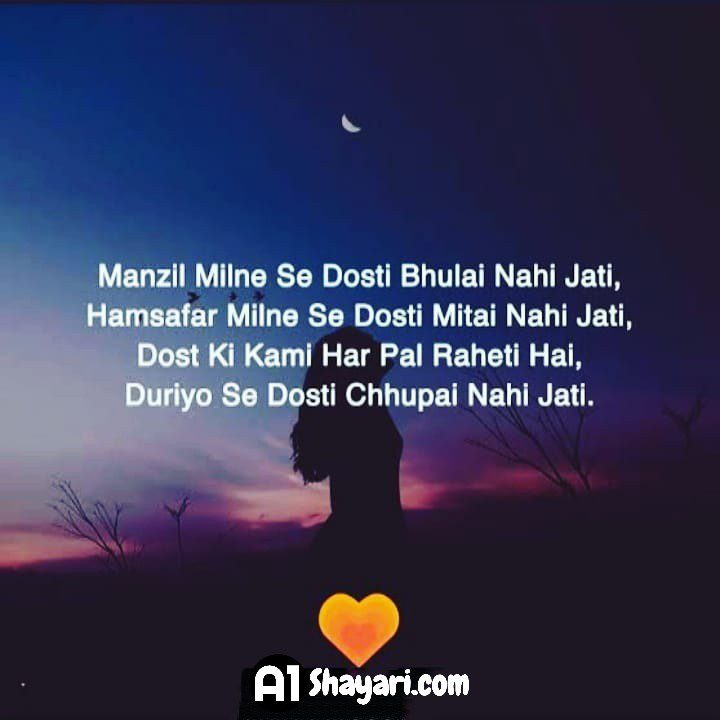 Manzil Milne Se Dosti Bhulai Nahi
Jati , Hamsafar Milne Se Dosti Mitai Nahi
Jati , Dost Ki Kami Har Pal Raheti Hai ,
Duriyo Se Dosti Chhupai Nahi Jati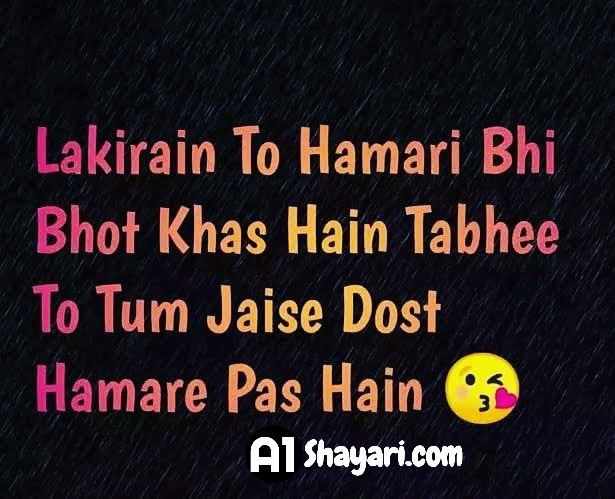 Lakirain To Hamari Bhi Bhot Khas
Hain Tabhee To Tum Jaise Dost Hamare Pas Hain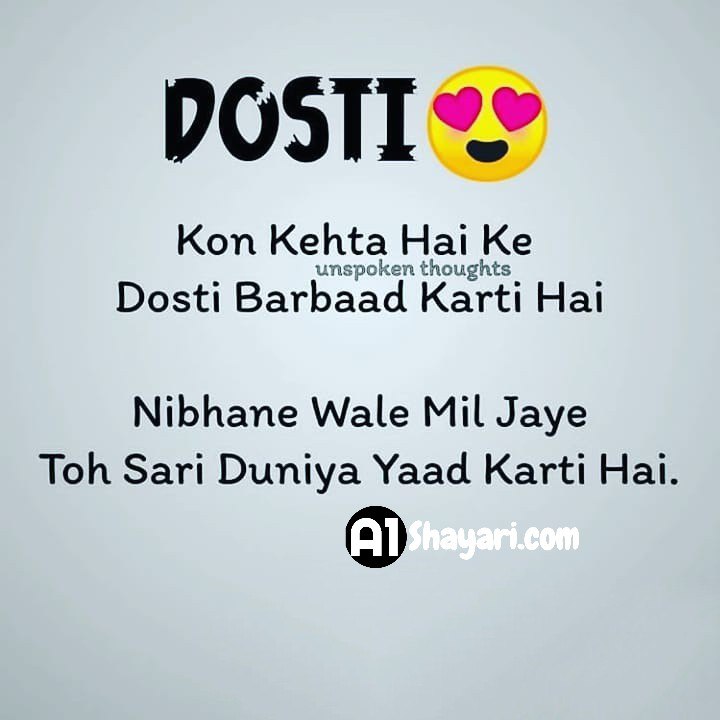 DOSTIS Kon Kehta Hai Ke Dosti Barbaad
karti hai nibhane wale mil jaye toh sari duniya yaad karti hai
Beautiful Dosti Shayari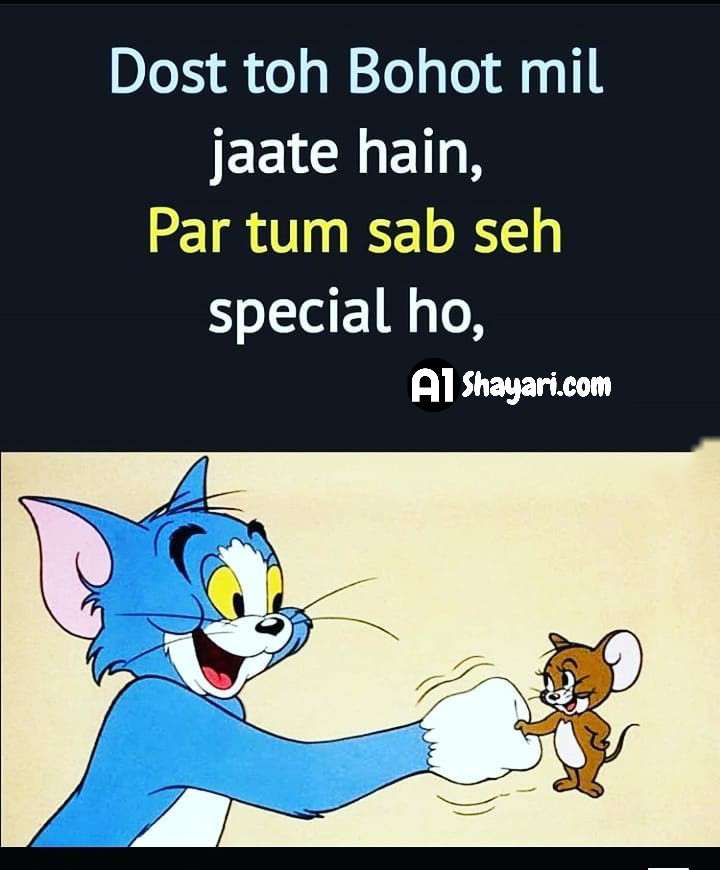 Dost toh Bohot mil jaate hain,
Par tum sab seh special ho ,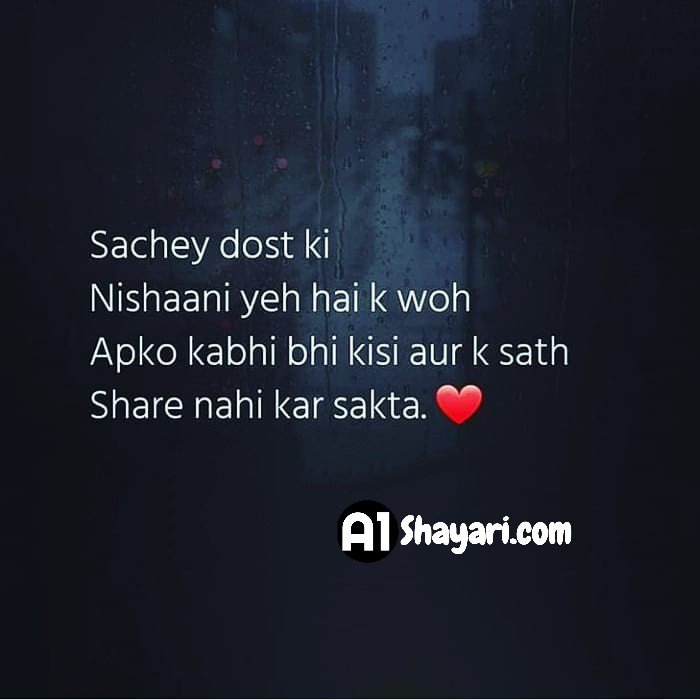 Sachey dost ki Nishaani yeh hai k
woh Apko kabhi bhi kisi aur k sath Share nahi kar sakta .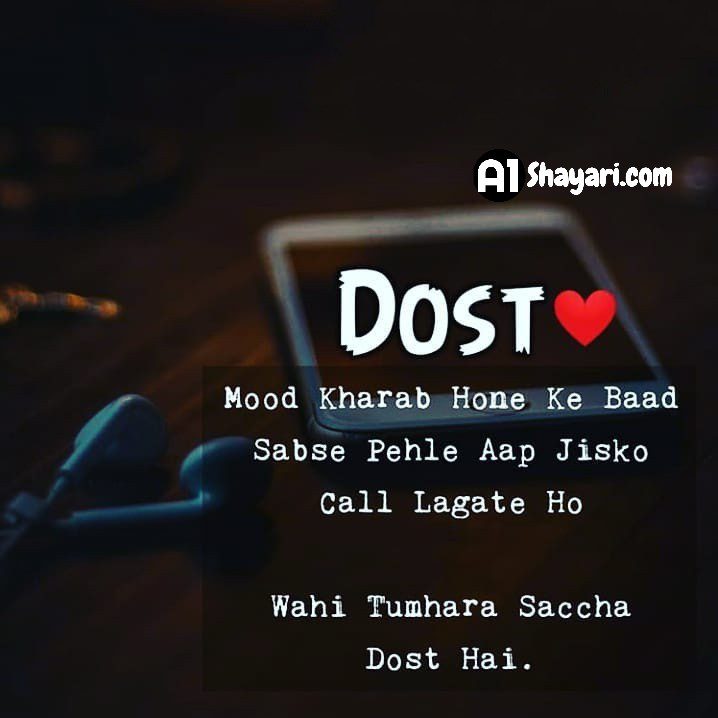 DOST Mood Kharab Hone Ke Baad
Sabse Pehle Aap Jisko Call Lagate Ho
Wahi Tumhara Saccha Dost Hai .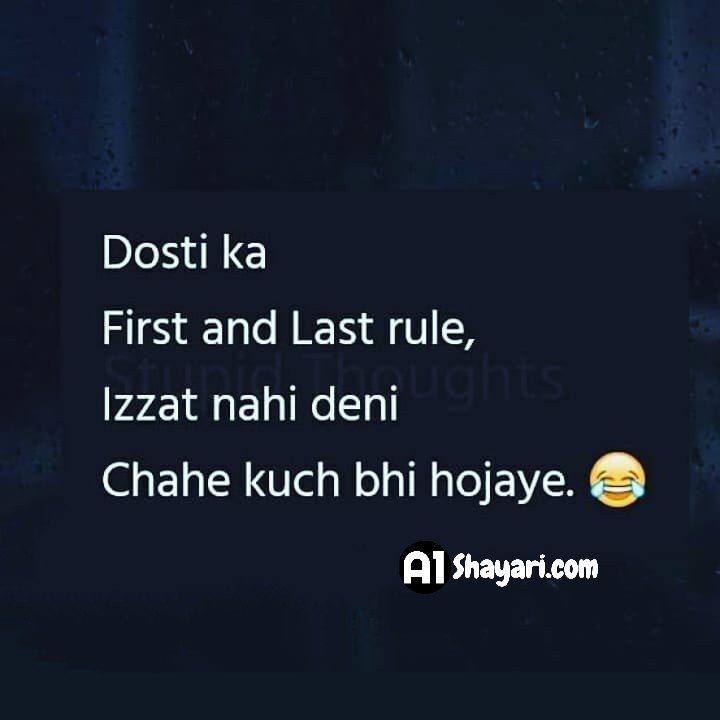 Dosti ka First and Last rule Izzat
nahi deni Chahe kuch bhi hojaye .
Hindi Shayari Dosti Love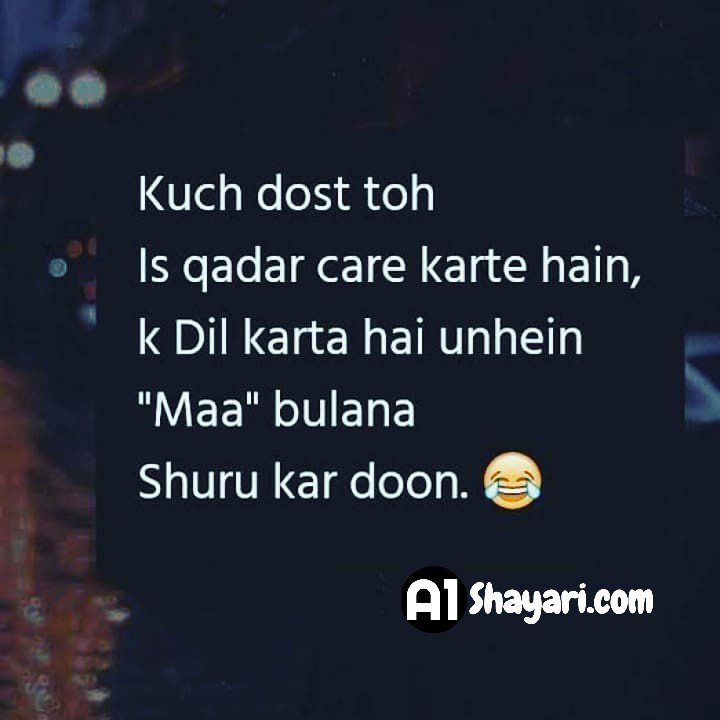 Kuch dost toh Is qadar care karte hain,
k Dil karta hai unhein " Maa " bulana Shuru kar doon