Girl Attitude Shayari In Hindi With Images, Girly Attitude Status Hindi, Best & Latest Attitude Shayari or Status For Girls In Hindi.
Girl Attitude Shayari
तो लड़कियों के अंदर लड़को से ज्यादा Attitude होता हैं, ऐसा सिर्फ लड़कियां सोचती हैं, लड़के भी थोड़ी ना कम होते हैं Attitude के मामले में, तो आज की इस पोस्ट में हम Girl Attitude Shayari शेयर कर करने वाले हैं, लड़को के लिए Attitude Shayari In Hindi For Boy पहले से हैं
तो आज की इस पोस्ट में सिर्फ लड़कियों के लिए Attitude Status शेयर किये हैं, यार अब थोड़ा बहुत लड़कियों के अंदर भी attitude होता हैं तो वो भी चाहती हैं की अपना Attitude किसी के साथ शेयर करे या Feeling के साथ Express करे तो ऐसे में Shayari और Status एक बहुत अच्छा माध्यम हैं.
इस पोस्ट में हम अच्छे अच्छे Girly Attitude Shayari शेयर किये हैं और साथ ही साथ हम उसके Images भी शेयर किये हैं, आप उन images को डाउनलोड करके होने Whatsapp Story और Status में लगा सकते हैं
Girl Attitude Shayari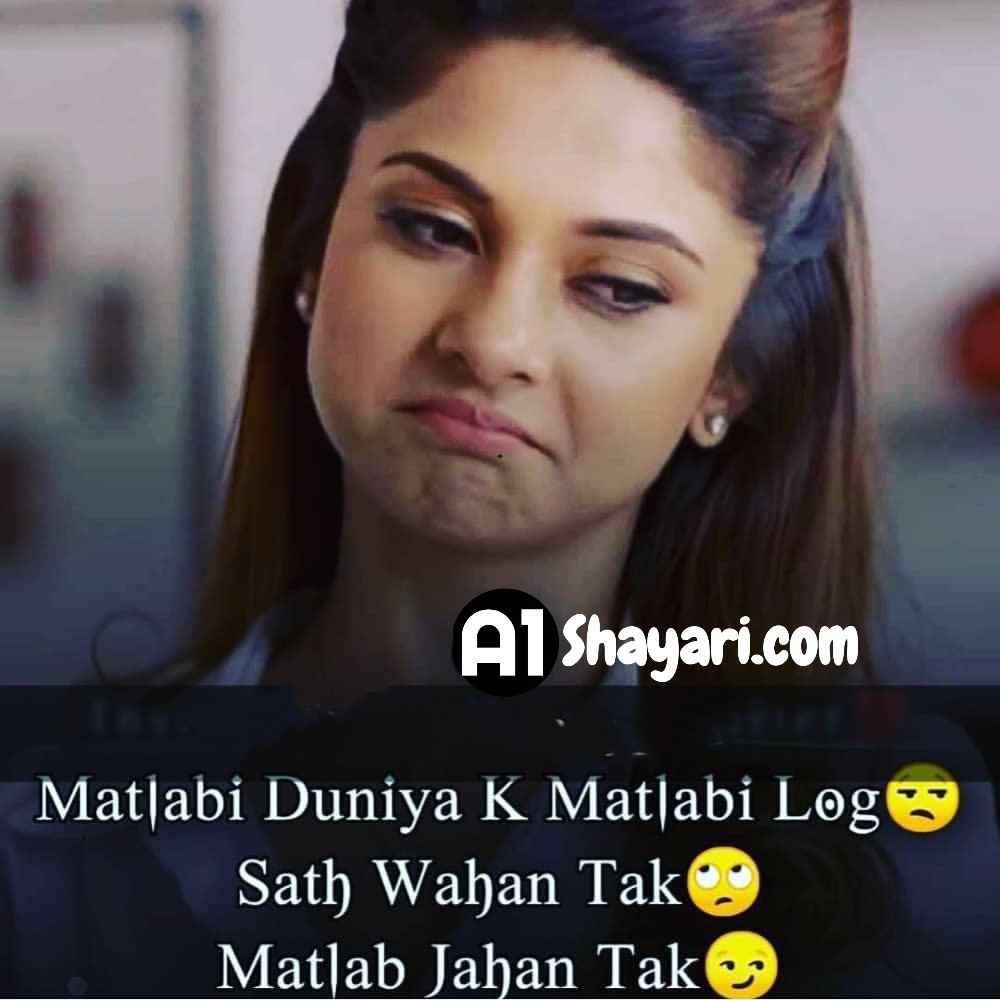 Matjabi Duniya K Matjabi Log
Sath Wahan Tak Matlab Jahan Tak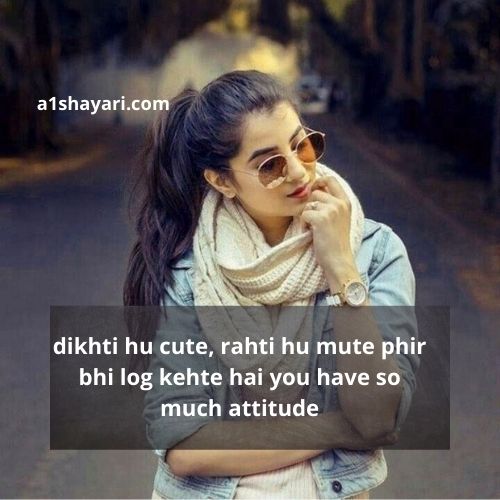 dikhti hu cute, rahti hu mute phir bhi log
kehte hai you have so much attitude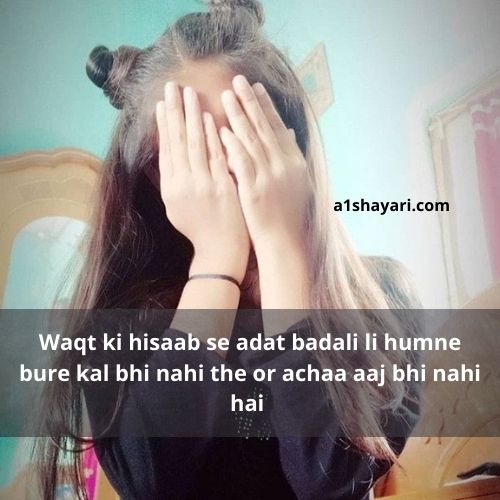 Waqt ki hisaab se adat badali li humne
bure kal bhi nahi the or achaa aaj bhi nahi hai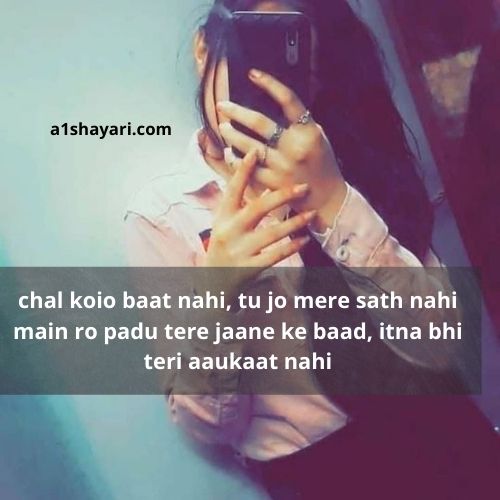 chal koio baat nahi, tu jo mere sath nahi main
ro padu tere jaane ke baad, itna bhi teri aaukaat nahi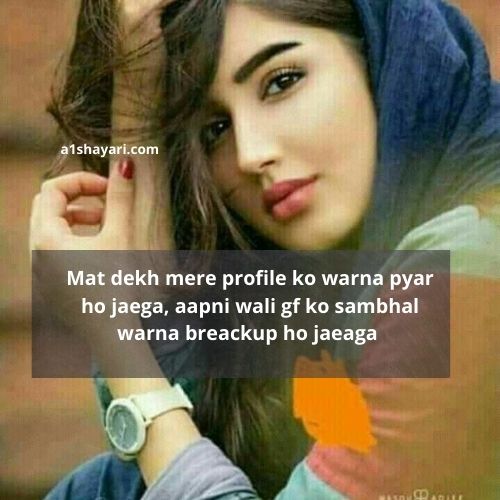 Mat dekh mere profile ko warna pyar ho jaega,
aapni wali gf ko sambhal warna breackup ho jaeaga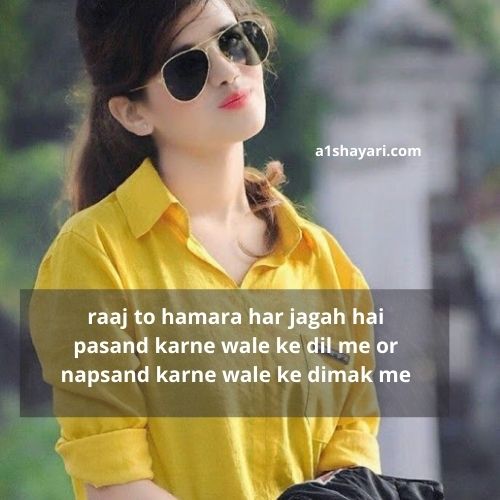 raaj to hamara har jagah hai pasand karne wale ke
dil me or napsand karne wale ke dimak me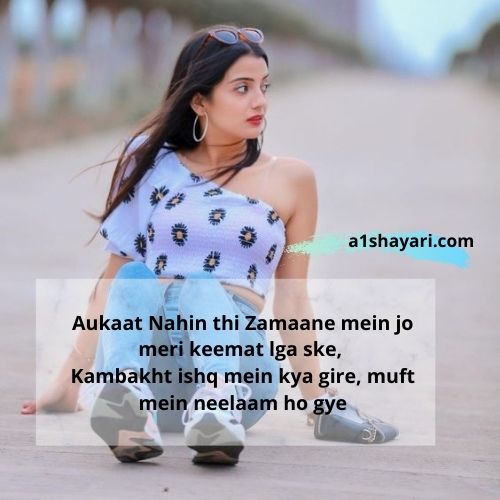 Aukaat Nahin thi Zamaane mein jo meri keemat lga ske,
Kambakht ishq mein kya gire, muft mein neelaam ho gye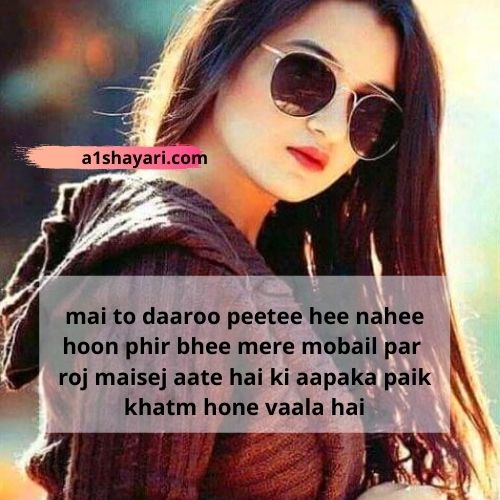 mai to daaroo peetee hee nahee hoon
phir bhee mere mobail par roj maisej aate
hai ki aapaka paik khatm hone vaala hai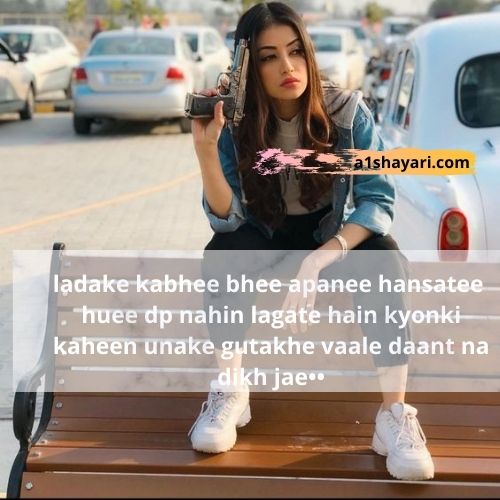 ladake kabhee bhee apanee hansatee
huee dp nahin lagate hain kyonki kaheen unake
gutakhe vaale daant na dikh jae••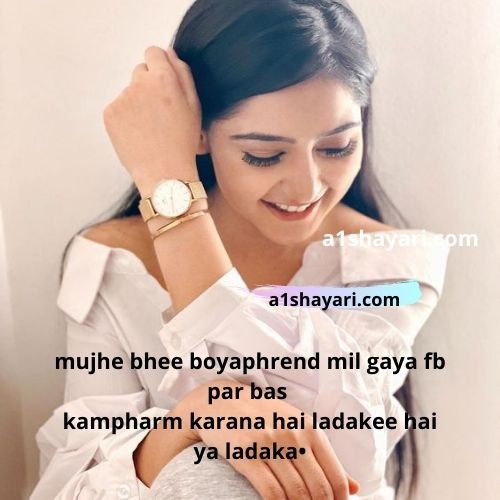 mujhe bhee boyaphrend mil gaya fb par bas
kampharm karana hai ladakee hai ya ladaka•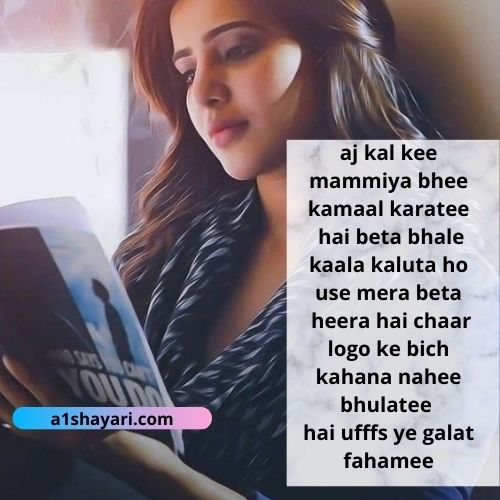 aj kal kee mammiya bhee kamaal karatee
hai beta bhale kaala kaluta ho use mera beta
heera hai chaar logo ke bich kahana
nahee bhulatee hai ufffs ye galat fahamee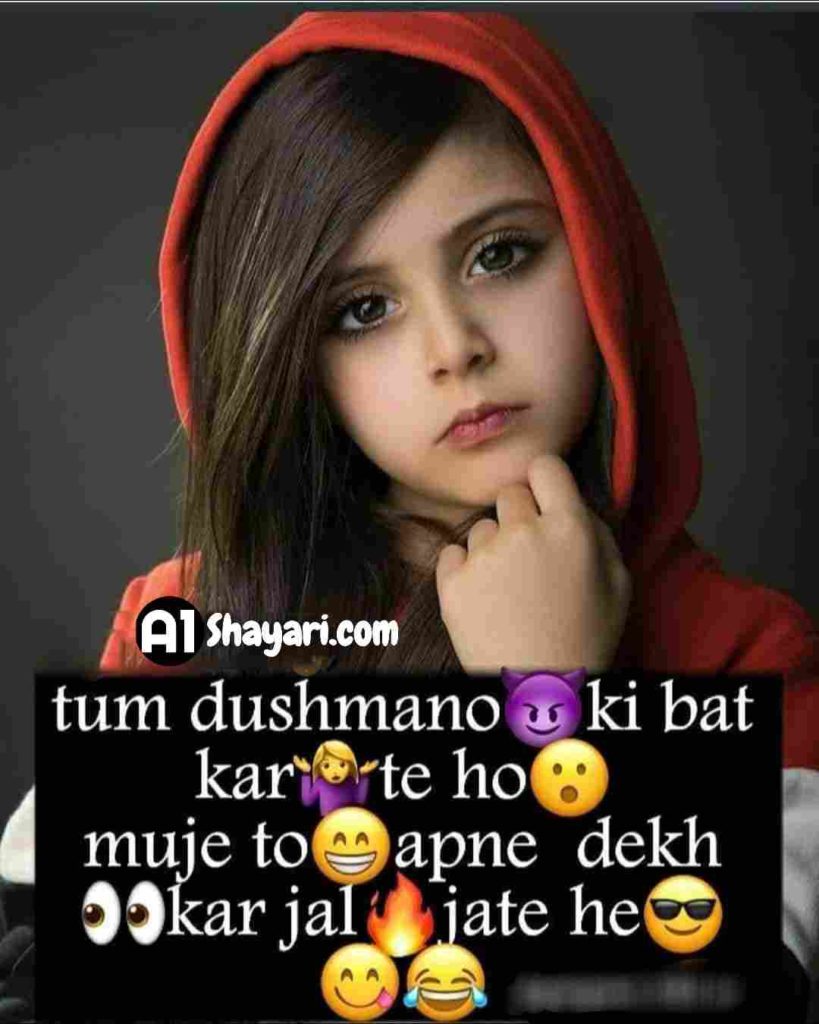 tum dushmano ki bat kar -te ho muje
to apne dekh kar jal jate he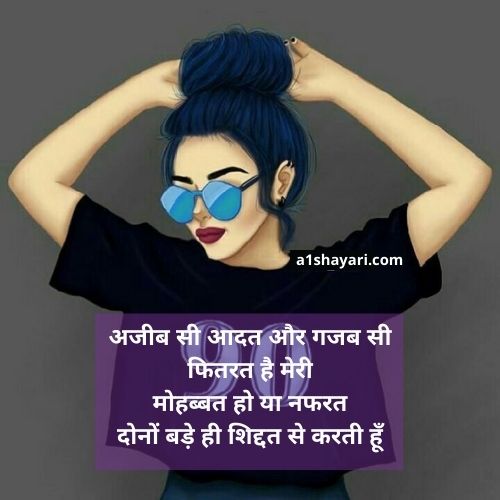 अजीब सी आदत और गजब सी फितरत है
मेरी मोहब्बत हो या नफरत दोनों बड़े ही शिद्दत से करती हूँ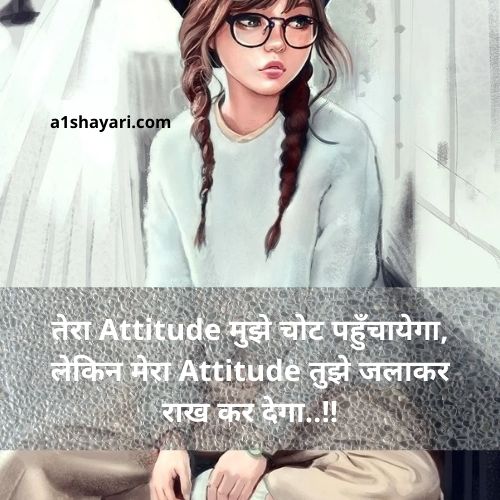 तेरा Attitude मुझे चोट पहुँचायेगा , लेकिन मेरा Attitude तुझे जलाकर राख कर देगा .. !!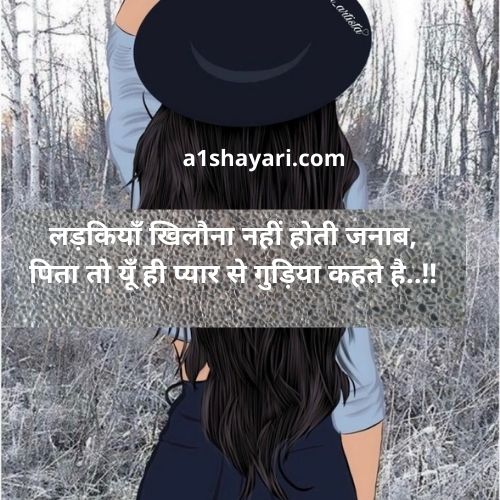 लड़कियाँ खिलौना नहीं होती जनाब , पिता तो यूँ ही प्यार से गुड़िया कहते है .. !!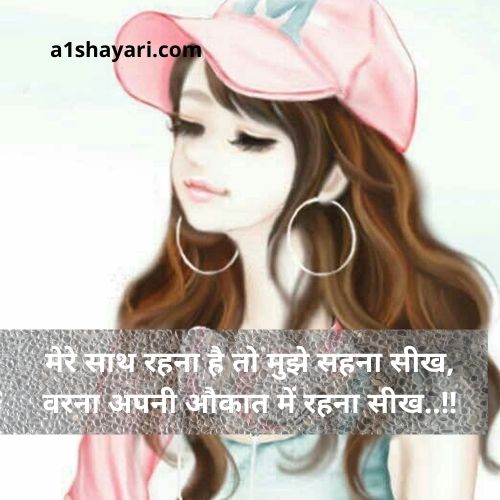 मेरे साथ रहना है तो मुझे सहना सीख , वरना अपनी औकात में रहना सीख .. !!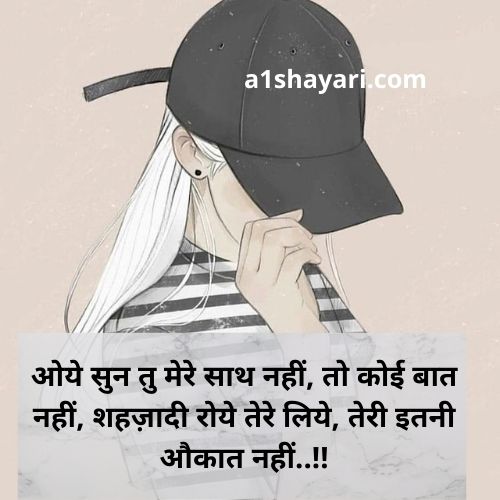 ओये सुन तु मेरे साथ नहीं , तो कोई बात नहीं , शहज़ादी रोये तेरे लिये , तेरी इतनी औकात नहीं .. !!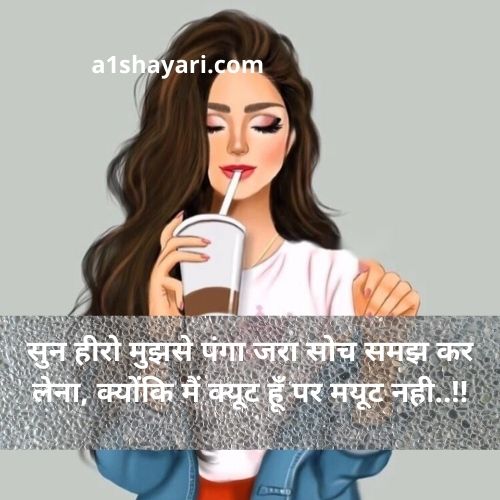 सुन हीरो मुझसे पंगा जरा सोच समझ कर लेना , क्योंकि में क्यूट है पर मयूट नही .. !! .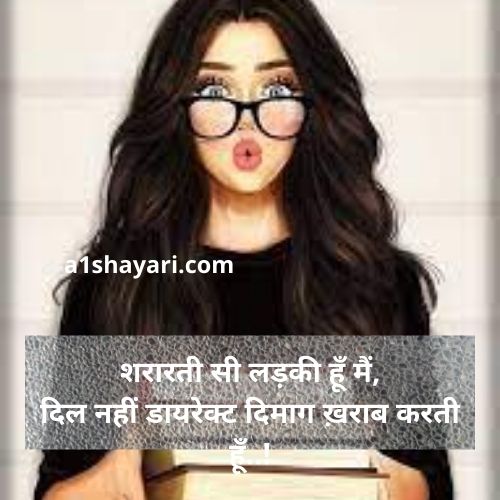 शरारती सी लड़की हूँ मैं , दिल नहीं डायरेक्ट दिमाग खराब करती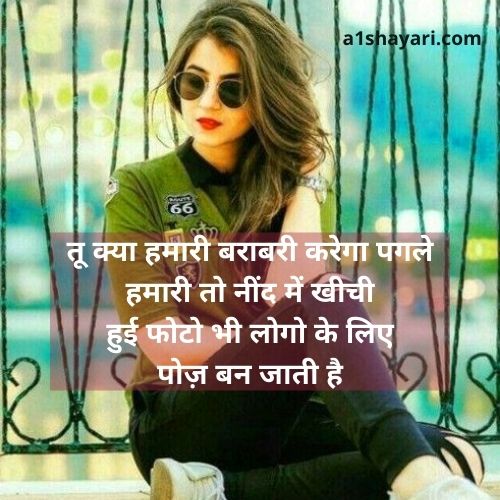 तू क्या हमारी बराबरी करेगा पगले हमारी तो नींद
में खीची हुई फोटो भी लोगो के लिए पोज़ बन जाती है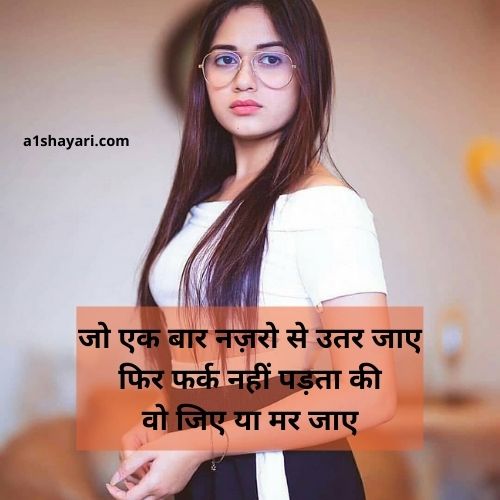 जो एक बार नज़रो से उतर जाए फिर
फर्क नहीं पड़ता की वो जिए या मर जाए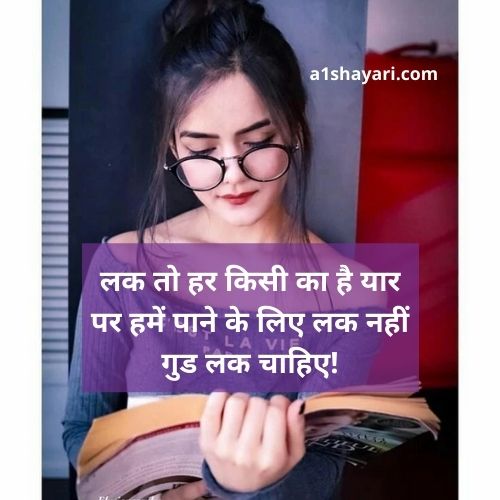 लक तो हर किसी का है यार पर हमें पाने के लिए लक नहीं गुड लक चाहिए !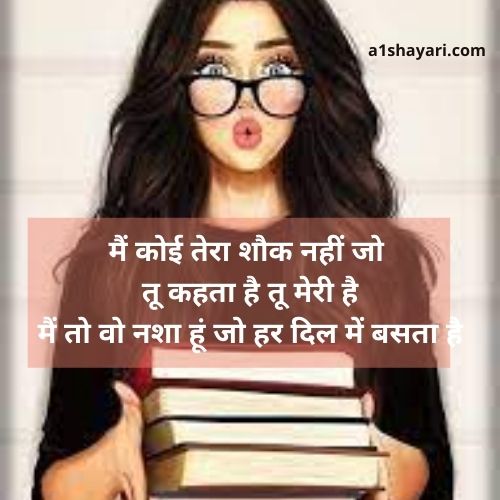 मैं कोई तेरा शौक नहीं जो तू कहता है तू मेरी है मैं तो वो नशा हूं जो हर दिल में बसता
अदा तो अपनी Full कातिल है और Attitude मैं तो Degree हासिल है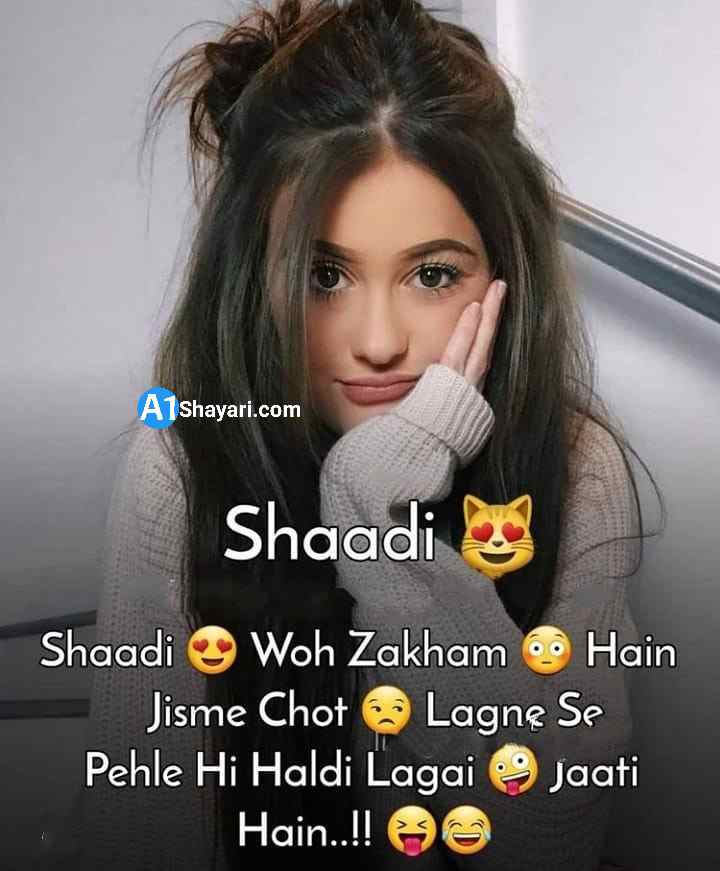 Shaadi Shaadi Woh Zakham Hain Jisme Chot
Lagne Se Pehle Hi Haldi Lagai jaati Hain .. !!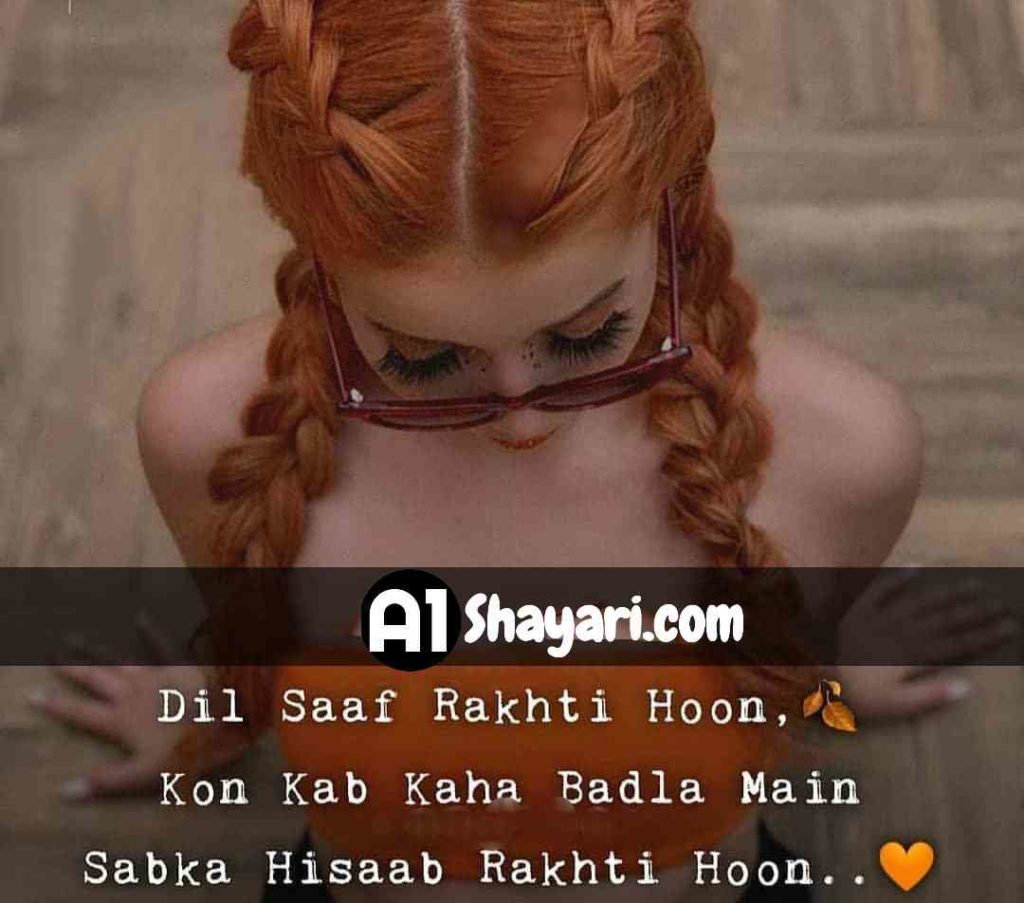 Dil Saaf Rakhti Hoon , Kon Kab Kaha Badla
Main Sabka Hisaab Rakhti Hoon ..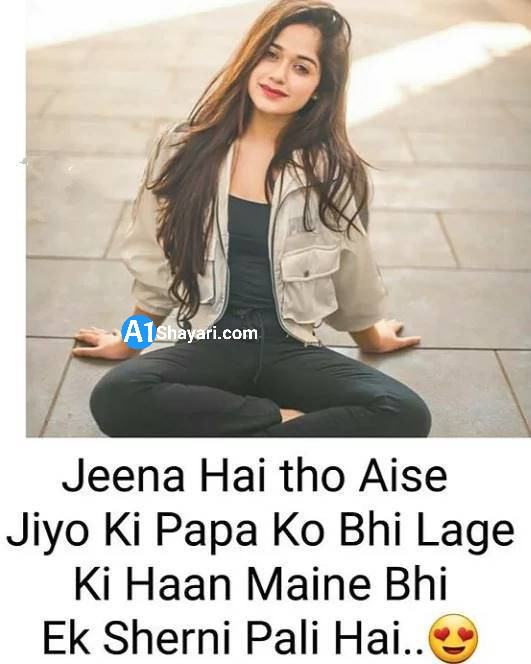 Jeena Hai tho Aise Jiyo Ki Papa Ko Bhi
Lage Ki Haan Maine Bhi Ek Sherni Pali Hai .. AO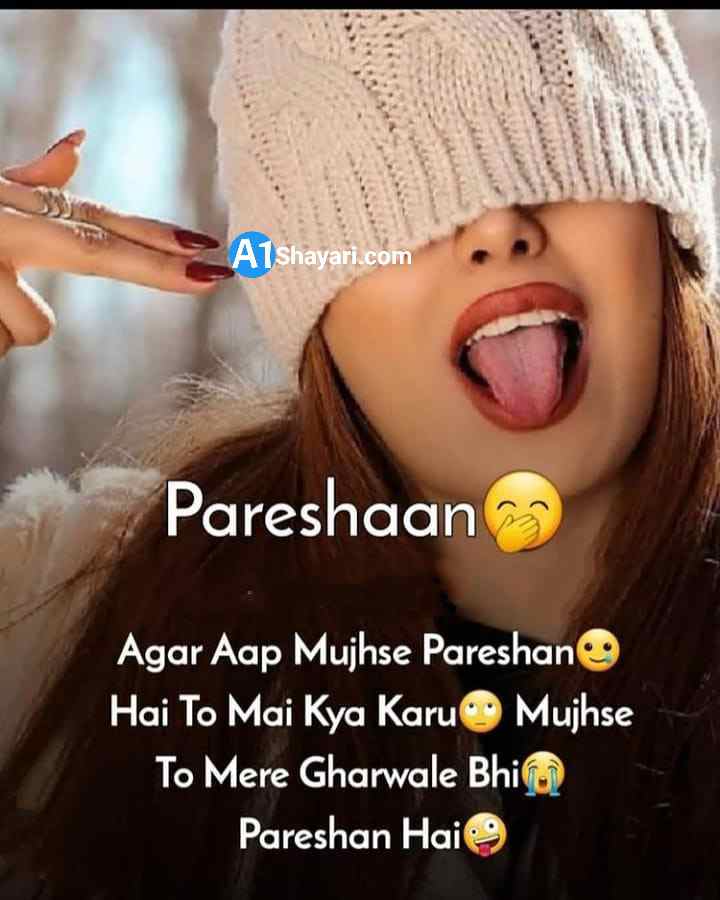 Pareshaan Agar Aap Mujhse Pareshan Hai To
Mai Kya Karu Mujhse To Mere Gharwale Bhi Pareshan Hai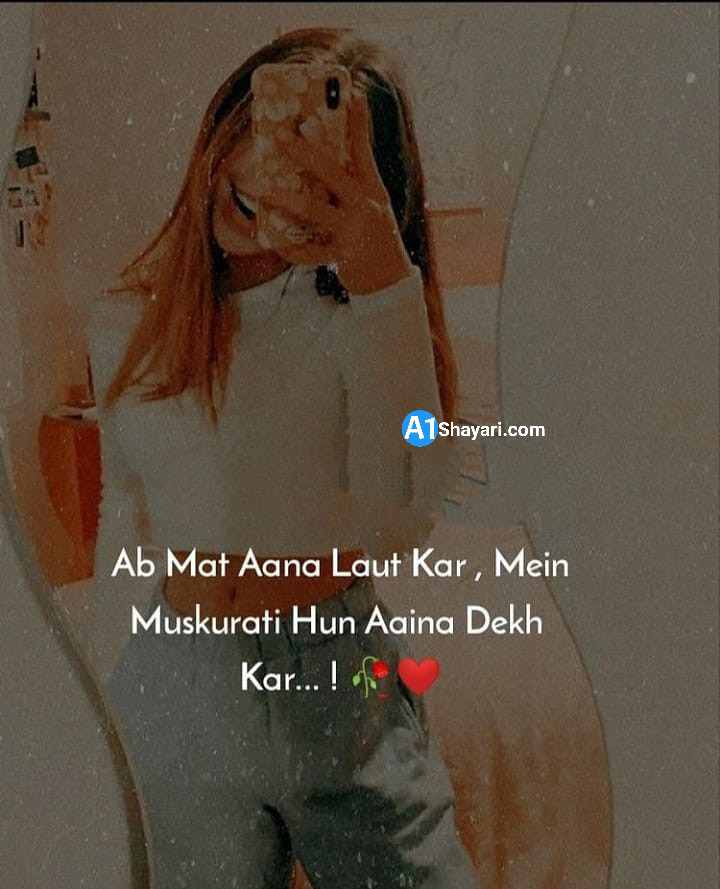 Ab Mat Aana Laut Kar , Mein Muskurati Hun Aaina Dekh Kar … !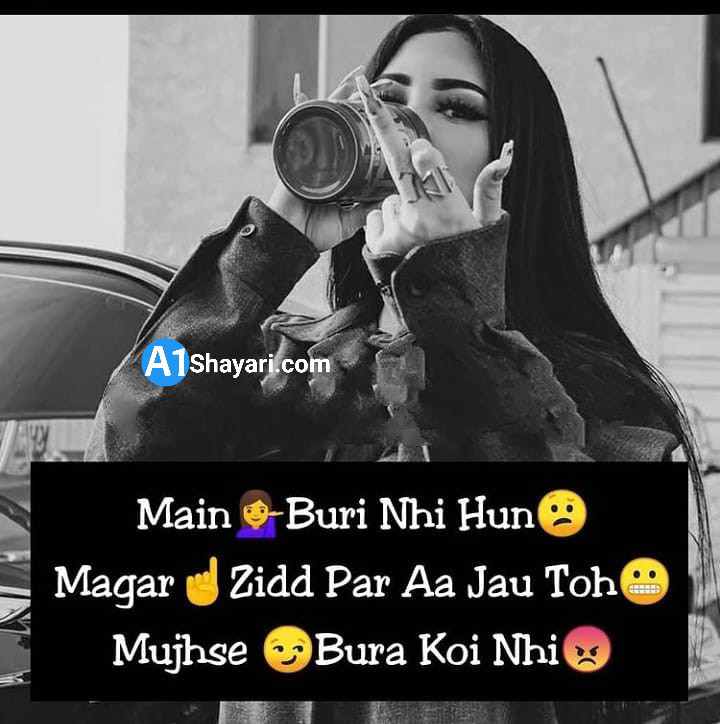 Main -Buri Nhi Hun Magar
Zidd Par Aa Jau Toh Mujhse Bura Koi Nhi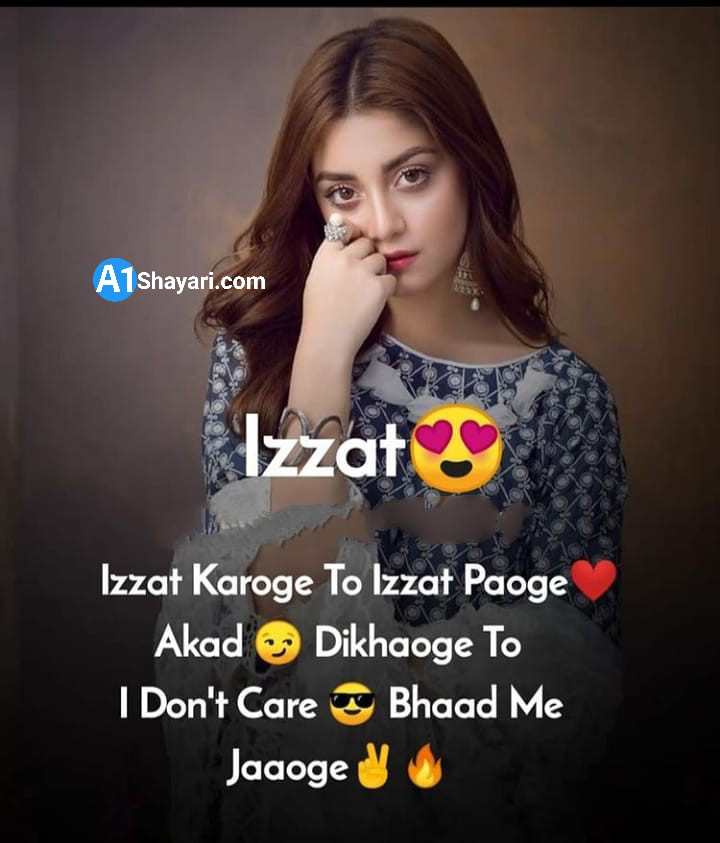 Izzato Izzat Karoge To Izzat Paoge
Akad Dikhaoge To Don't Care Bhaad Me Jaaoge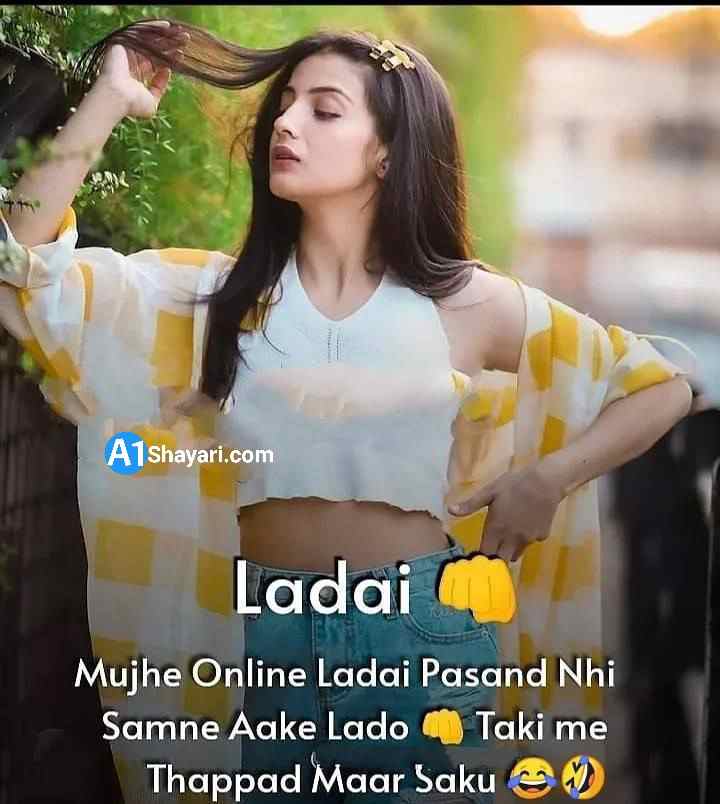 Ladai Mujhe Online Ladai Pasand
Nhi Samne Aake Lado Taki me Thappad Maar Saku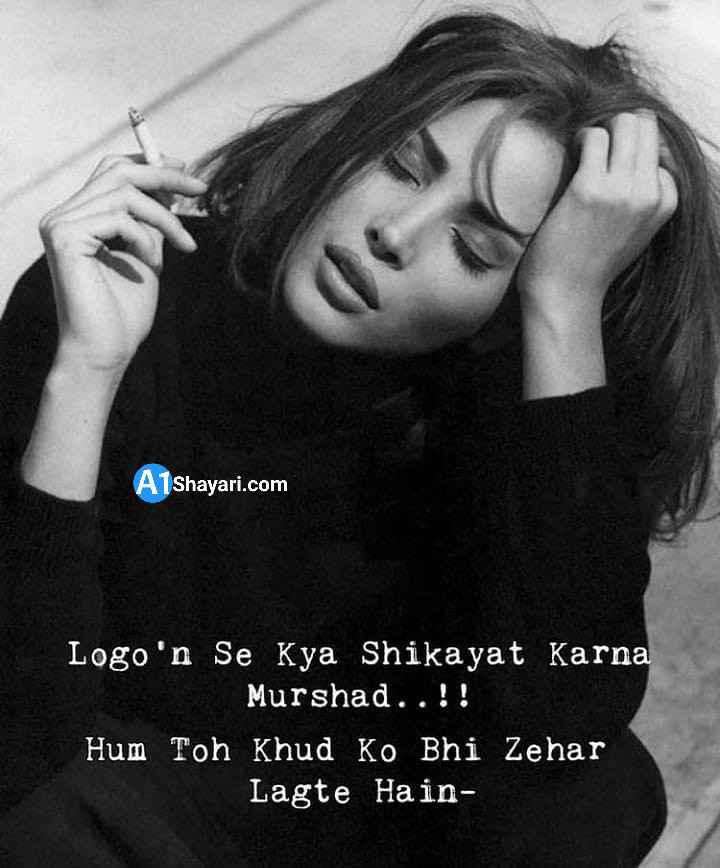 Logo'n Se Kya Shikayat Karna Murshad .. !!
Hum Toh Khud Ko Bhi Zehar Lagte Hain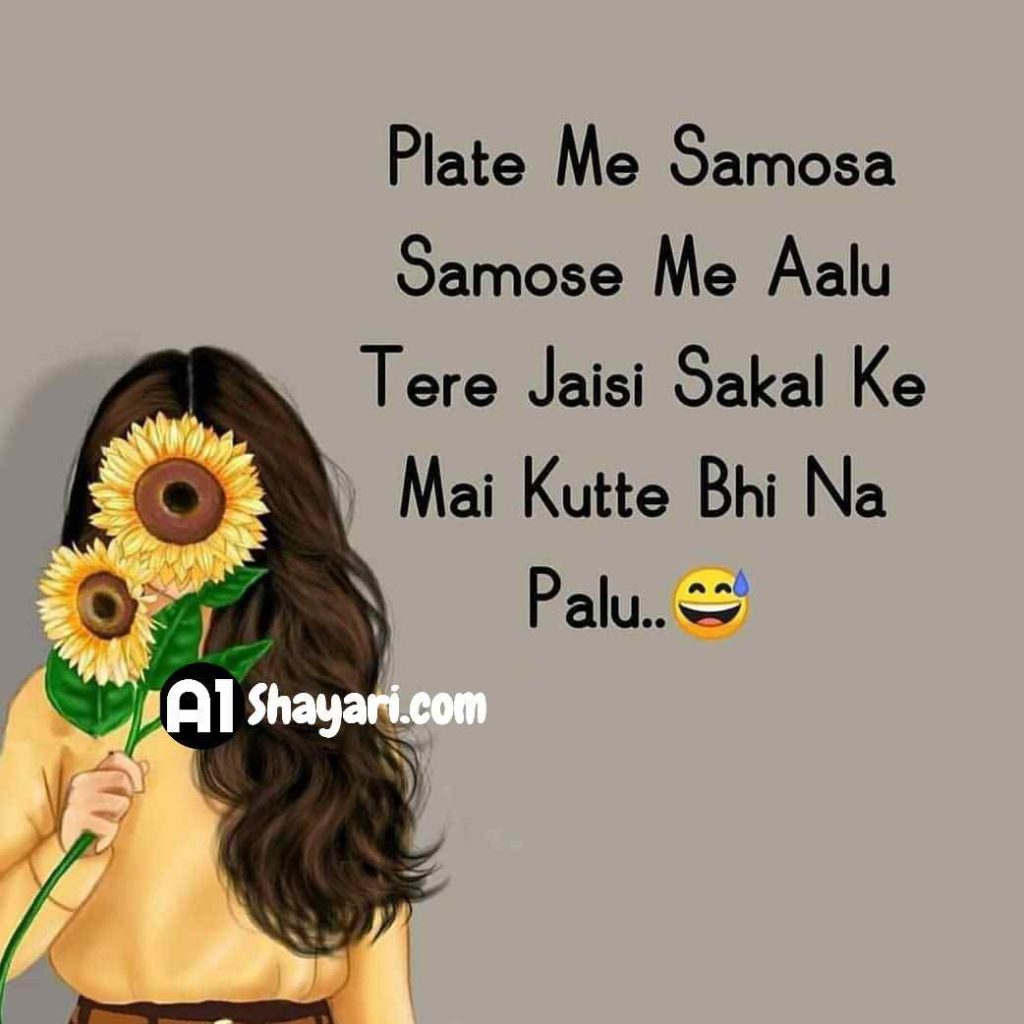 Plate Me Samosa Samose Me Aalu Tere
Jaisi Sakal Ke Mai Kutte Bhi Na Palu ..
Girl Attitude Shayari In Hindi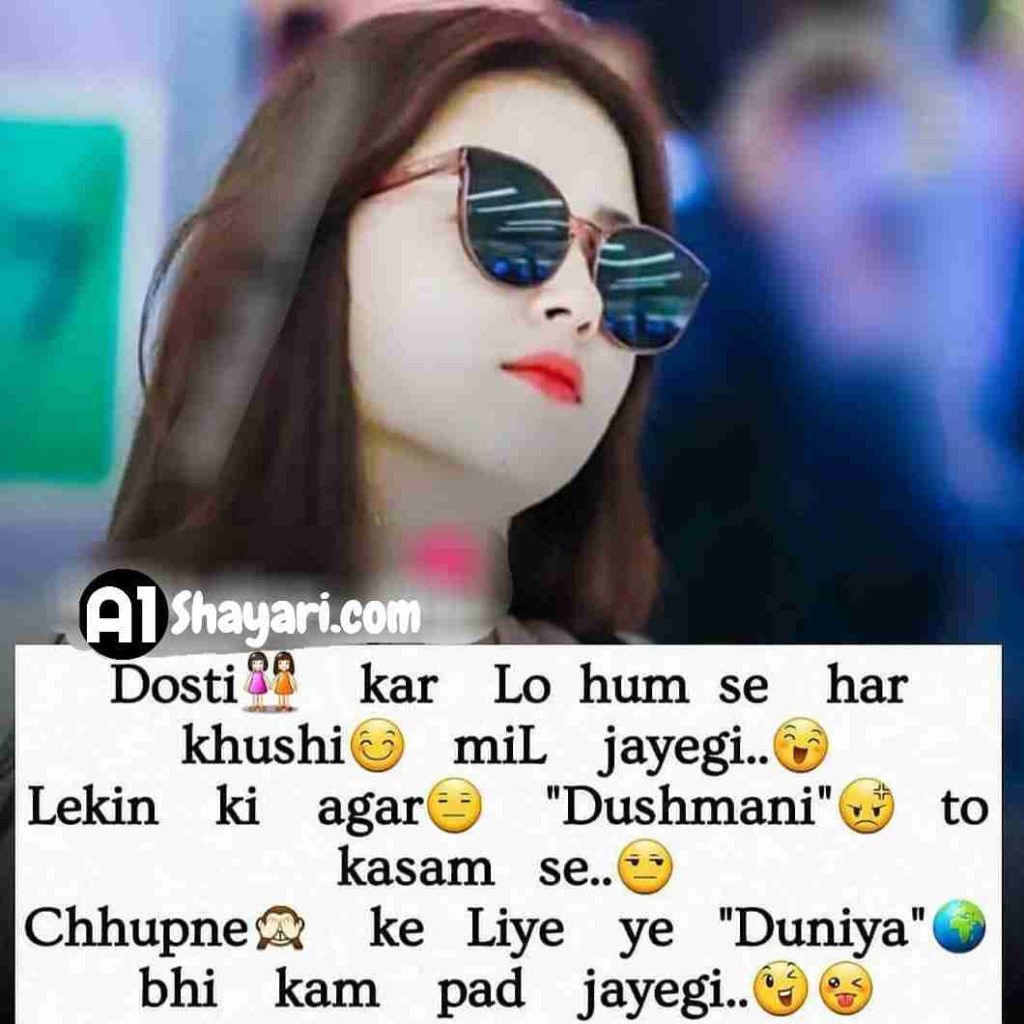 Dosti 88 kar Lo hum se har khushi mil jayegi
Lekin ki agar " Dushmani kasam se ..
Chhupne ke Liye ye
" Duniya " bhi kam pad jayegi .. to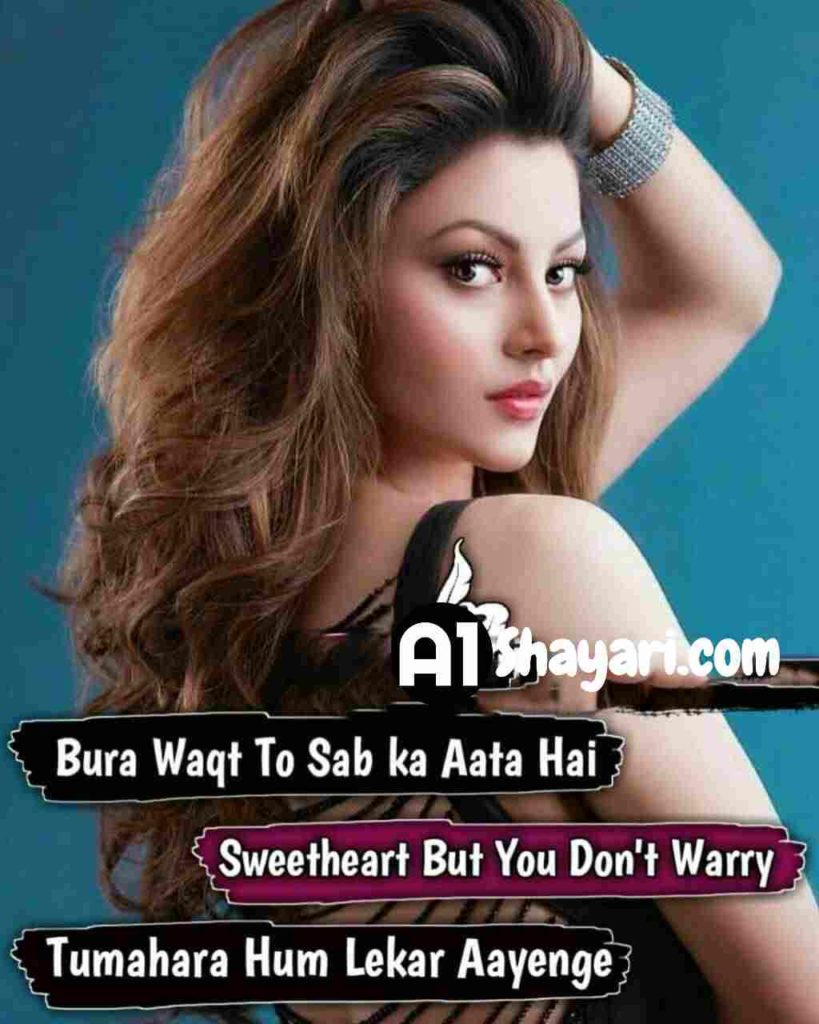 Bura Waqt To Sab ka Aata Hai Sweetheart But You Don't
Warry Tumahara Hum Lekar Aayenge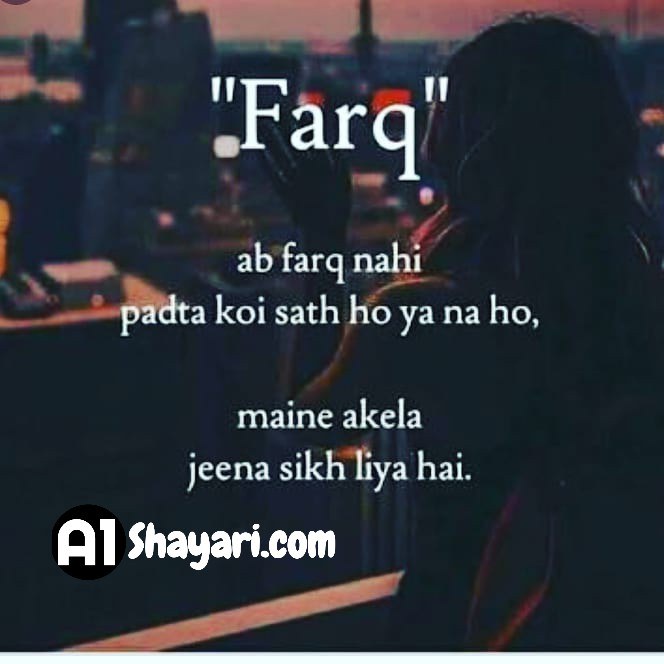 "Farq "
ab farq nahi padta koi sath ho ya na ho ,
maine akela jeena sikh liya hai .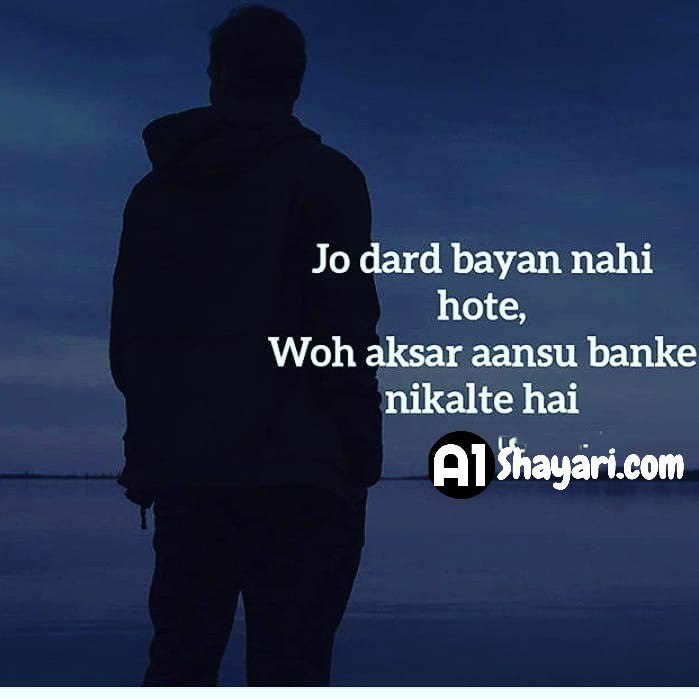 Jo dard bayan nahi hote ,
Woh aksar aansu banke nikalte hai
Attitude Status For Girl In Hindi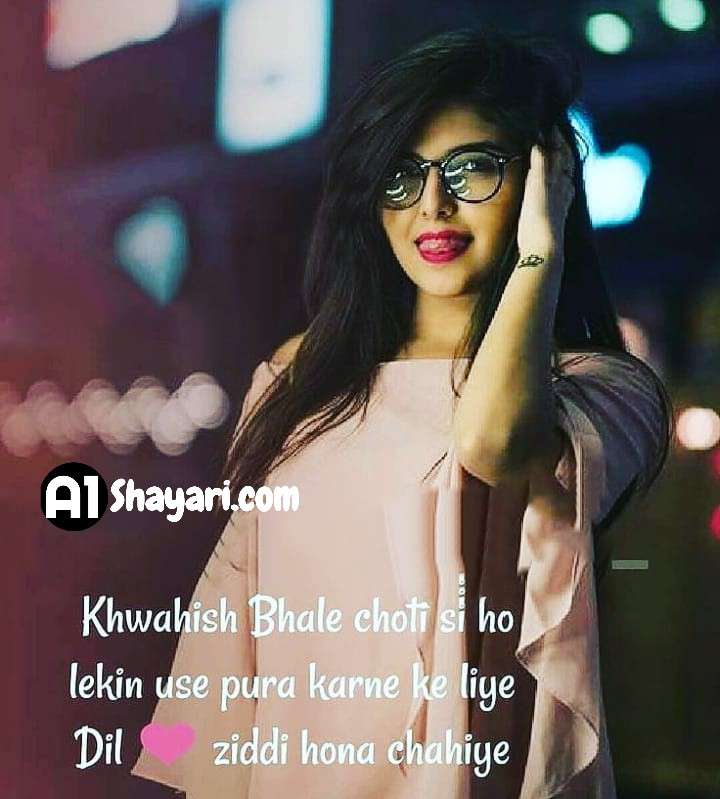 Khwahish Bhale choti si ho lekin use pura
karne ke liye Dil ziddi hona chahiye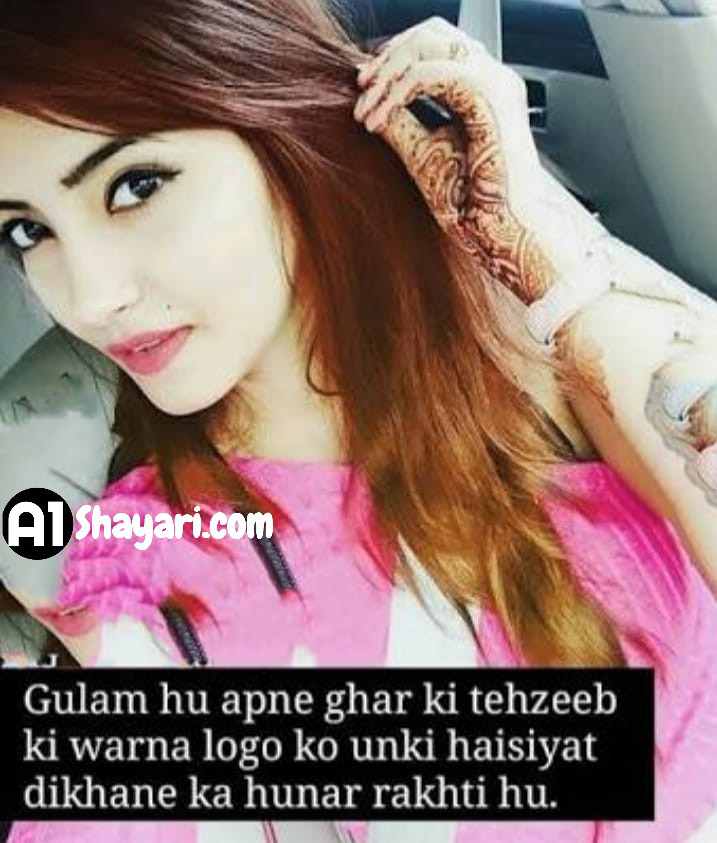 Gulam hu apne ghar ki tehzeeb ki warna
logo ko unki haisiyat dikhane ka hunar rakhti hu .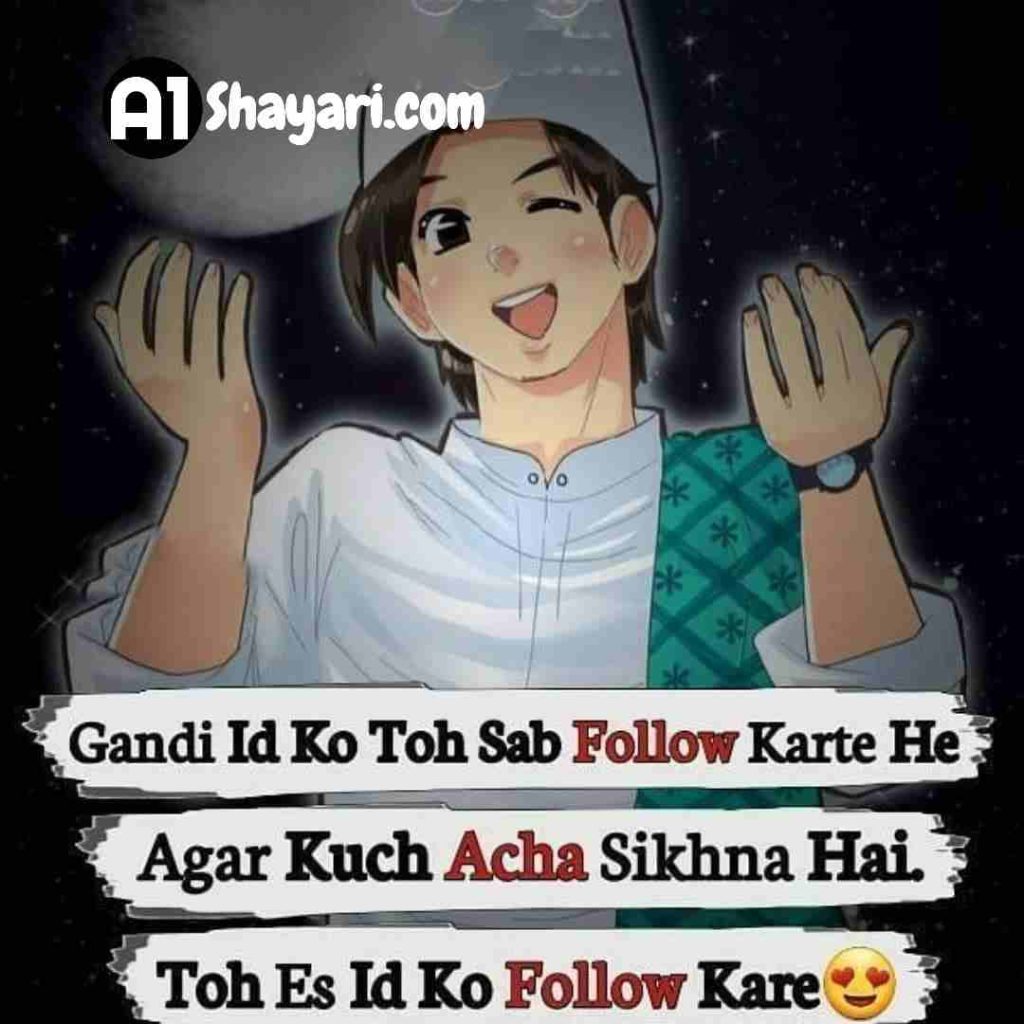 Gandi Id Ko Toh Sab Follow Karte He Agar
Kuch Acha Sikhna Hai . Toh Es Id Ko Follow Kare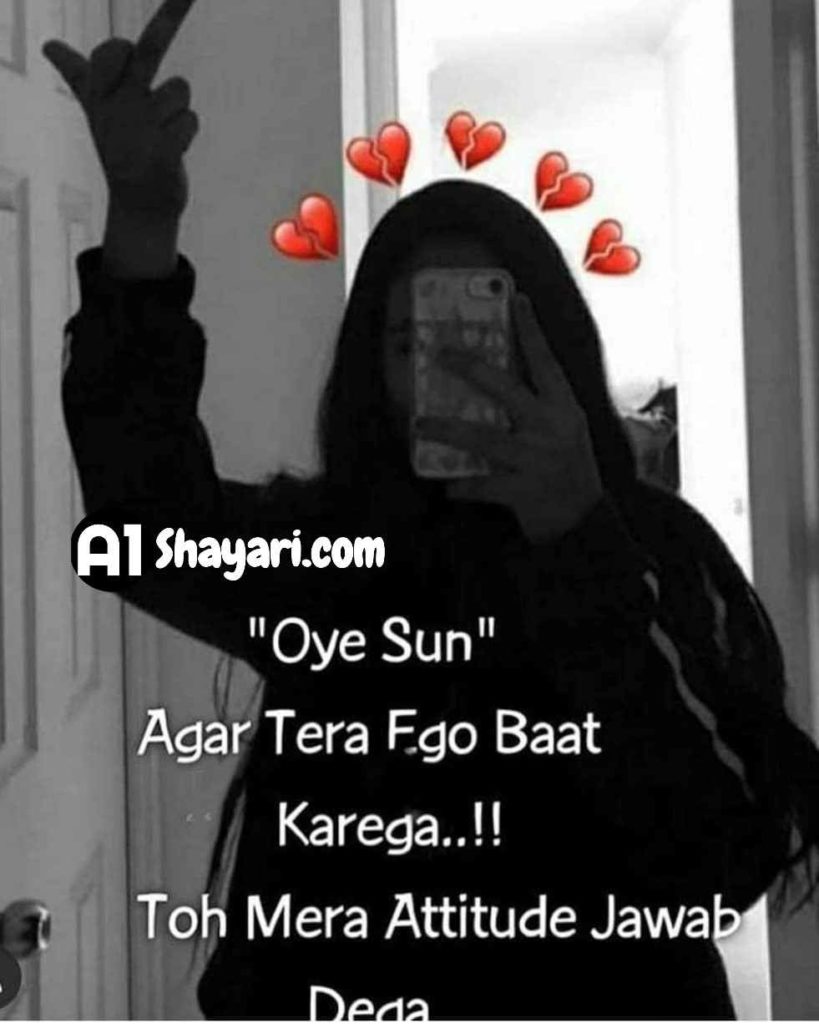 " Oye Sun "
Agar Tera Ego Baat Karega .. !!
Toh Mera Attitude Jawab Deda
Hot Girl Attitude Status In Hindi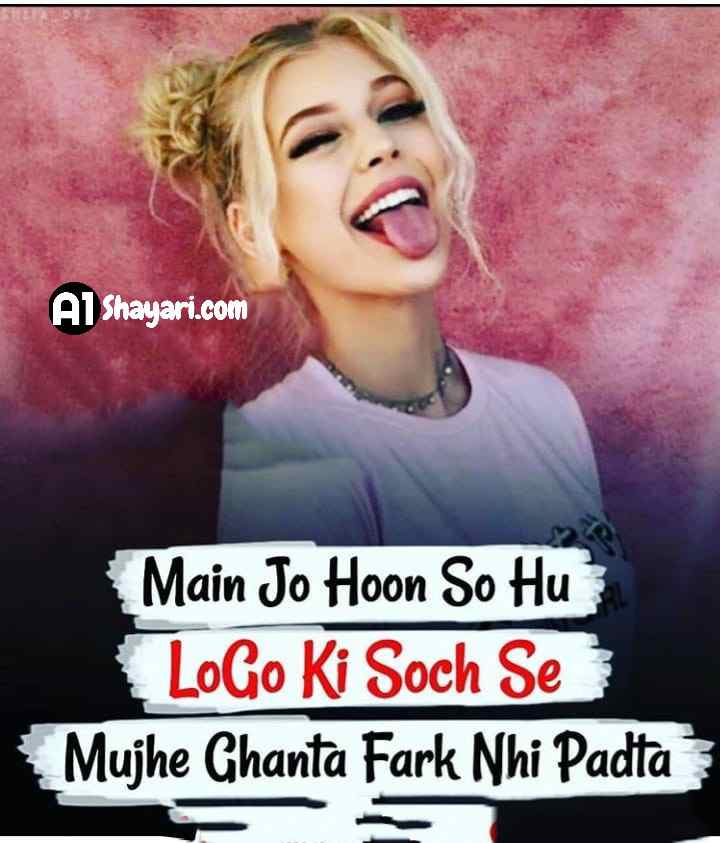 Main Jo Hoon So Hu LOGO Ki Soch
Se Mujhe Ghanta Fark Nhi Padita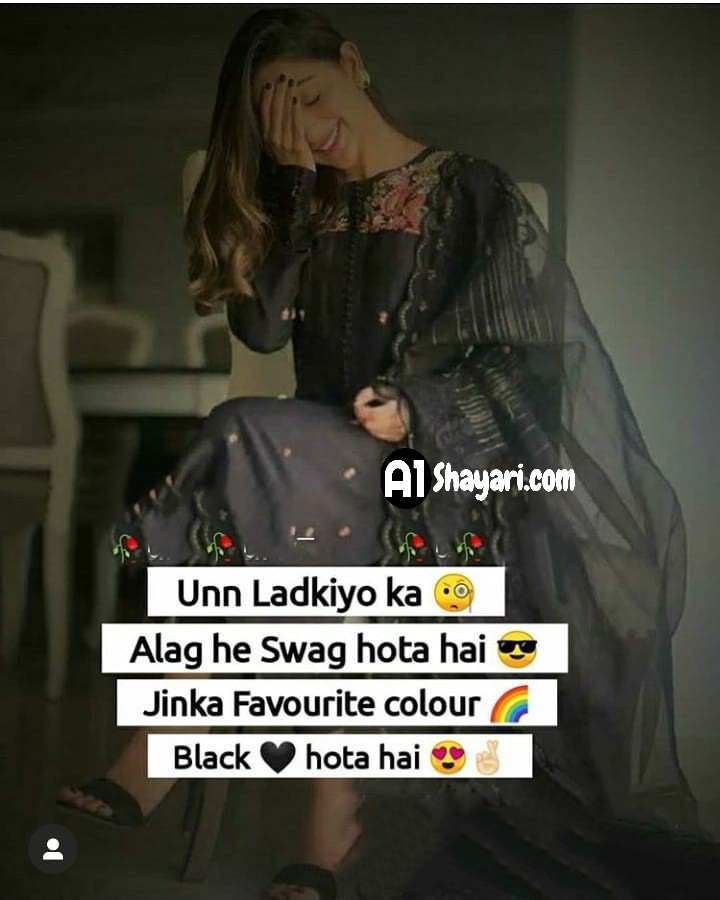 Unn Ladkiyo ka Alag he Swag hota hai
Jinka Favourite colour Black hota hai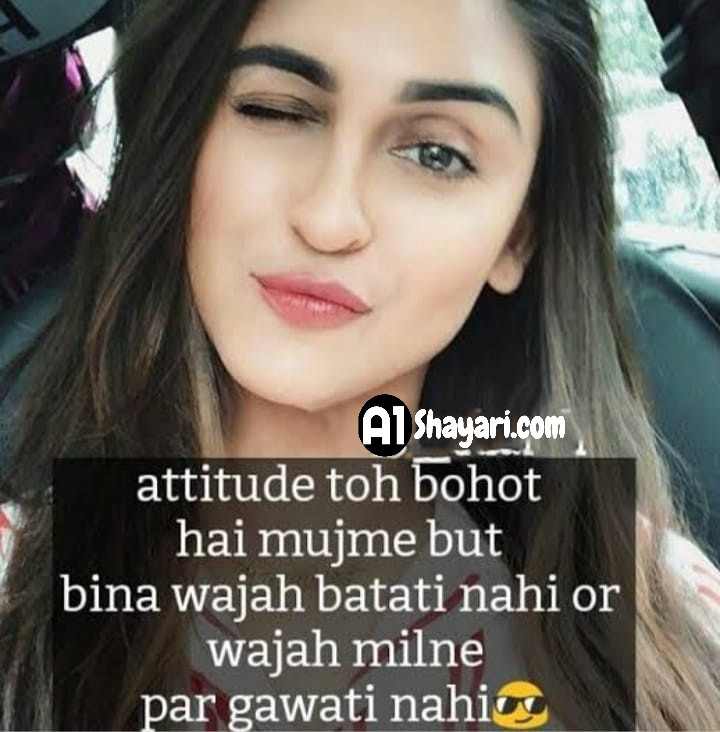 attitude toh bohot hai mujme but bina
wajah batati nahi or wajah milne par gawati nahig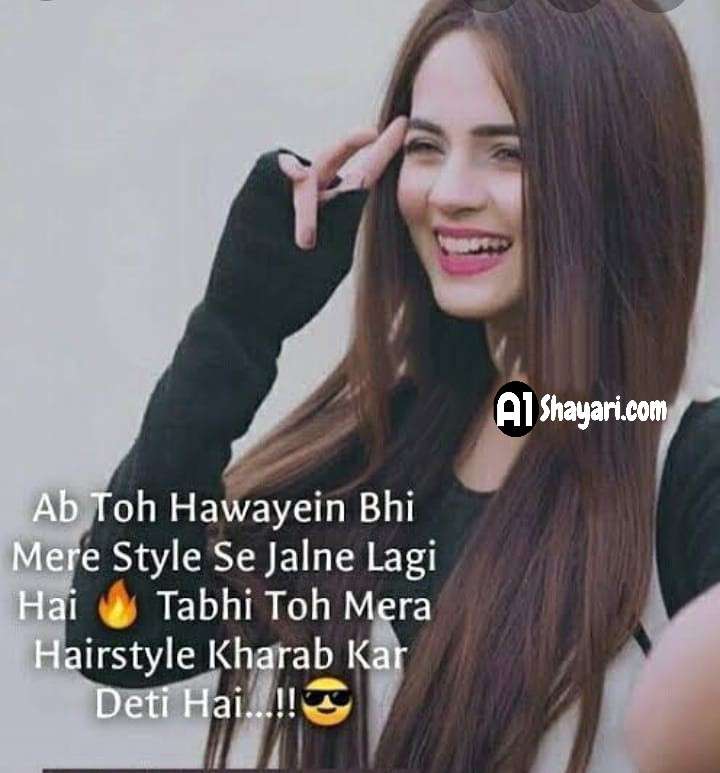 Ab Toh Hawayein Bhi Mere Style Se
Jalne Lagi Hai Tabhi Toh Mera Hairstyle
Kharab Kar Deti Hai … !!
Attitude Status For Girl In Hindi For Instagram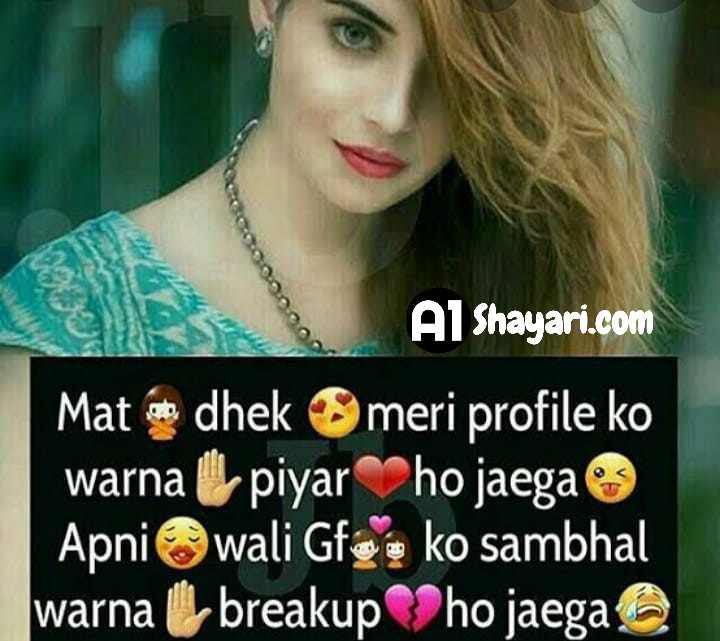 Mat dhek meri profile ko warna piyar ho
jaega Apni wali Gf ko sambhal warna breakup ho jaega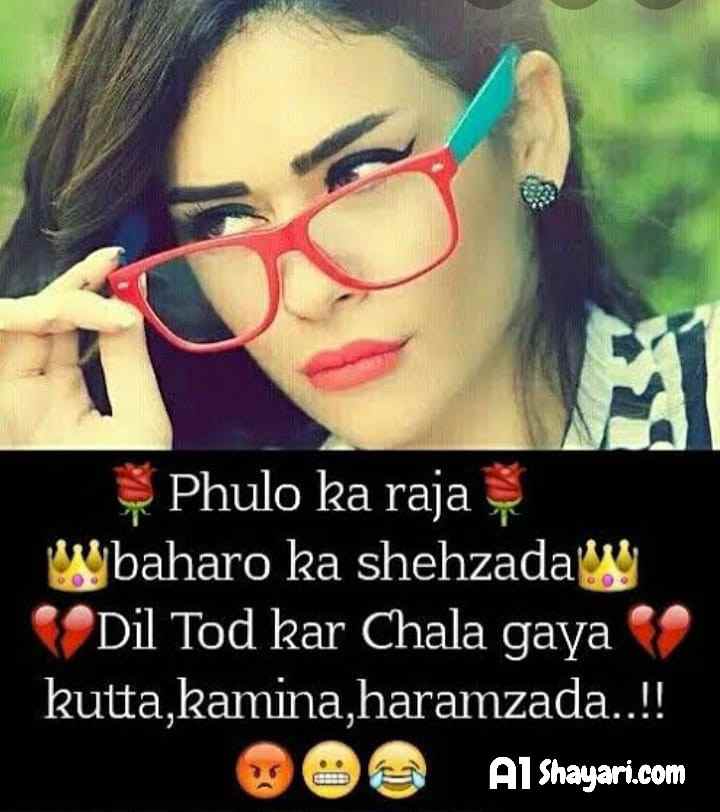 Phulo ka raja Wbaharo ka shehzada
" Dil Tod kar Chala gaya kutta , kamina , haramzada .. !!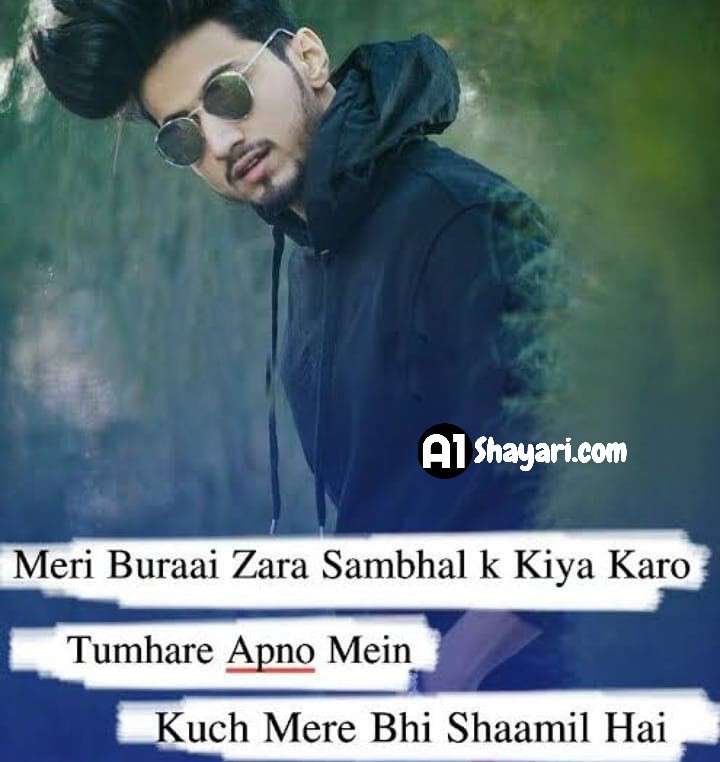 Meri Buraai Zara Sambhal k Kiya Karo Tumhare
Apno Mein Kuch Mere Bhi Shaamil Hai
Attitude Shayari In Hindi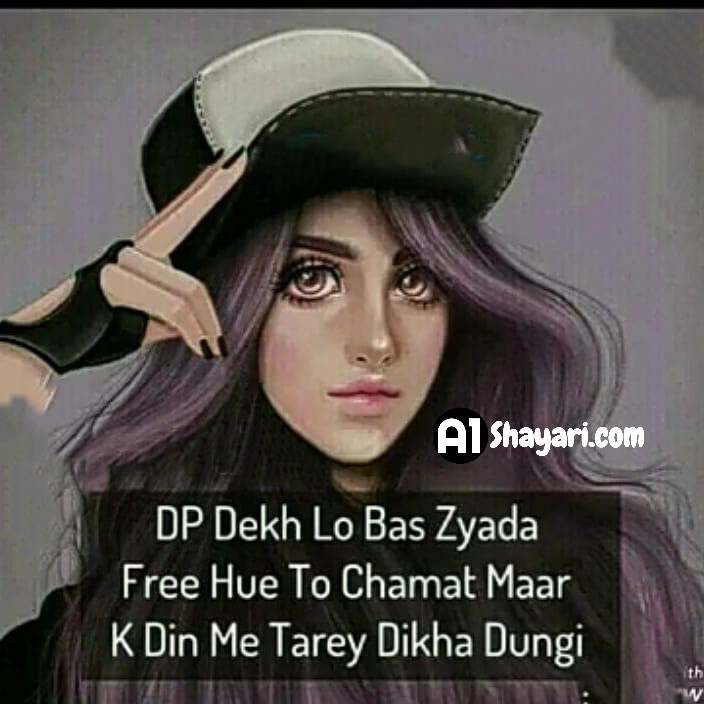 DP Dekh Lo Bas Zyada Free Hue To
Chamat Maar K Din Me Tarey Dikha Dungi th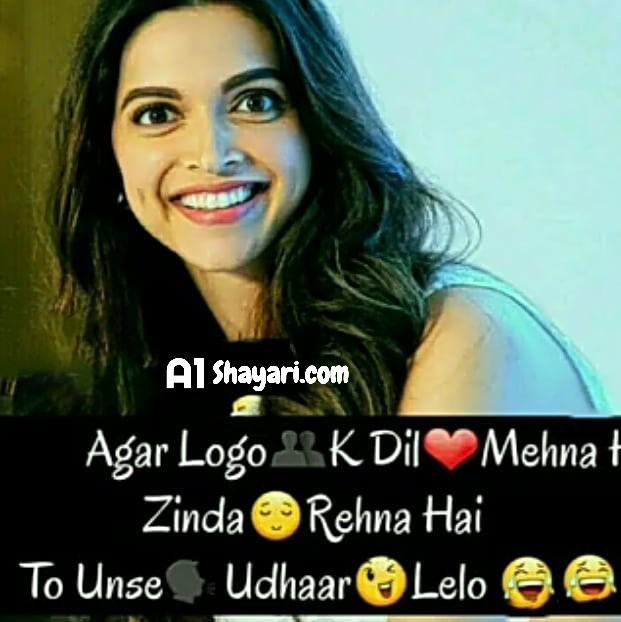 Agar Logo & K Dil Mehna Zinda Rehna Hai
To Unse Udhaar Lelo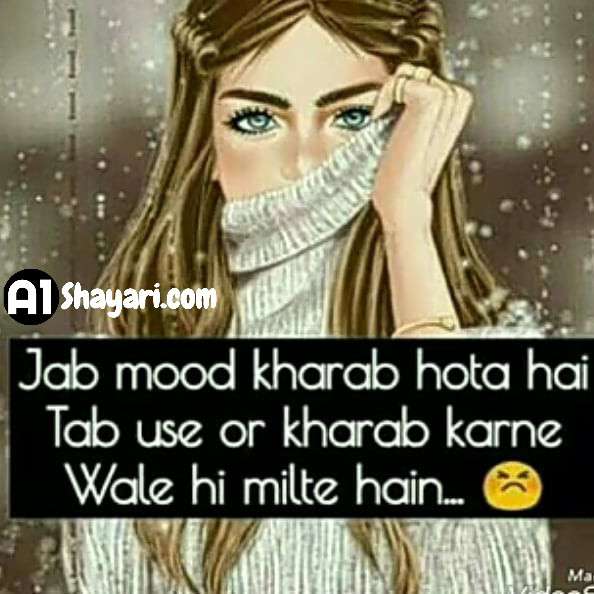 Jab mood kharab hota hai Tab use or
kharab karne Wale hi milte hain …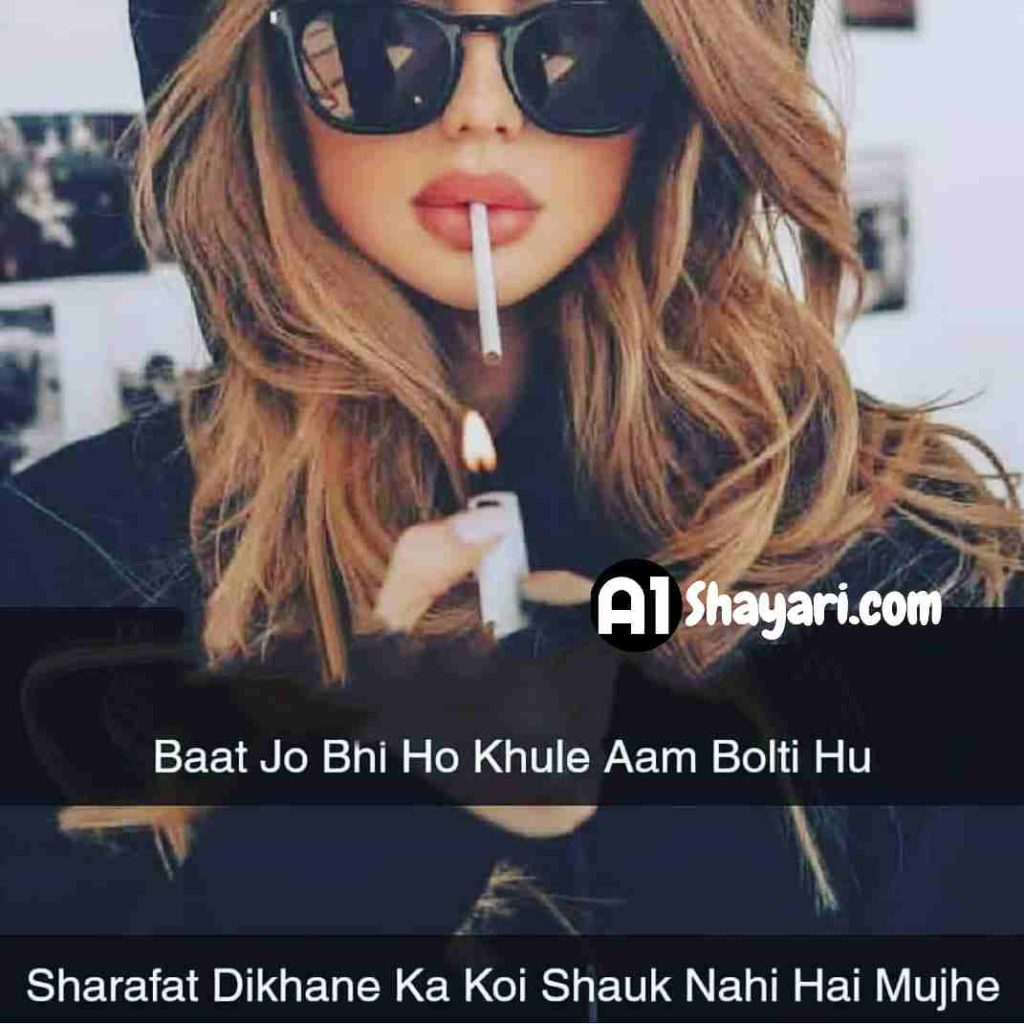 Baat Jo Bhi Ho Khule Aam Bolti Hu Sharafat
Dikhane Ka Koi Shauk Nahi Hai Mujhe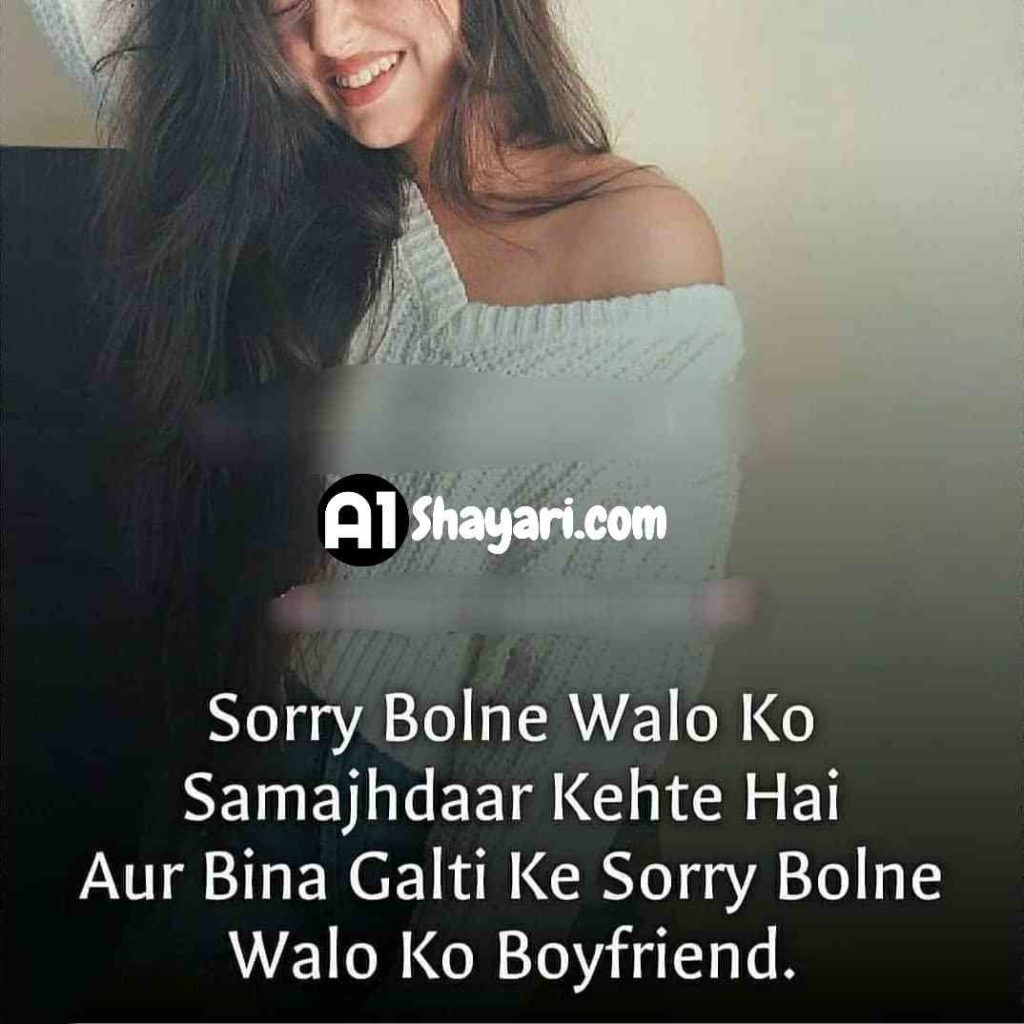 Sorry Bolne Walo Ko Samajhdaar Kehte Hai
Aur Bina Galti Ke Sorry Bolne Walo Ko Boyfriend .
Girl Attitude Shayari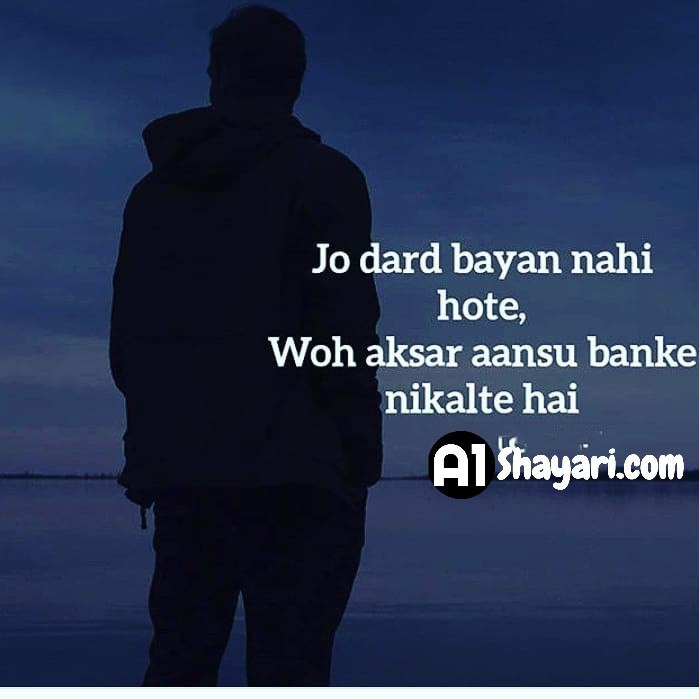 Jo dard bayan nahi hote ,
Woh aksar aansu banke nikalte hai
Final Word
अगर आपको ये Girl Attitude Shayari पसंद आया होगा तो अपने Friends से जरूर शेयर कीजियेगा