Friendship Status In Hindi With Images HD, Hindi Friendship Status Images, Dosti Wali Shayari, Friendship Shayari In Hindi.
Friendship Status In Hindi
तो दोस्तों आज कल हर किसी के दोस्त होते हैं और हर कोई चाहता हैं की मैं अपनी दोस्ती लोगो के सामने जाहिर करू, तो ऐसे में शायरी और Status बहुत काम आता हैं, तो अगर आप भी अपनी दोस्ती को जाहिर करना चाहते हैं तो ये पोस्ट आपके लिए हैं|
Agr simply baat kren too Dosti wo h jahn aap ek mehfill me baithe hue hai aur koi bhi guftgu nahi ho re ho lekin aapke dil too bohoot he aacha mehsoos hora hai. Dosti me too har chiz jayaz hai saayad ye Couple relationship se bhi ucha hai.
bina kisee svaarth ke bana ye rishta sach mein bas vishvaas ke dhaage se bandha hota hai. isalie ye jarooree to nahin ki ladaka sirph ek ladake par hee vishvaas kar sakata hai ya phir ek ladakee kisee ladake par kabhee vishvaas nahin kar sakatee. na jaane kyon log aisee saaech rakhate hain aur use phir doosaron par thopane kee koshi‍sh bhee karate hain.
हम इस पोस्ट में अच्छे अच्छे Friendship Status In Hindi में शेयर किये हैं और हम शायरी के साथ साथ उसके Images भी शेयर किये हैं आप इन इमेजेज को डाउनलोड भी कर सकते हैं और अपने Social Media में लगा सकते हैं
तो अगर आपको पसंद आया होगा तो अपने दोस्तों से जरूर शेयर कीजियेगा
Friendship Status In Hindi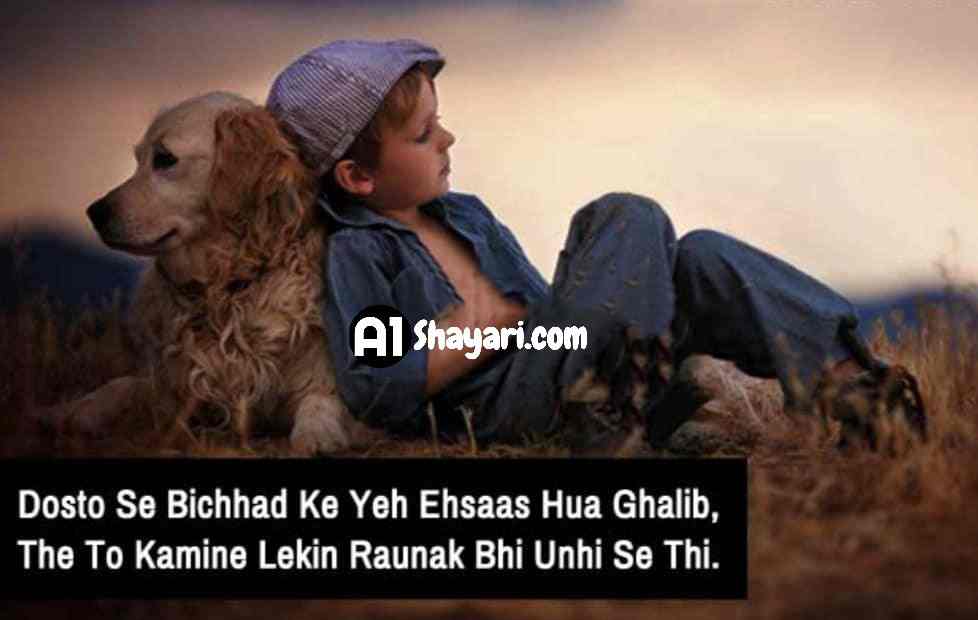 Dosto Bichhad Ke Yeh Ehsaas Hua Ghalib ,
The To Kamine Lekin Raunak Bhi Unhi Se Thi .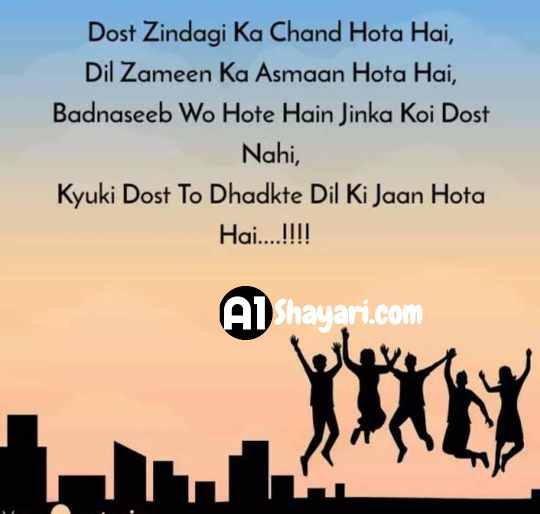 Dost Zindagi Ka Chand Hota Hai ,
Dil Zameen Ka Asmaan Hota Hai ,
Badnaseeb Wo Hote Hain Jinka Koi Dost Nahi ,
Kyuki Dost To Dhadkte Dil Ki Jaan Hota Hai …. !!!!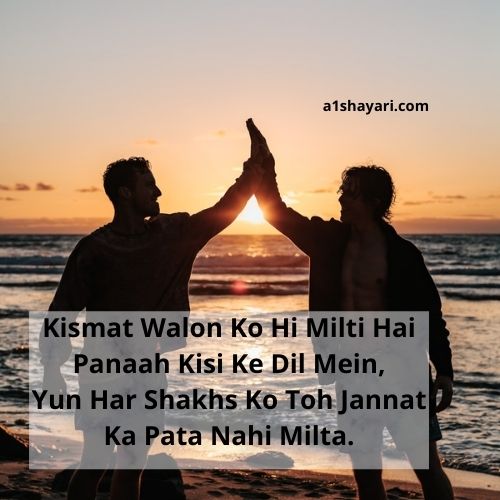 Kismat Walon Ko Hi Milti Hai Panaah Kisi Ke Dil Mein,
Yun Har Shakhs Ko Toh Jannat Ka Pata Nahi Milta.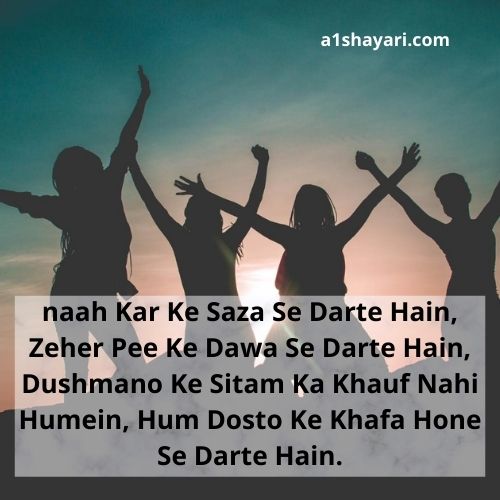 naah Kar Ke Saza Se Darte Hain,
Zeher Pee Ke Dawa Se Darte Hain,
Dushmano Ke Sitam Ka Khauf Nahi Humein,
Hum Dosto Ke Khafa Hone Se Darte Hain.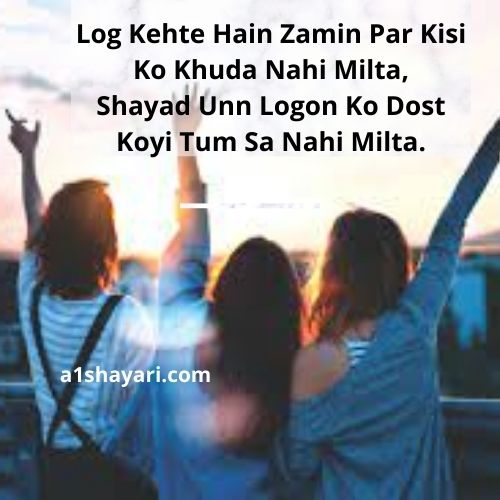 Log Kehte Hain Zamin Par Kisi Ko Khuda Nahi Milta,
Shayad Unn Logon Ko Dost Koyi Tum Sa Nahi Milta.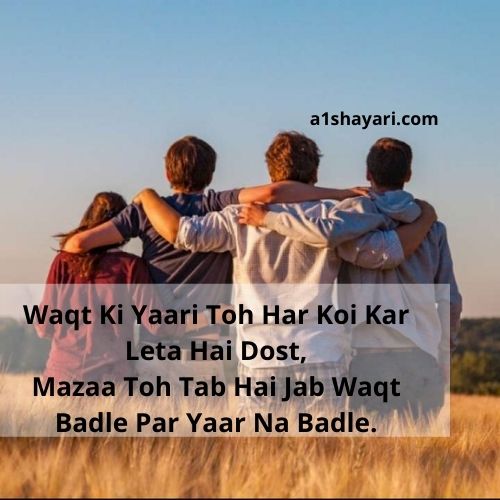 Waqt Ki Yaari Toh Har Koi Kar Leta Hai Dost,
Mazaa Toh Tab Hai Jab Waqt Badle Par Yaar Na Badle.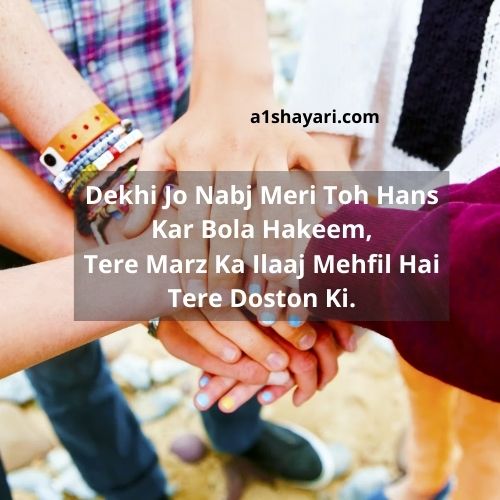 Dekhi Jo Nabj Meri Toh Hans Kar Bola Hakeem,
Tere Marz Ka Ilaaj Mehfil Hai Tere Doston Ki.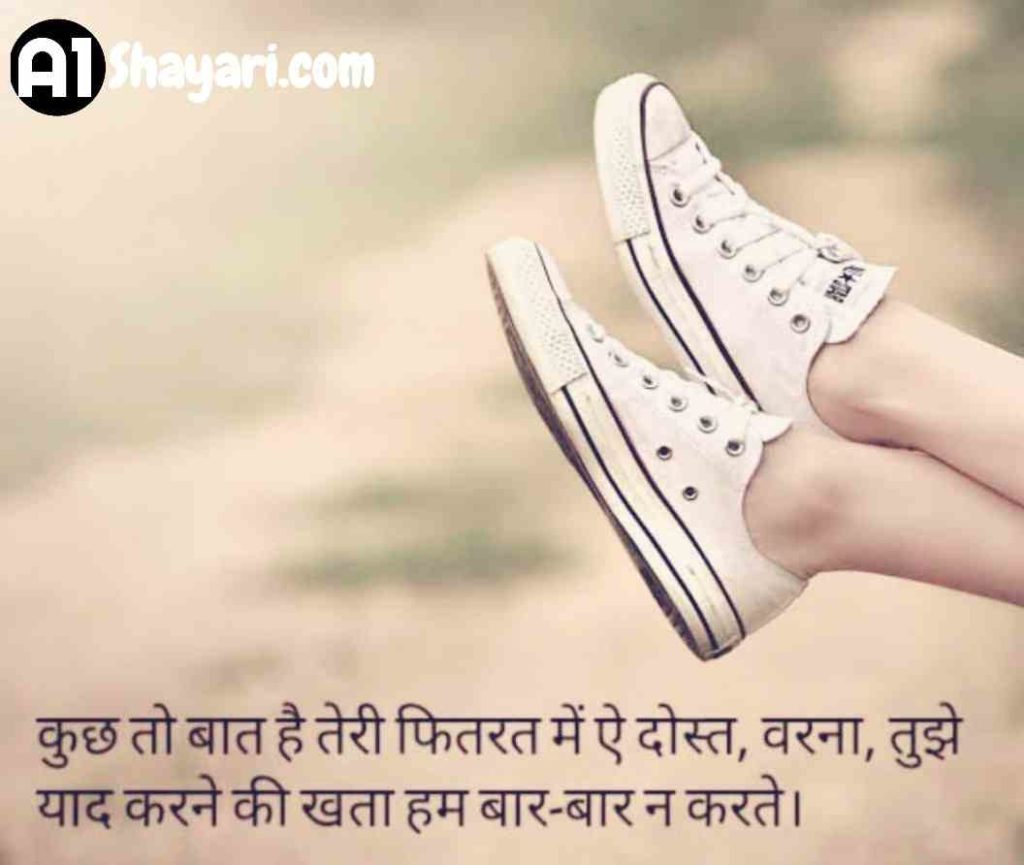 कुछ तो बात है तेरी फितरत में ऐ दोस्त , वरना ,
तुझे याद करने की खता हम बार – बार न करते ।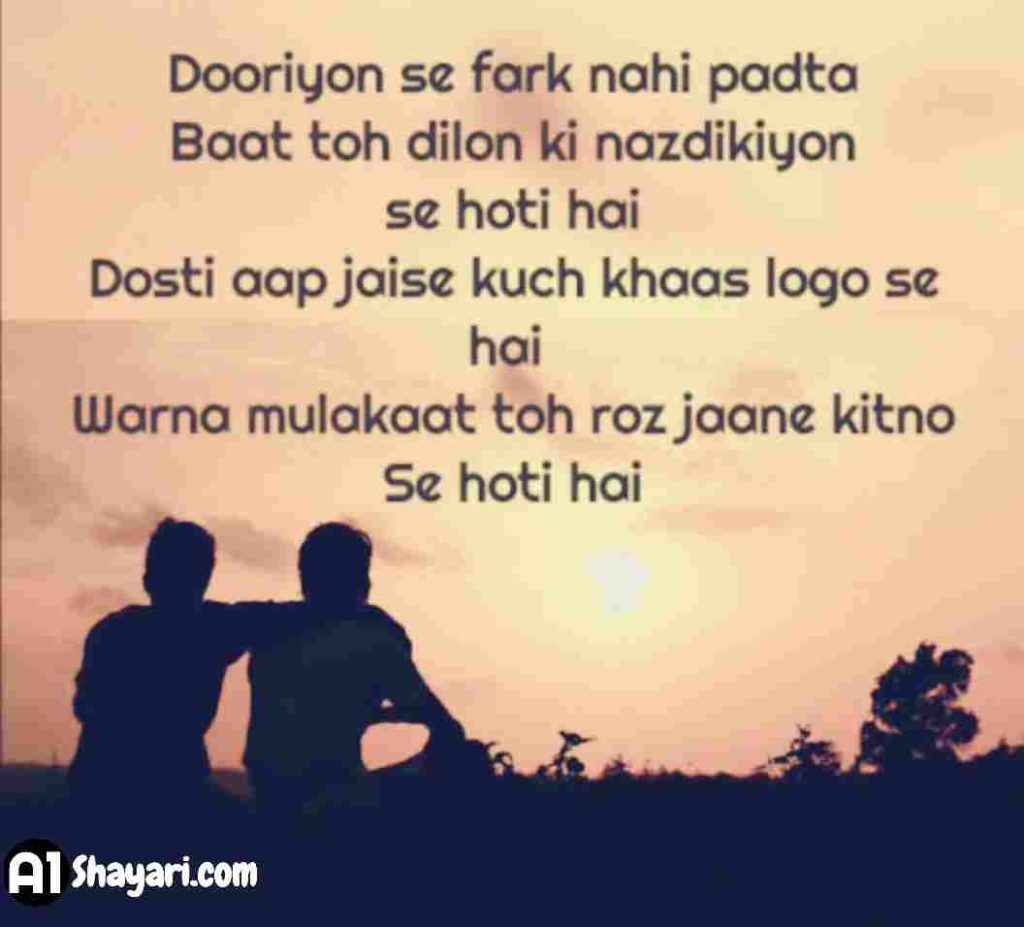 Dooriyon se fark nahi padta Baat toh
dilon ki nazdikiyon se hoti hai Dosti aap
jaise kuch khaas logo se hai Warna mulakaat
toh roz jaane kitno Se hoti hai
Friendship Status In Hindi With Images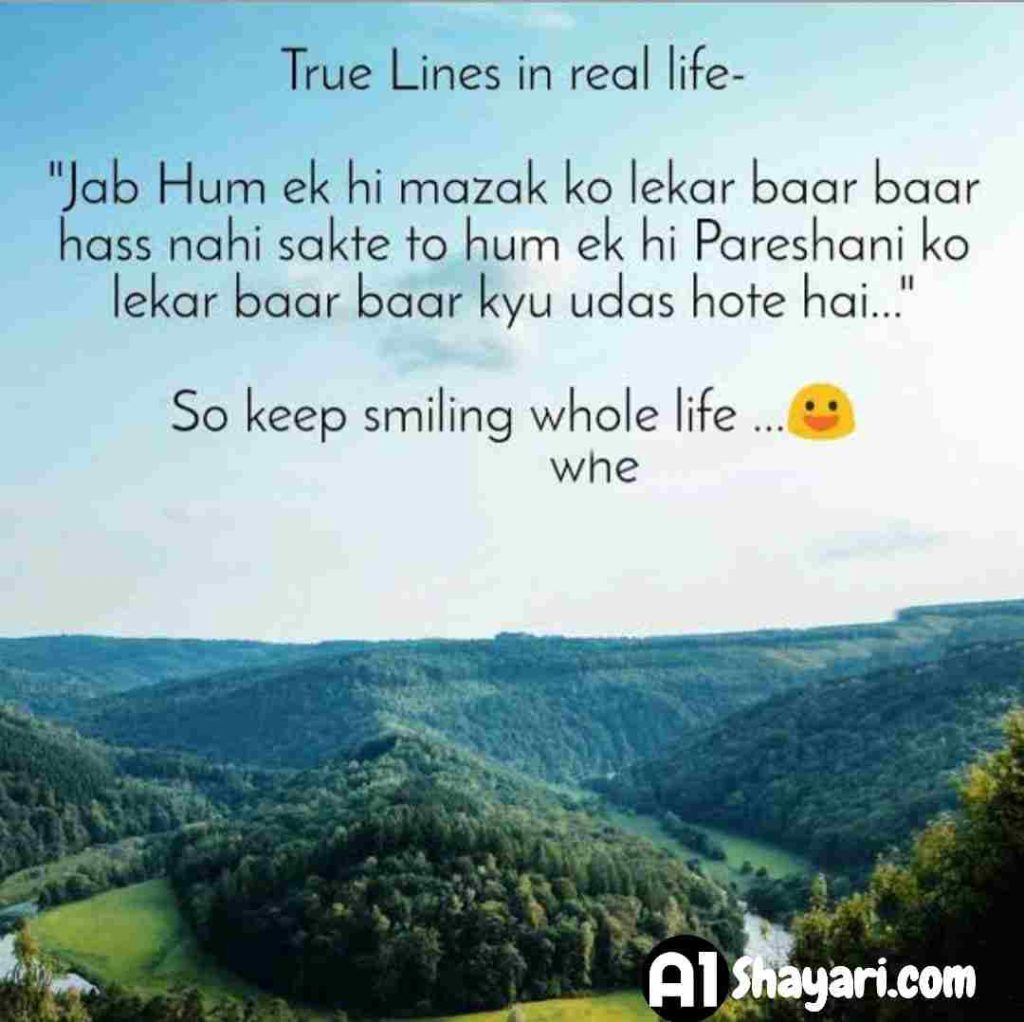 " Jab Hum ek hi mazak ko lekar baar baar hass nahi
sakte to hum ek hi Pareshani ko lekar baar baar kyu
udas hote hai … " So keep smiling whole life … whe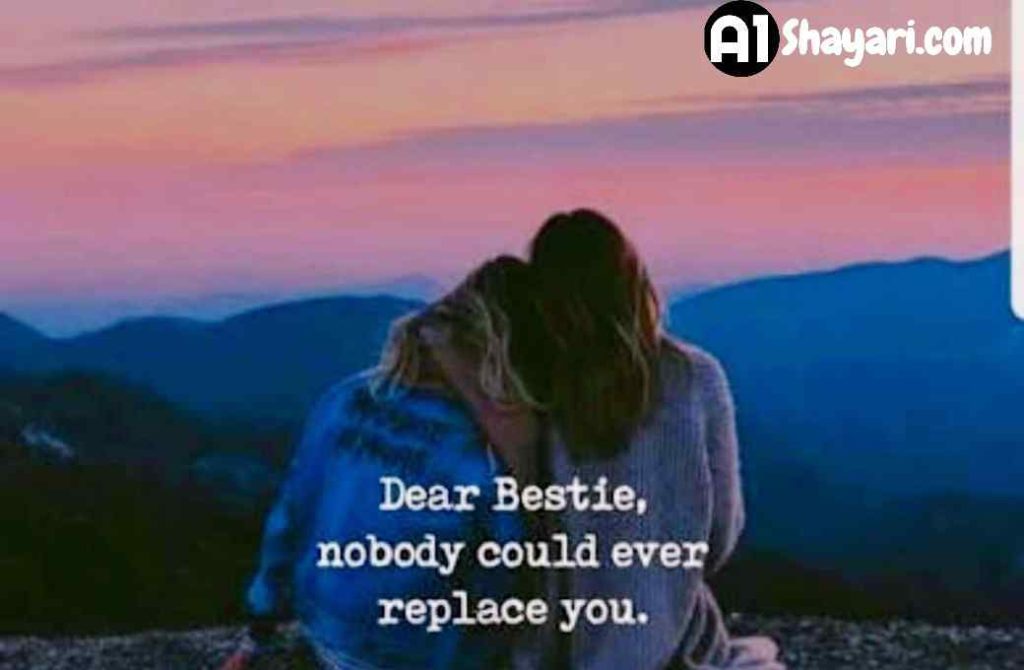 Dear Bestie , nobody could ever replace you .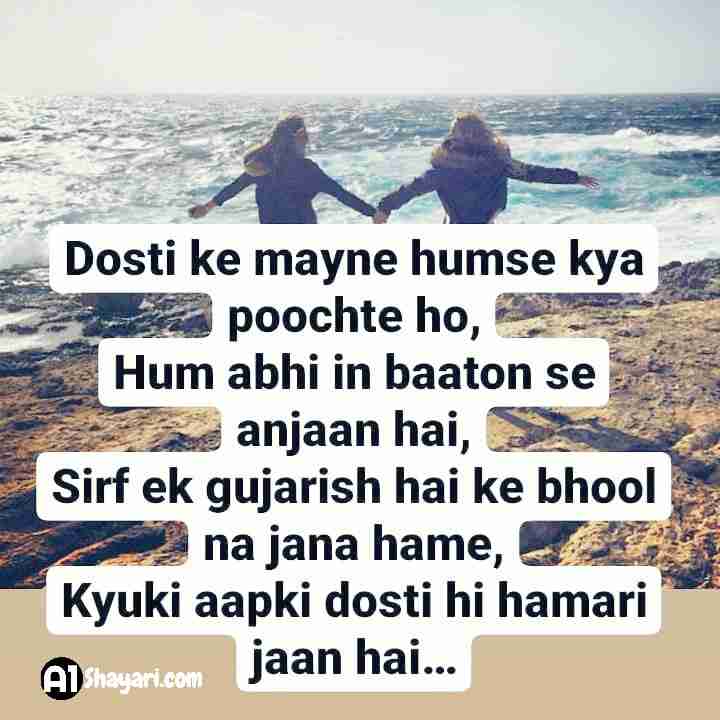 Dosti ke mayne humse kya poochte ho ,
Hum abhi in baaton se anjaan hai ,
Sirf ek gujarish hai ke bhool na jana hame ,
Kyuki aapki dosti hi hamari jaan hai …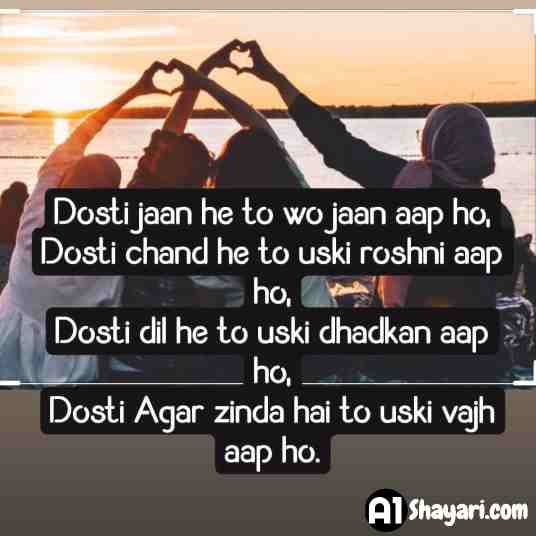 Dosti jaan he to wojaan aap ho ,
Dosti chand he to uski roshni aap ho ,
Dosti dil he to uski dhadkan aap ho ,
Dosti Agar zinda hai to uski vajh aap ho .
Hindi Friendship Status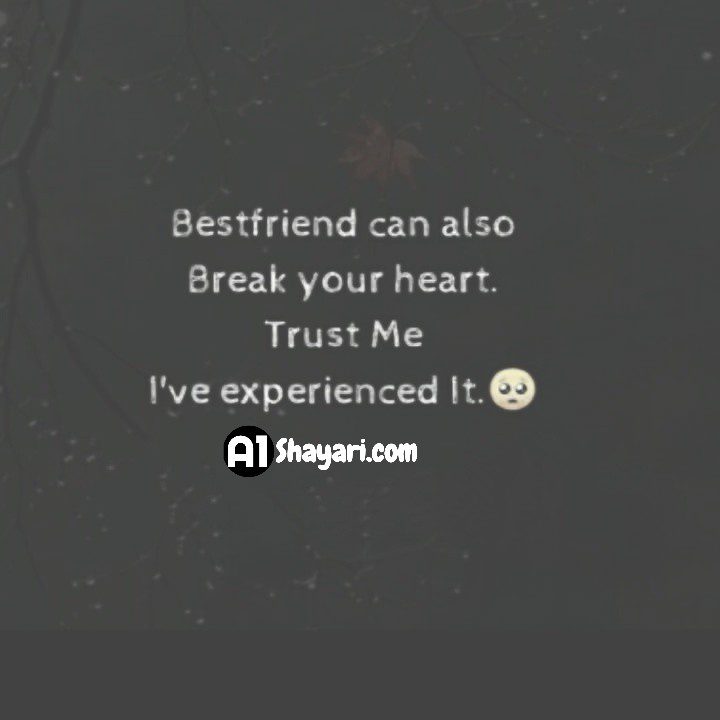 Bestfriend can also Break your heart
Trust Me I've experienced It .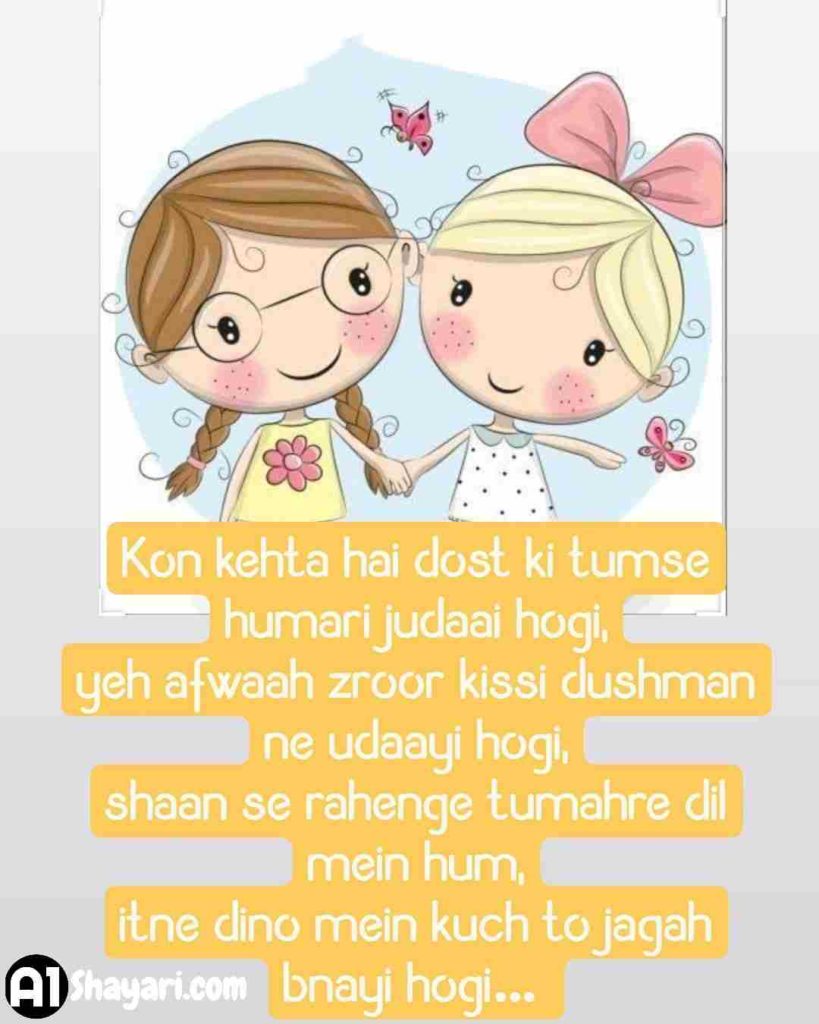 Kon kehta hai dost ki tumse humari judaai hogi .
yeh afwaah zroor kissi dushman ne udaayi hogi
shaan se rahenge tumahre dil mein hum
itne dino mein kuch to jagah bnayi hogi …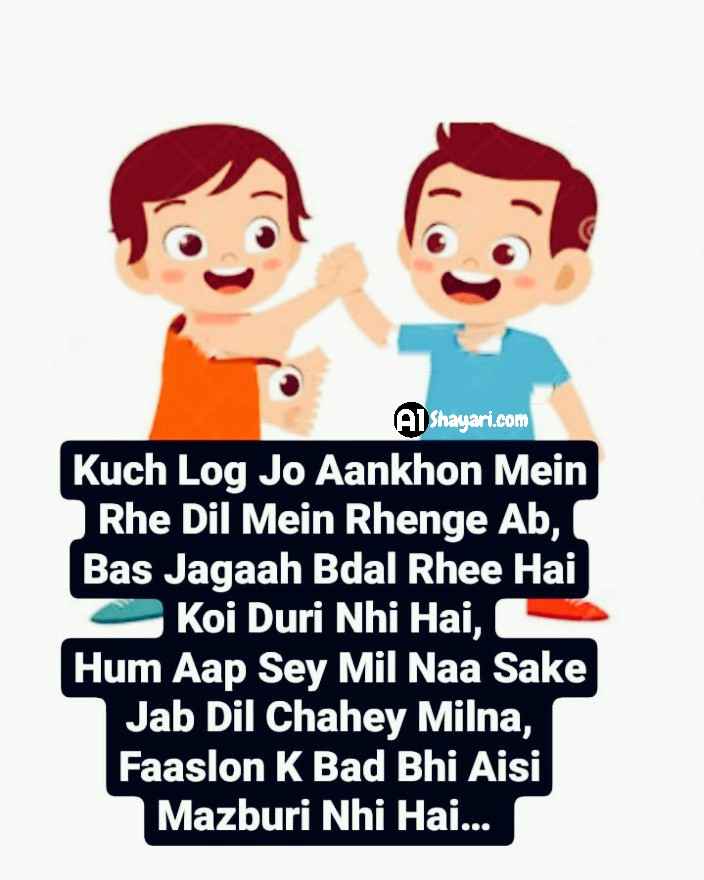 Kuch Log Jo Aankhon Mein Rhe Dil Mein Rhenge Ab ,
Bas Jagaah Bdal Rhee Hai Koi Duri Nhi Hai ,
Hum Aap Sey Mil Naa Sake Jab Dil Chahey Milna ,
Faaslon K Bad Bhi Aisi Mazburi Nhi Hai …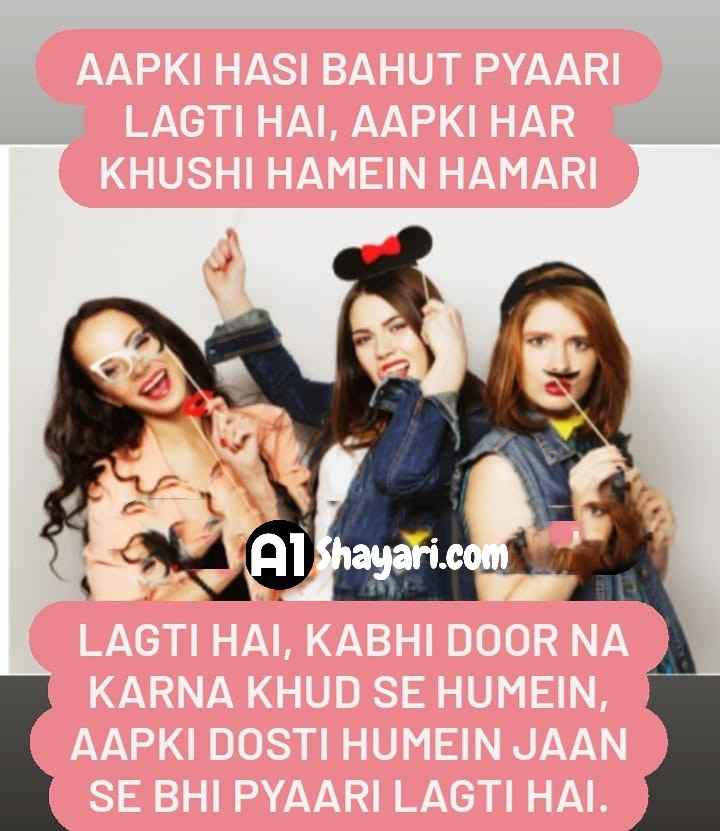 AAPKI HASI BAHUT PYAARI LAGTI HAI
AAPKI HAR KHUSHI HAMEIN HAMARI LAGTI HAI ,
KABHI DOOR NA KARNA KHUD SE HUMEIN ,
AAPKI DOSTI HUMEIN JAAN SE BHI PYAARI LAGTI HAI .
Friendship Status In Hindi For Girls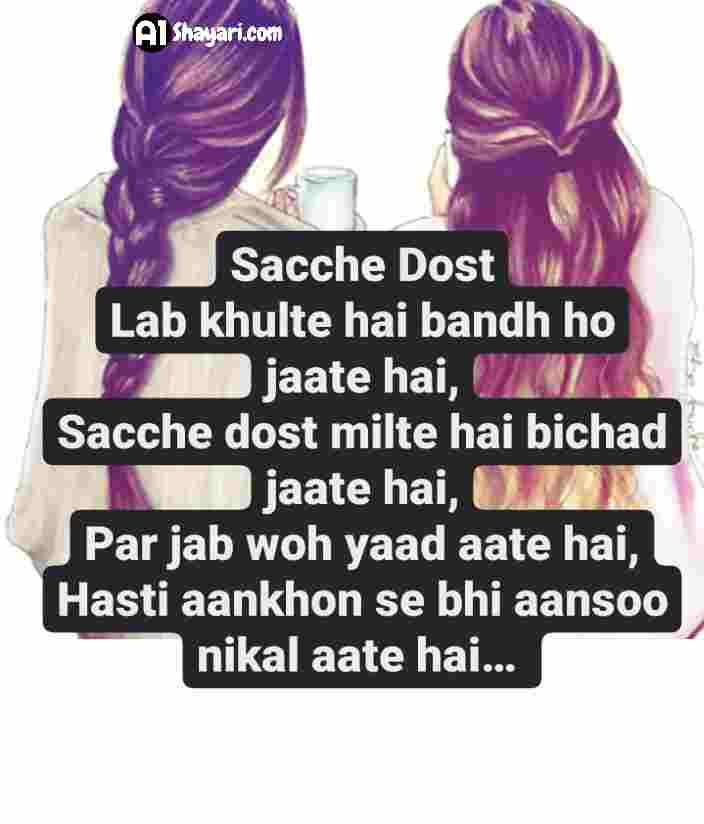 Sacche Dost Lab khulte hai bandh ho jaate hai ,
Sacche dost milte hai bichad jaate hai ,
Par jab woh yaad aate hai ,
Hasti aankhon se bhi aansoo nikal aate hai …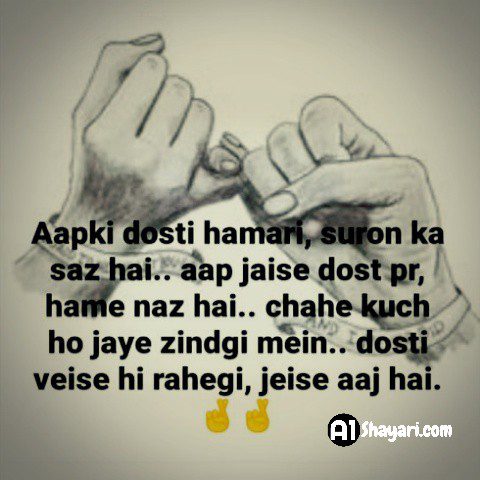 Aapki dosti hamari , suron ka saz hai ..
aap jaise dost pr , hame naz hai ..
chahe kuch ho jaye zindgi mein ..
dosti veise hi rahegi , jeise aaj hai .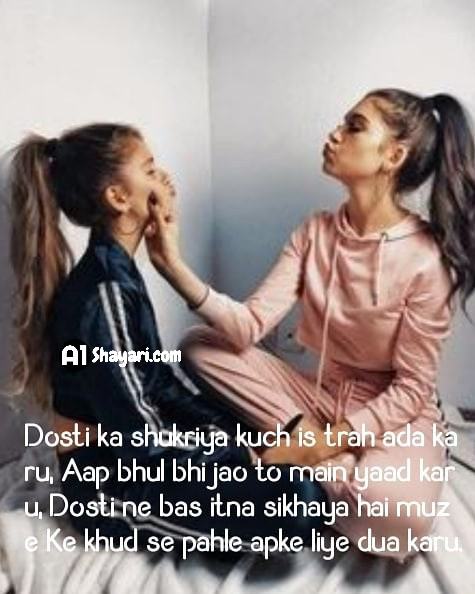 Dosti ka shukriya kuch is trah ada ka ru ,
Aap bhul bhi jao to main yaad kar u ,
Dosti ne bas itna sikhaya hai muz e
Ke khud se pahle apke liye dua karu .
Sad Friendship Status In Hindi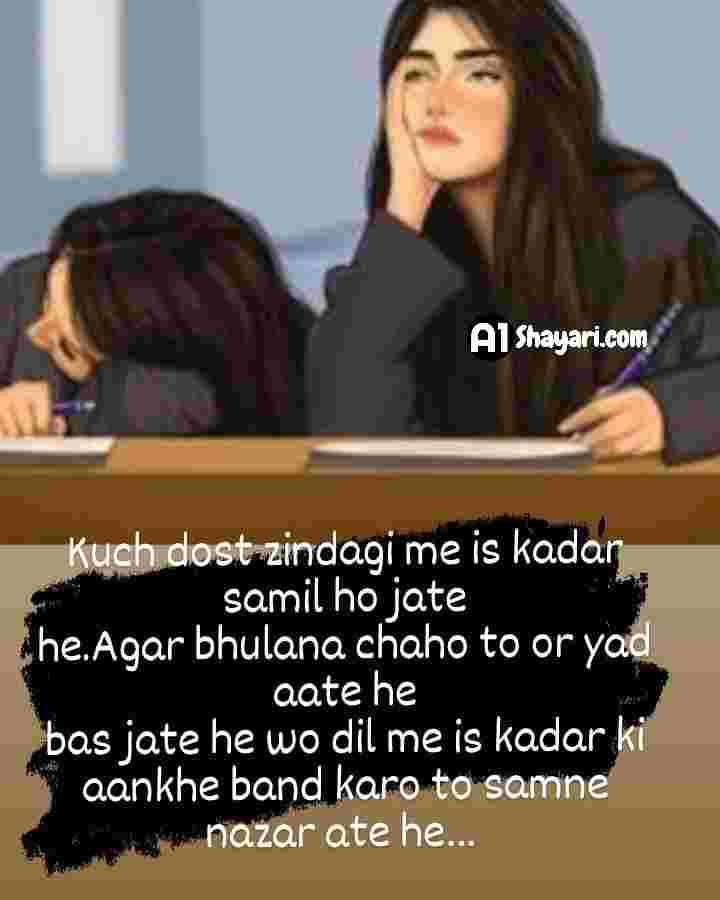 Kuch dost zindagi me is kadan samil ho
jate he.Agar bhulana chaho to or yad aate he
bas jate he wo dil me is kadar ki aankhe
band karo to samne nazar ate he …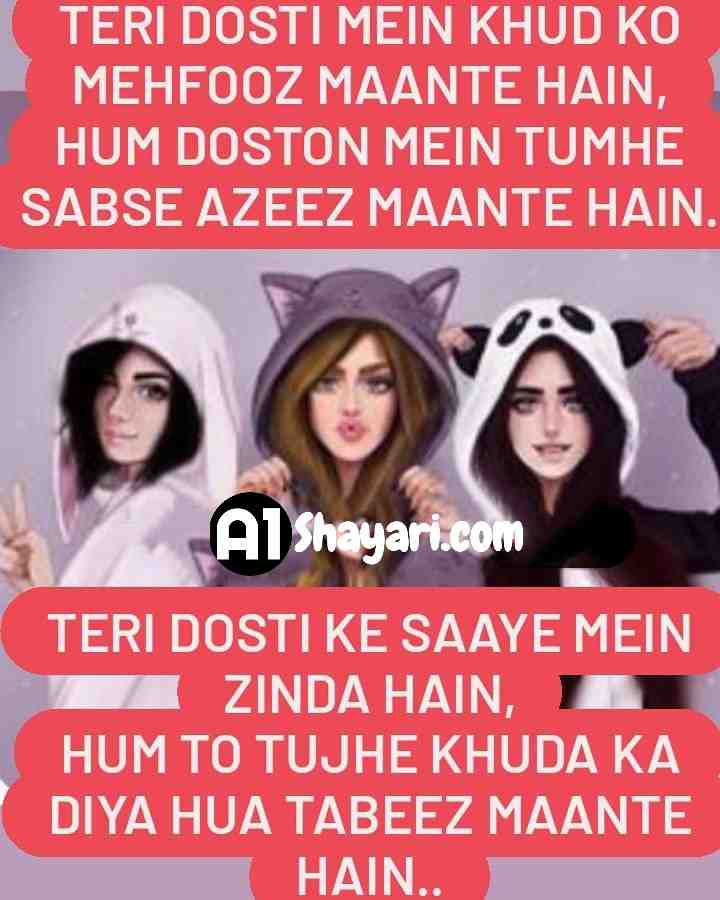 TERI DOSTI MEIN KHUD KO MEHFOOZ MAANTE HAIN ,
HUM DOSTON MEIN TUMHE SABSE AZEEZ MAANTE HAIN
TERI DOSTI KE SAAYE MEIN ZINDA HAIN ,
HUM TO TUJHE KHUDA KA DIYA HUA TABEEZ MAANTE HAIN ..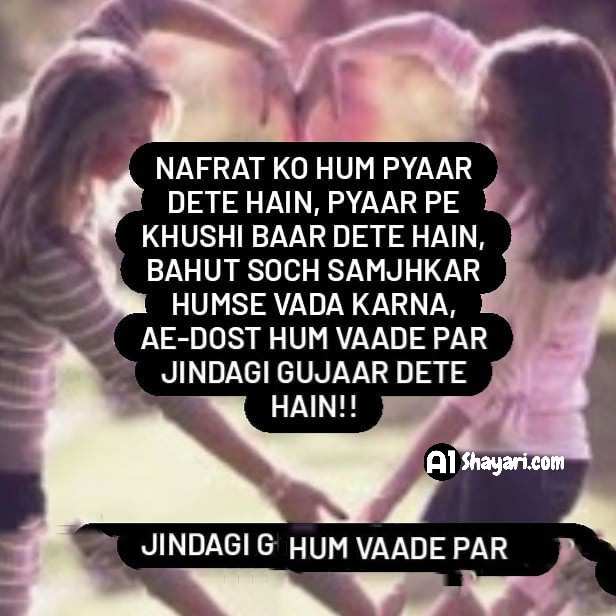 NAFRAT KO HUM PYAAR DETE HAIN ,
PYAAR PE KHUSHI BAAR DETE HAIN ,
SOCH SAMJHKAR HUMSE VADA KARNA ,
AE – DOST HUM VAADE PAR JINDAGI GUJAAR DETE HAIN !!
JINDAGI G HUM VAADE PAR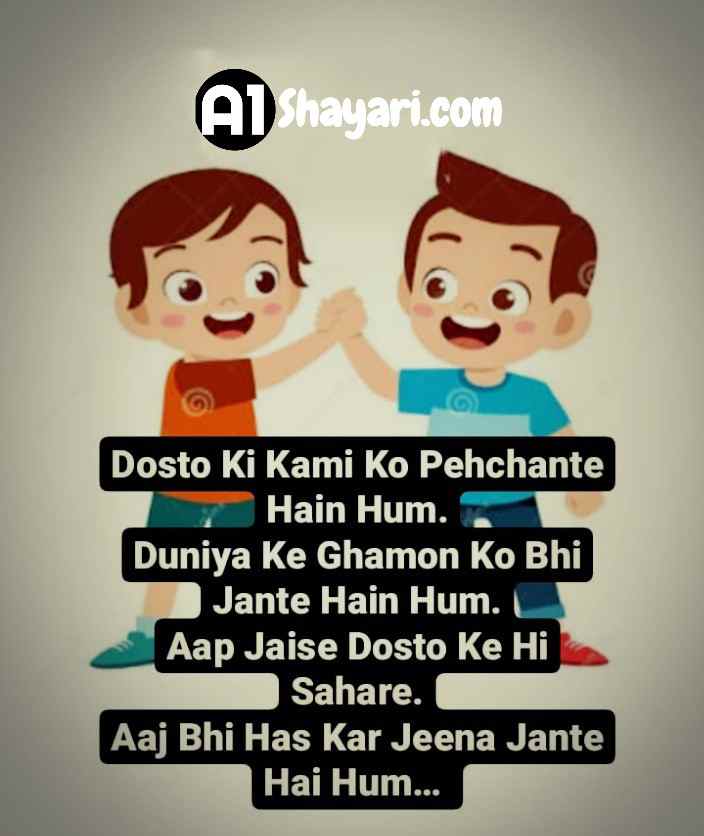 Dosto Ki Kami Ko Pehchante Hain Hum .
Duniya Ke Ghamon Ko Bhi Jante Hain Hum .
Aap Jaise Dosto ke Hi Sahare .
Aaj Bhi Has Kar Jeena Jante Hai Hum …
Friendship Status In Hindi Attitude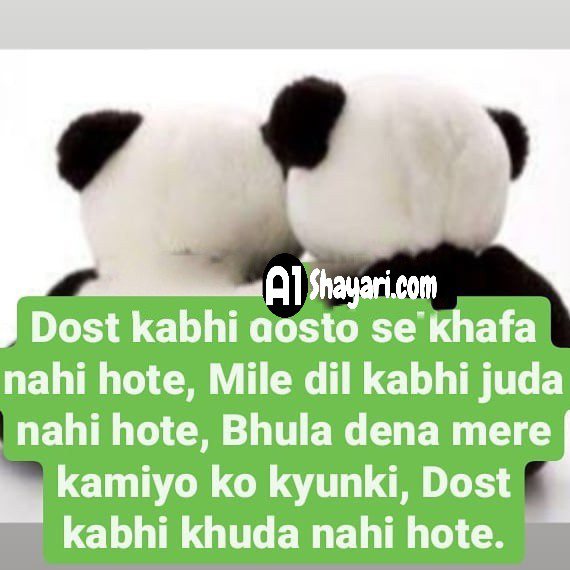 Dost kabhi aosto se khafa nahi hote ,
Mile dil kabhi juda nahi hote ,
Bhula dena mere kamiyo ko kyunki ,
Dost kabhi khuda nahi hote .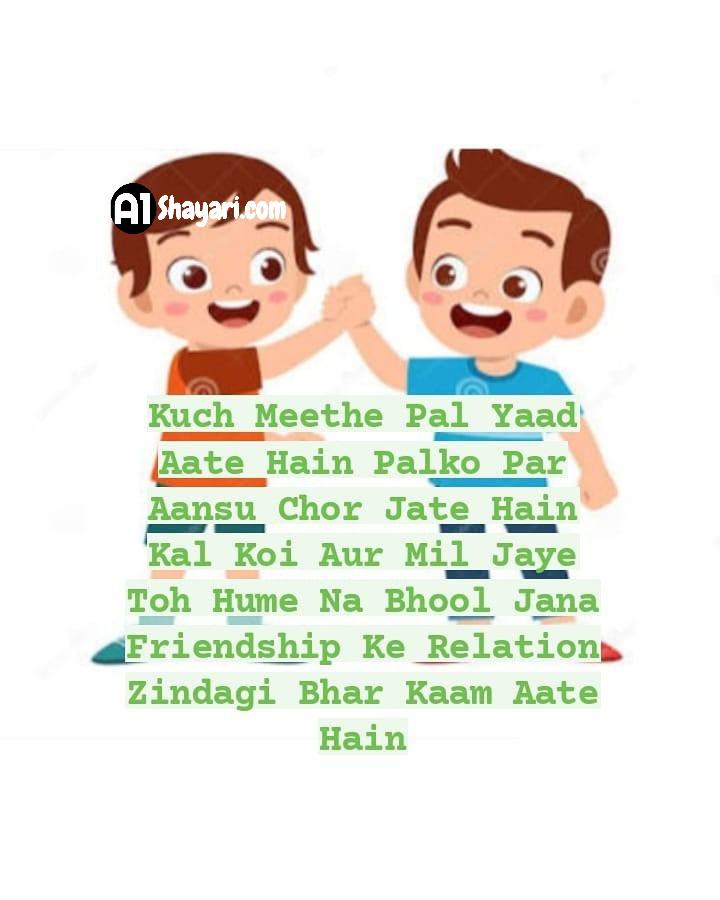 Kuch Meethe Pal Yaad Aate Hain Palko Par
Aansu Chor Jate Hain Kal Koi Aur Mil Jaye
Toh Hume Na Bhool Jana Friendship
Ke Relations Zindagi Bhar Kaam Aate Hain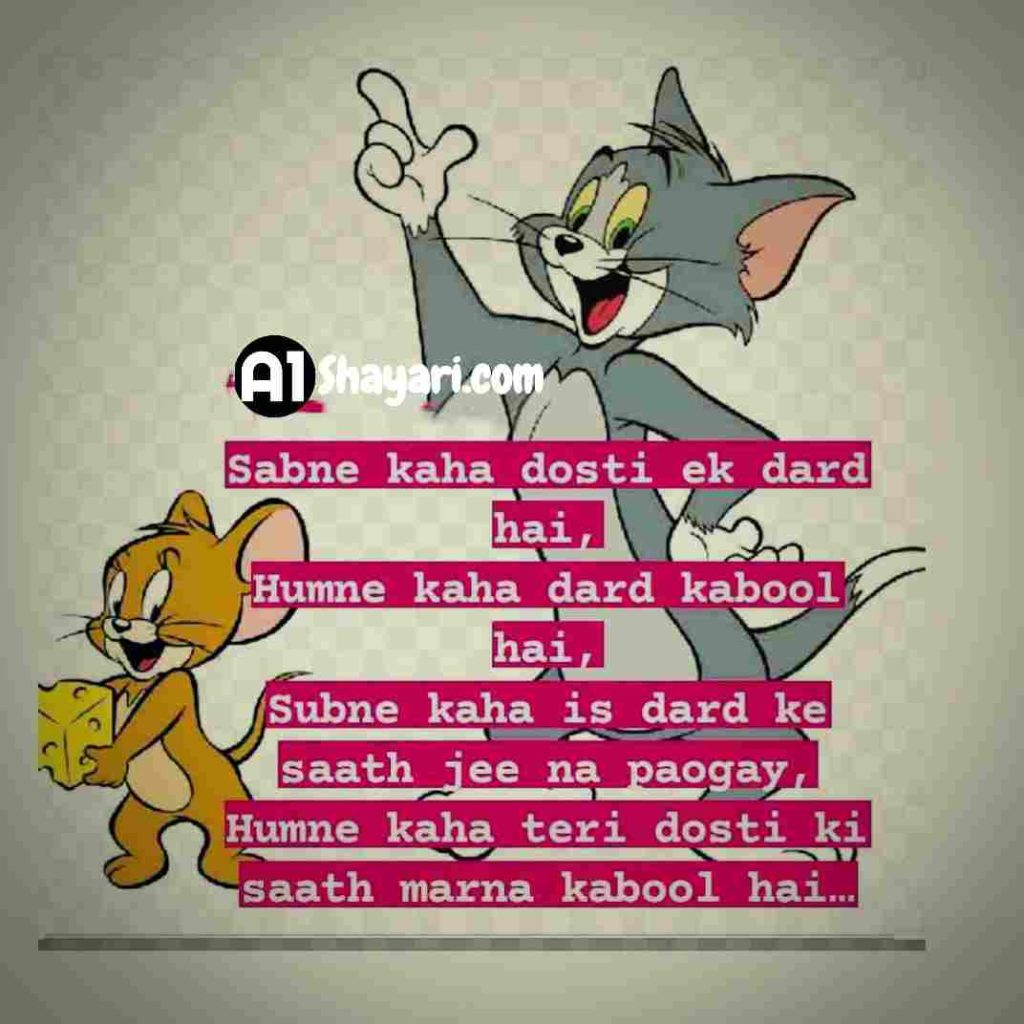 Sabne kaha dosti ek dard hai ,
Humne kaha dard kabool hai ,
Subne kaha saath jee na paogay .
Humne kaha teri dosti ki saath marna kabool hai …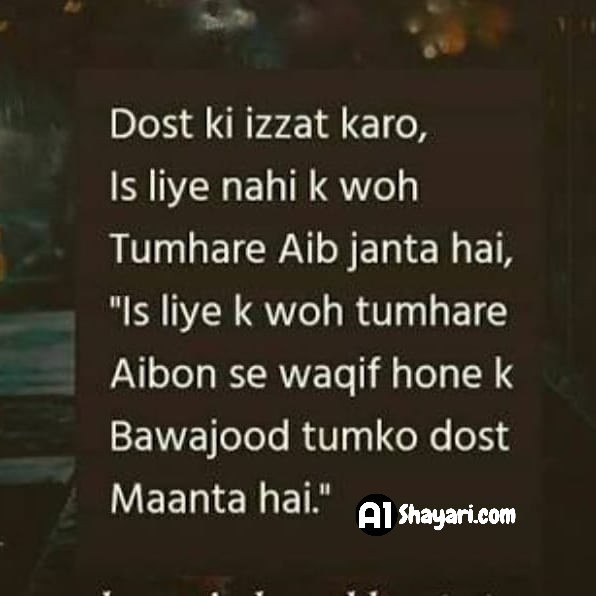 Dost ki izzat karo , Is liye nahi k woh
Tumhare Aib janta hai , " Is liye k woh tumhare
Aibon se waqif honek Bawajood tumko dost Maanta hai . "
Friendship Status In Hindi 2 Line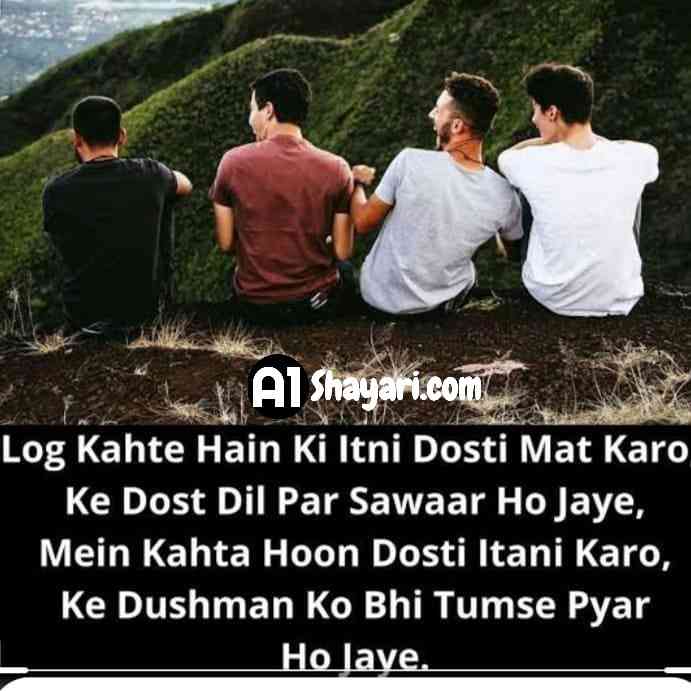 Log Kahte Hain Ki Itni Dosti Mat Karo Ke Dost
Dil Par Sawaar Ho Jaye , Mein Kahta Hoon
Dosti Itani Karo , Ke Dushman Ko Bhi Tumse Pyar Ho lave .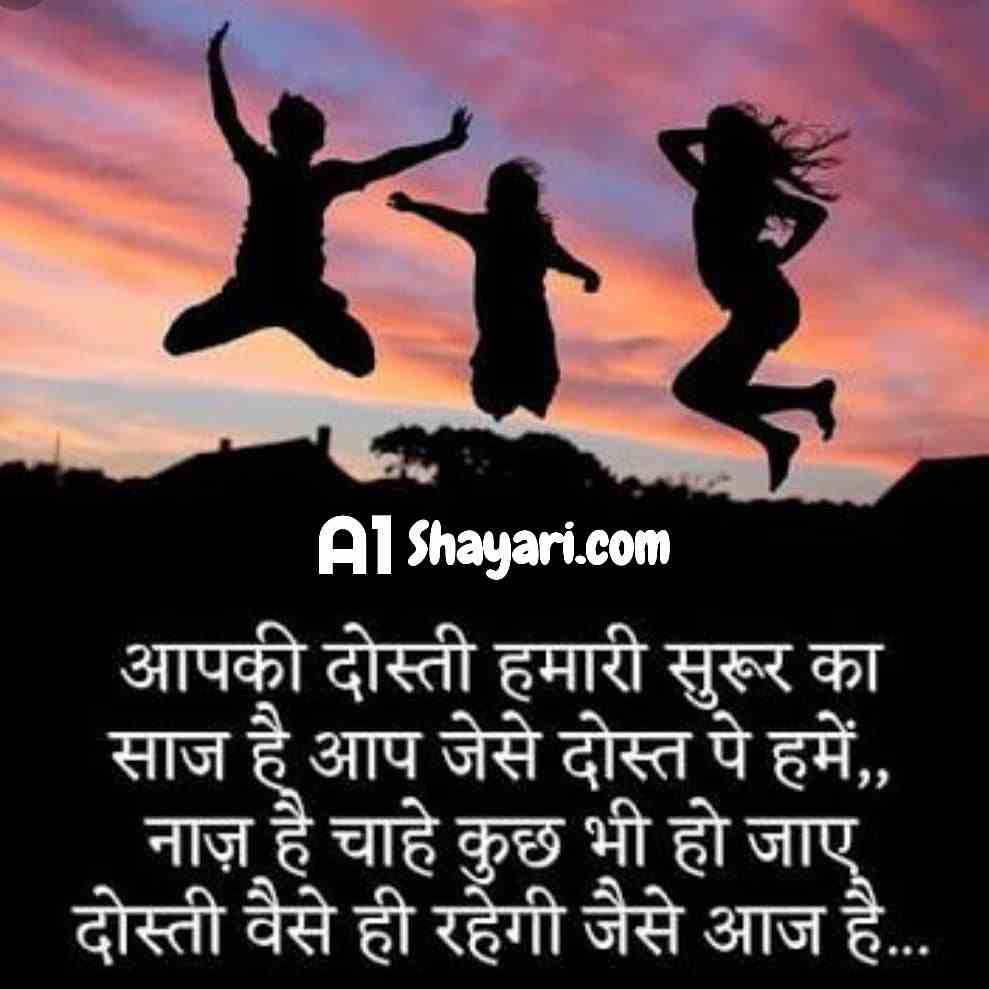 आपकी दोस्ती हमारी सुरूर का साज है
आप जेसे दोस्त पे हमें ,, नाज़ है चाहे कुछ भी
हो जाए दोस्ती वैसे ही रहेगी जैसे आज है ..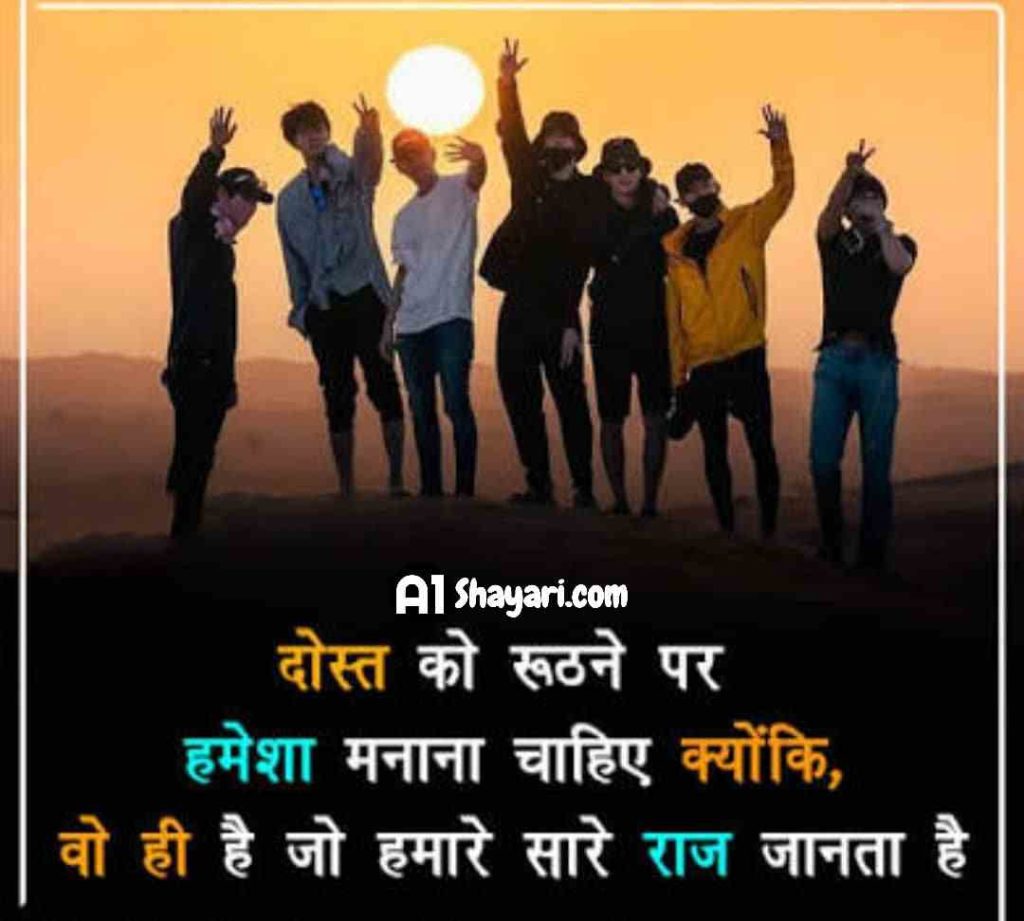 दोस्त को रूठने पर हमेशा मनाना चाहिए
क्योंकि , वो ही है जो हमारे सारे राज जानता है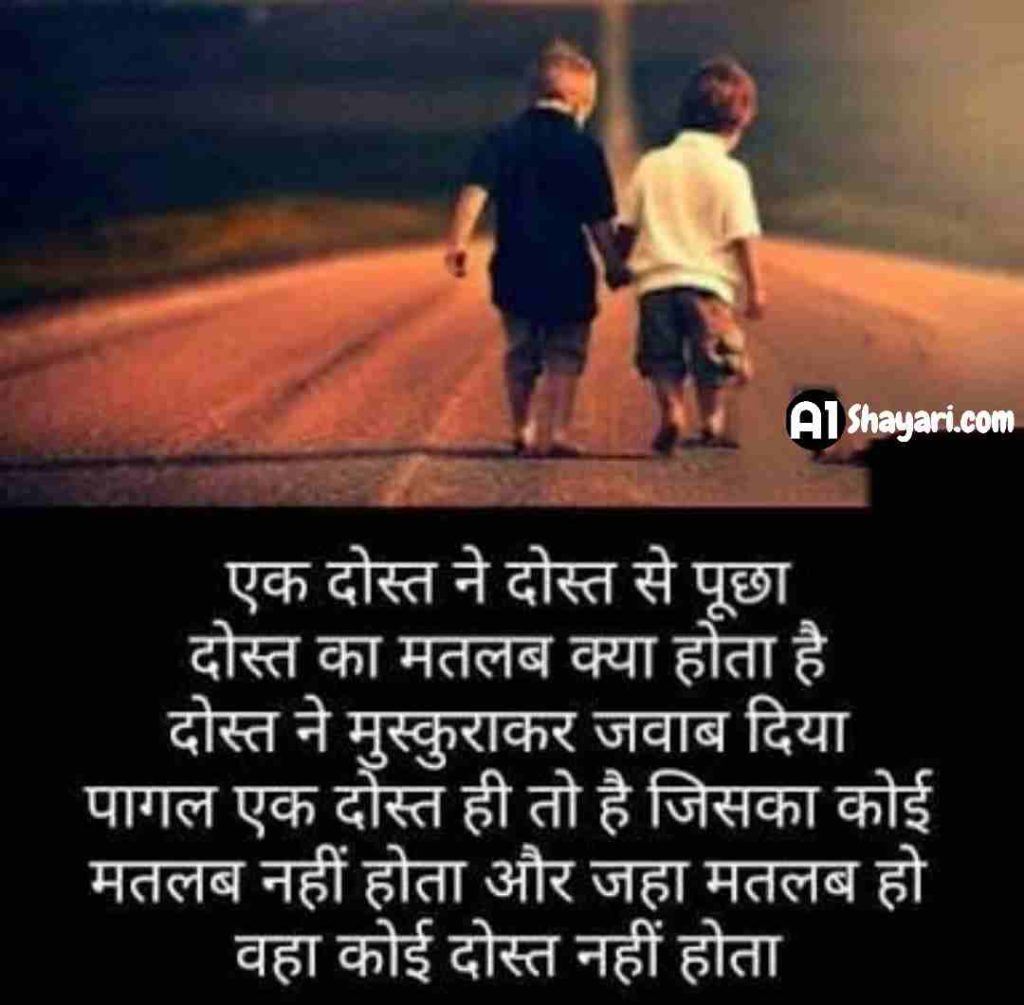 एक दोस्त ने दोस्त से पूछा दोस्त का मतलब क्या होता
है दोस्त ने मुस्कुराकर जवाब दिया पागल एक दोस्त
ही तो है जिसका कोई मतलब नहीं होता
और जहा मतलब हो वहा कोई दोस्त नहीं होता
Friendship Shayari In Hindi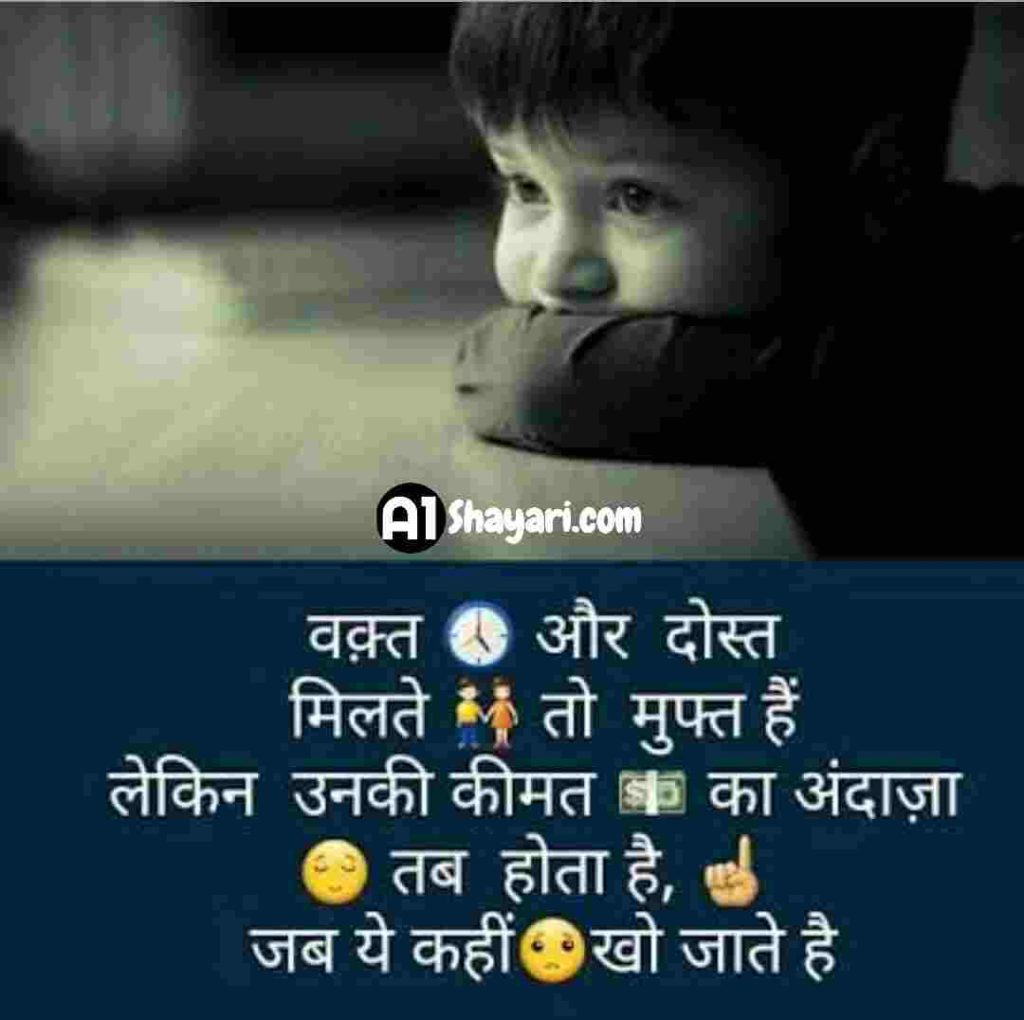 वक़्त और दोस्त मिलते है तो मुफ्त हैं लेकिन
उनकी कीमत क का अंदाज़ा तब होता है , जब ये कहीं खो जाते है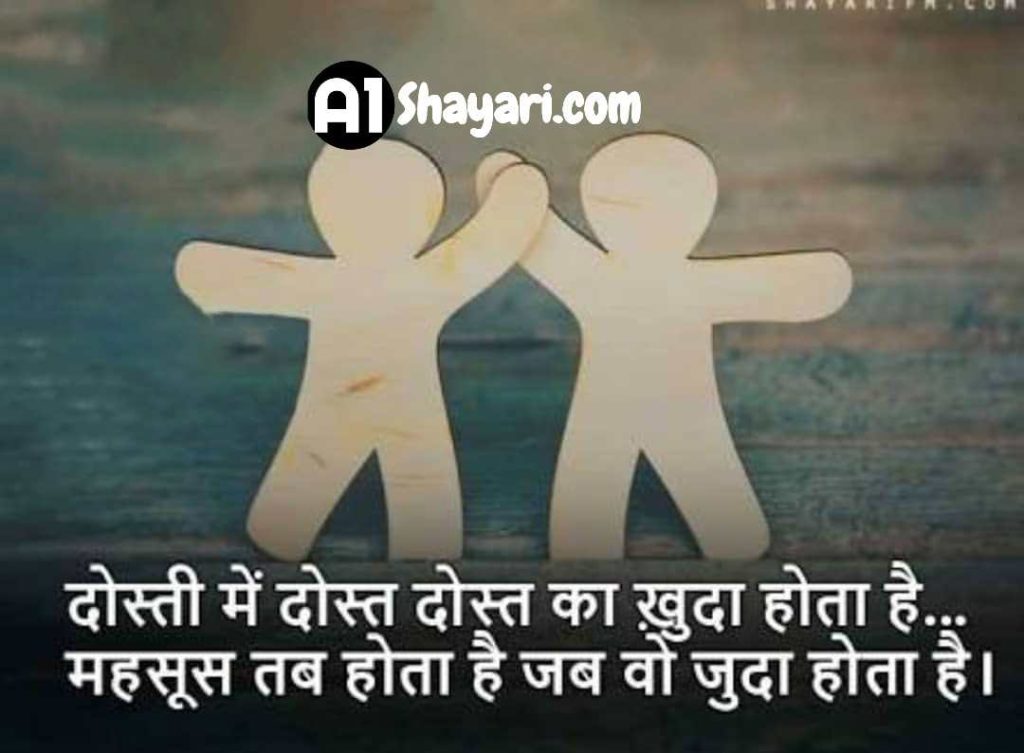 दोस्ती में दोस्त दोस्त का ख़ुदा होता है .
महसूस तब होता है जब वो जुदा होता है ।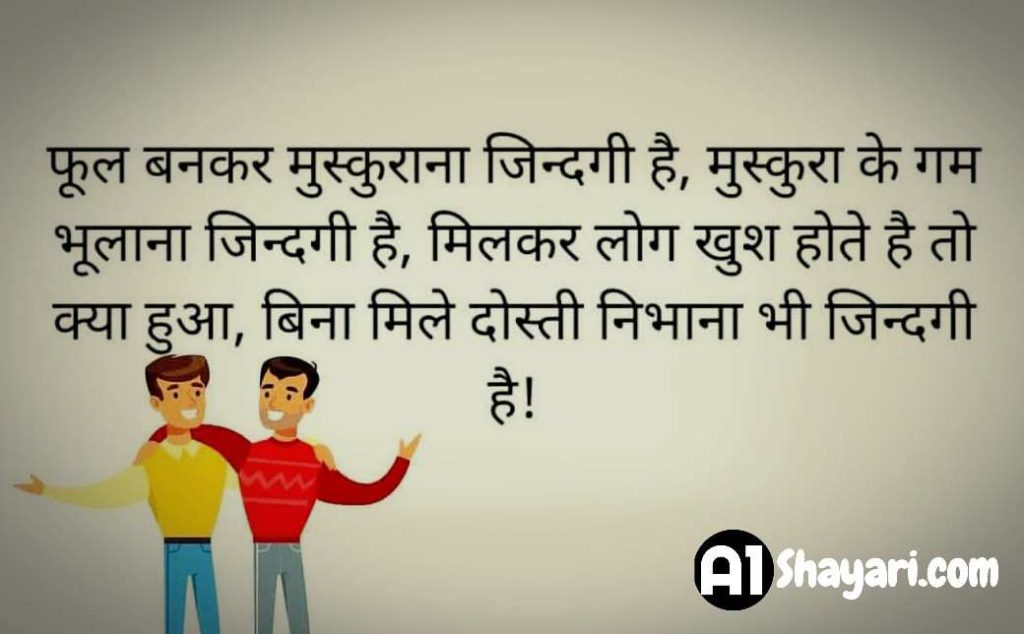 फूल बनकर मुस्कुराना जिन्दगी है ,
मुस्कुरा के गम भूलाना जिन्दगी है ,
मिलकर लोग खुश होते है तो क्या हुआ ,
बिना मिले दोस्ती निभाना भी जिन्दगी है !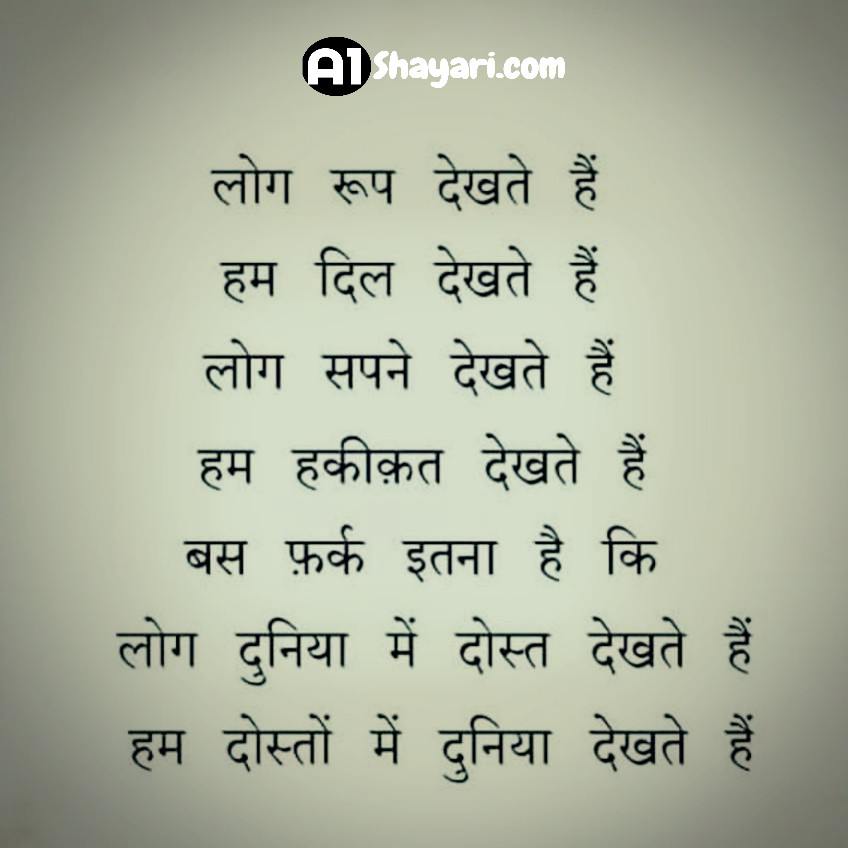 लोग रूप देखते हैं हम दिल देखते हैं लोग सपने देखते हैं
हम हकीक़त देखते हैं बस फ़र्क इतना है कि लोग
दुनिया में दोस्त देखते हैं हम दोस्तों में दुनिया देखते हैं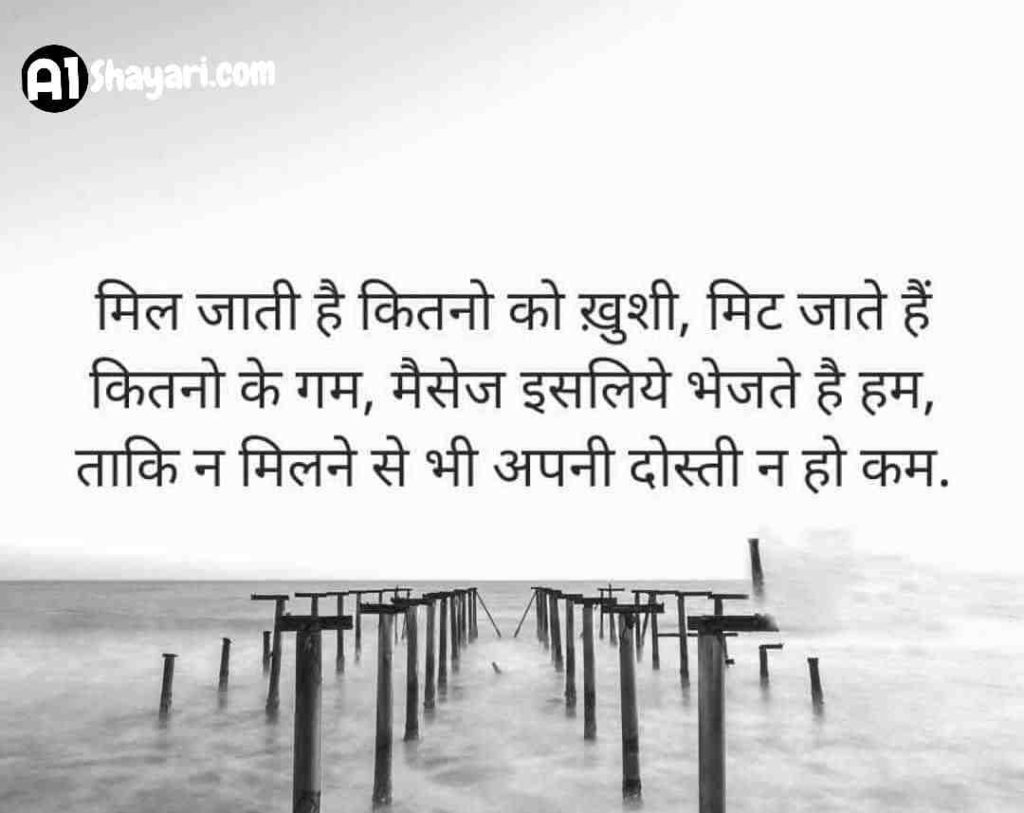 मिल जाती है कितनो को ख़ुशी ,
मिट जाते हैं कितनो के गम ,
मैसेज इसलिये भेजते है हम ,
ताकि न मिलने से भी अपनी दोस्ती न हो कम .
Final Word
तो उम्मीद हैं की आपको Friendship Status In Hindi जरूर पसंद आया होगा अगर पसंद आया होगा तो अपने दोस्तों को जरूर शेयर करे